Recently I shared a beautiful scene from Bash & Bloom's wedding day when Kelly handed Eleanor her bridal bouquet. After the post Eleanor and I were talking and she shared more images from her wedding with me, I found myself oohing & ahhing over the gorgeous images of the fabulous floral designs. I asked Eleanor if we could share these images on Flirty Fleurs, too. Thankfully, she said yes! So here you go .. the reception decor from Eleanor's wedding day!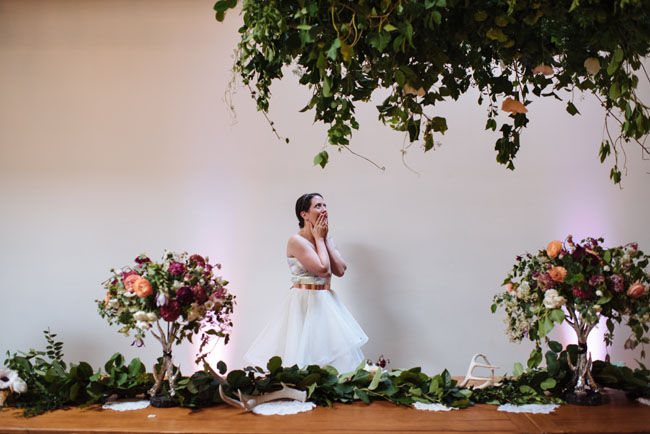 In terms of choosing the decor, it's safe to say I put A LOT of thought into it all (there was never a question that this would be the case!). That being said, we didn't have a huge budget in general, so I knew we'd need to find ways to cut costs. We decided to forgo a traditional sit-down meal and instead hired a food truck to serve guests in an as-you're-hungry fashion. This meant we didn't need to have everyone sitting down all at the same time, so we were able to go "all out" with the decor for the ceremony and on one long row of farm tables.
Spring is my favorite season by far, and we chose our wedding date based on when the ranunculus and poppies would be in bloom (I know – kind of nuts, but whatever!). I am drawn towards the juicy berry and apricot tones, so those are the colors I chose to accent all the green and metallics seen throughout the wedding.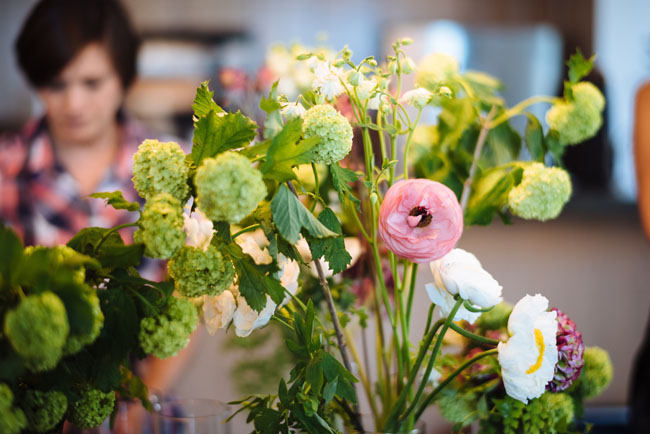 I NEVER wanted to do my own flowers – I knew it would be far too stressful to deal with in the chaos of that week – so enlisted the help of my assistants led by the amazing Jeni Nelson of Magniflora to create the reception flowers based on my designs. There were large metal frames installed over the table just dripping with greens and poppies, and we created elevated centerpieces for the tables using floral soil, and they rested on top of pillars made from silver faux antlers. A lush and full garland ran down the length of the table to the floor on either end, and we accented the whole thing with a ton of candles, antlers, lace doilies from my mother-in-law, and bud vase arrangements.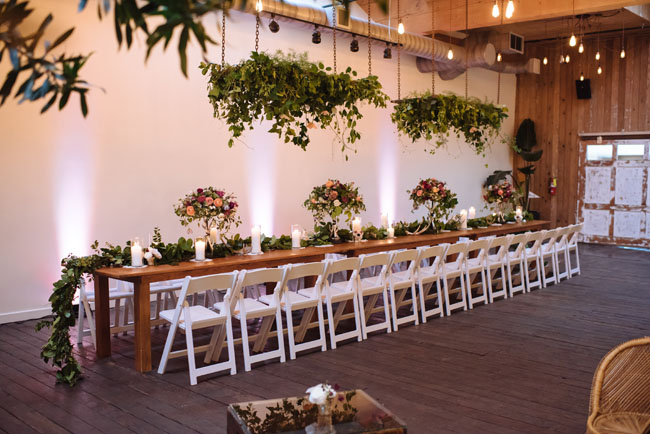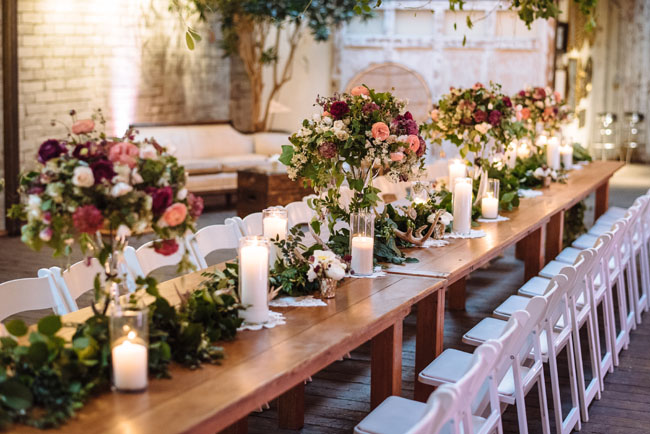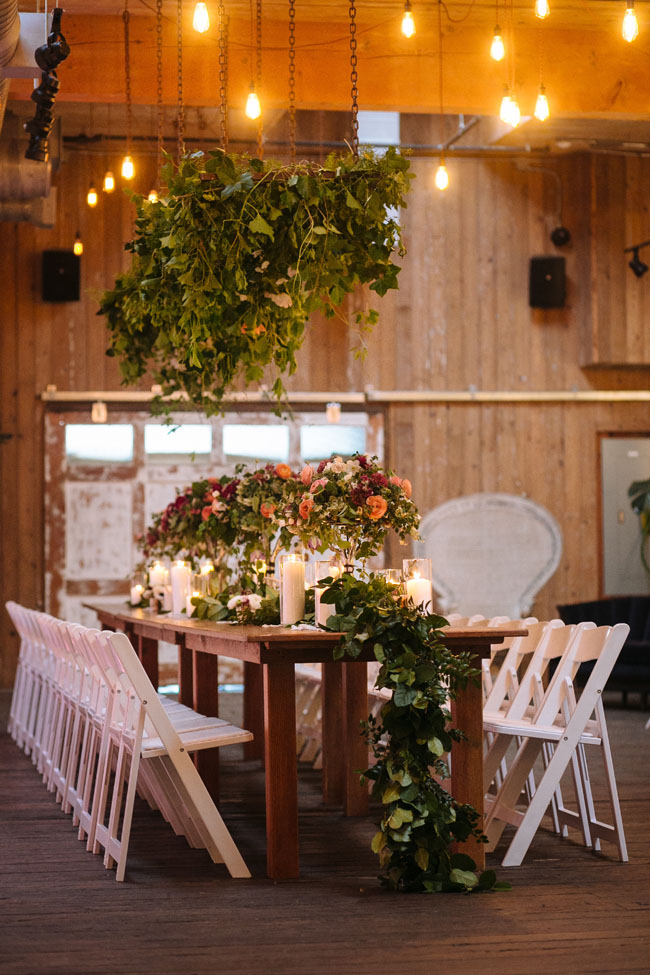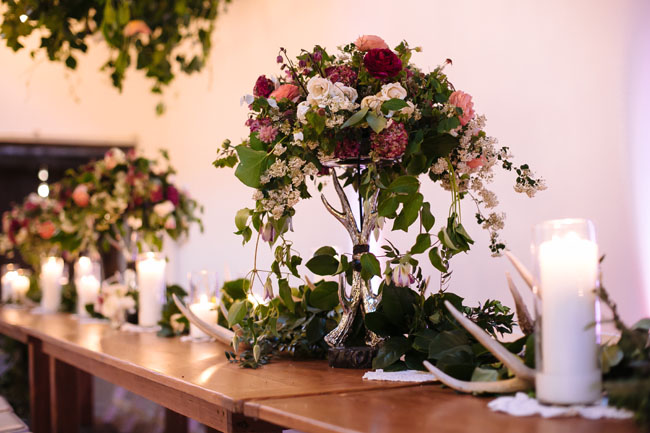 The ceremony backdrop is a patchwork quilt my mother made specially for us and which we now use on our bed in the summer. We framed it in a thick green garland and included paper cutouts from local artist CeeCee Cooning. My team also created a lush chandelier of greens dripping down over the bar area.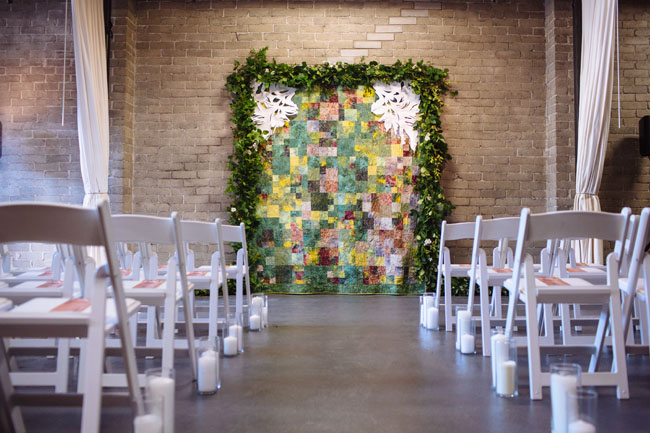 I knew that I would need something to keep my hands busy and nervous energy at bay on the morning of the wedding, so decided to host a workshop for my maids and help them all make their own bouquets while we all got ready. It was one of my favorite parts of the day – I just set up some buckets of blooms on a table and went through a basic "recipe" with everyone and then let them create what they wanted. When they were done, I would tweak their bouquets as needed and help them finish them with tape and ribbon. We made the guys boutonnieres as a group, and I made sure to make Matt's myself.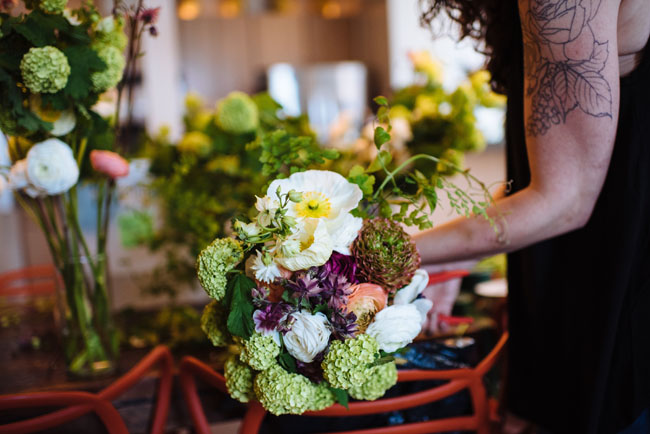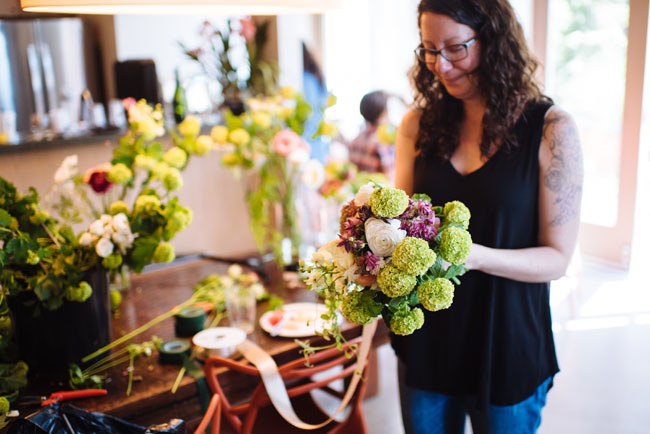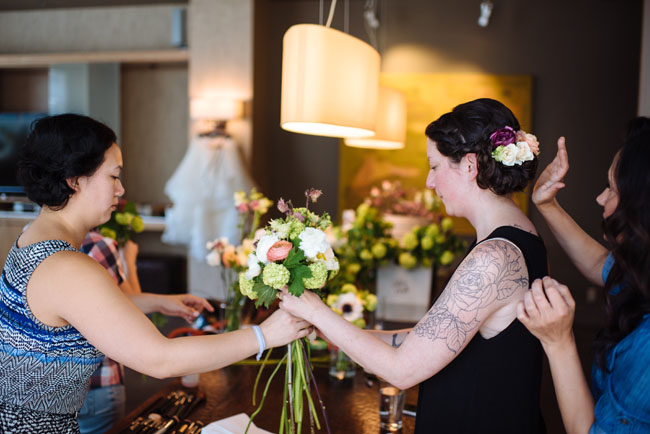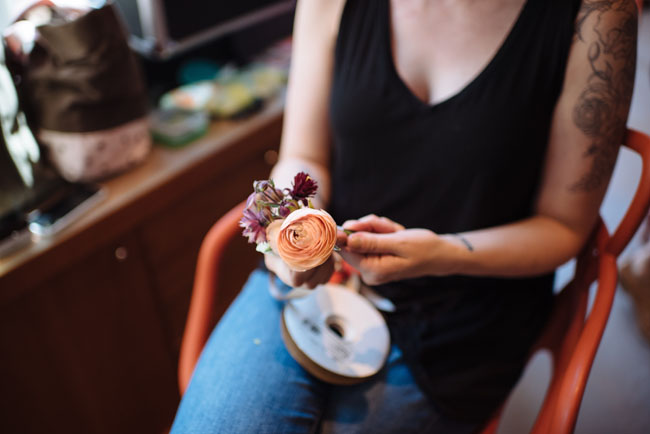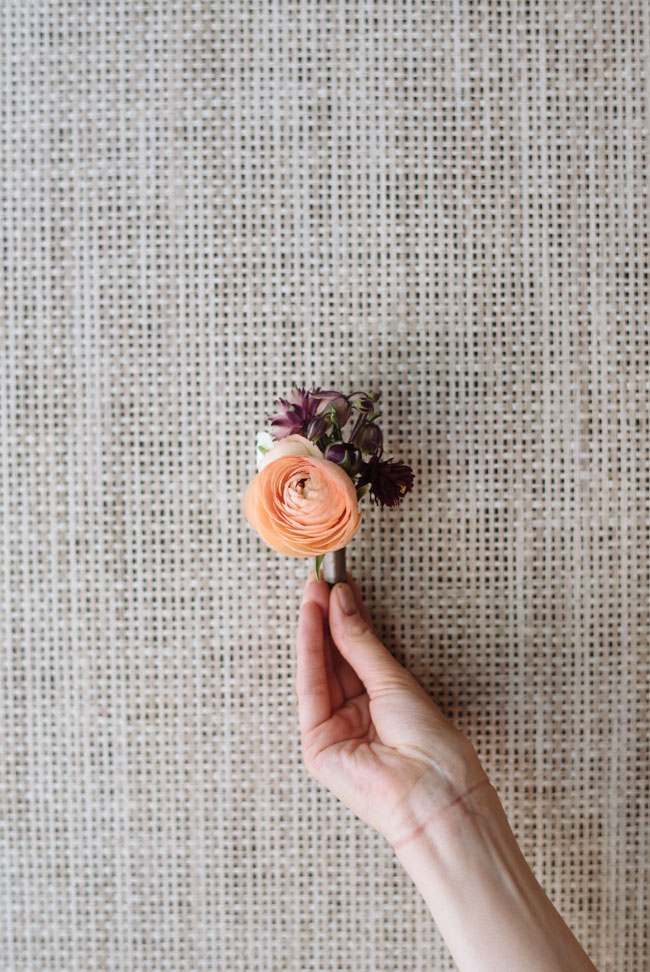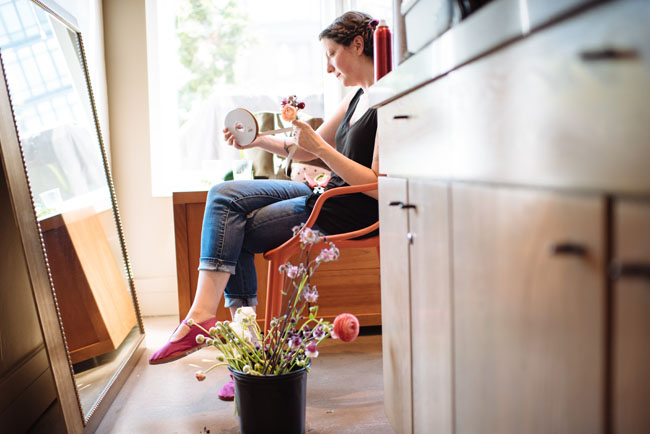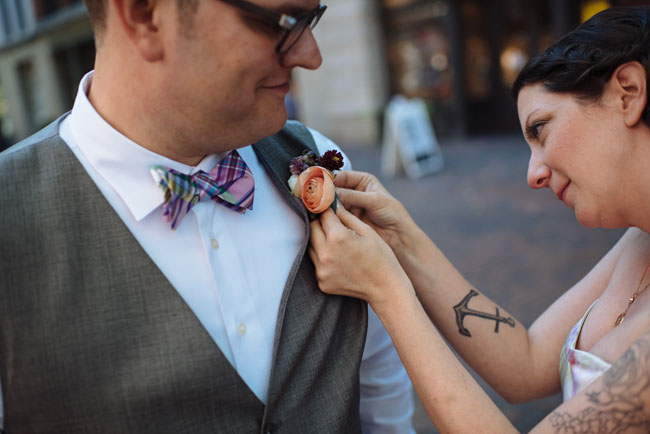 When it came to my own bouquet, I didn't really have a plan. One night over wine, my fellow flower friend (and genius floral designer) Kelly Sullivan of Botanique offered to create my bouquet for me as a gift – and my brain exploded with happiness. I gave Kelly carte blanche with the bouquet – essentially just telling her she could make it as big and wild as she wanted. She picked the blooms from what I'd ordered ahead of time and supplemented with bits and bobs from her own cutting garden. I don't have words for how beautiful it was – but you can pretty much see how happy it made me in the series of photos our photographer captured when Kelly gave it to me.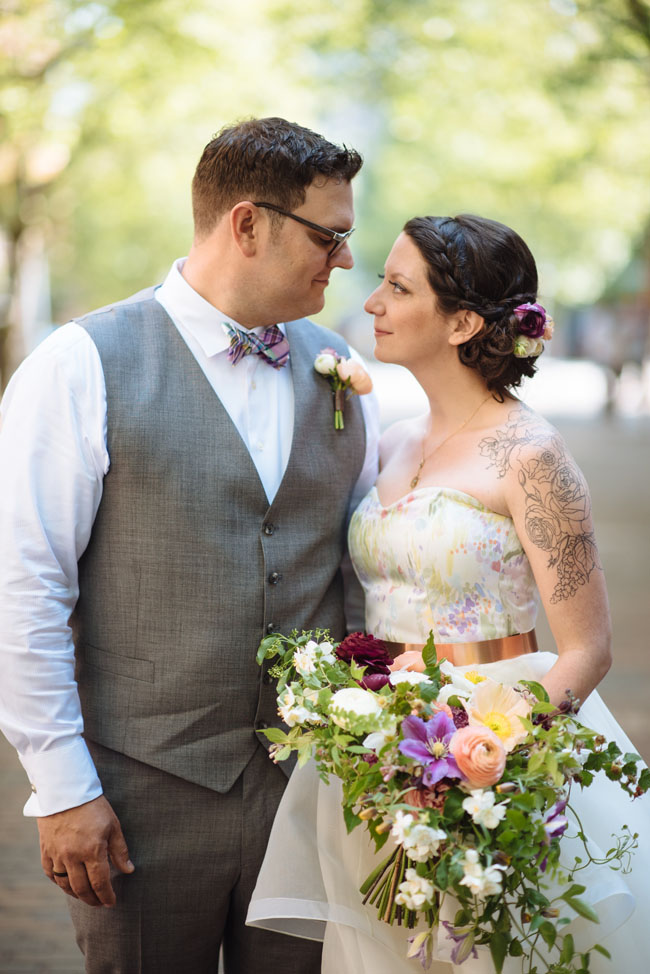 The whole thing was such a labor of love and so full of the creative efforts of our friends and families that it was almost overwhelming. A friend of mine created the water color painting and paper cut out welcome sign, another friend the giant paper flowers that served as our photo booth backdrop, and we hired friendors for every other aspect of the wedding: Carla from Honeycrumb cake studio created both of our cakes, our DJ was Bamboo Beats, who I've worked with on dozens of weddings and absolutely adore, our day-of Coordinator was Megan Clark from Clutch events who is also a friend – the list goes on! More than anything, that's what I wanted (besides marrying Matt surrounded by friends and family, of course). We are really lucky to know some talented people, and having them all pitch in with their various creative skillz meant the world to us.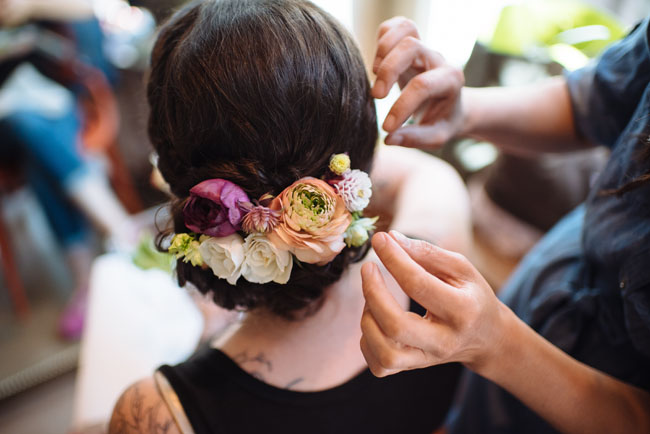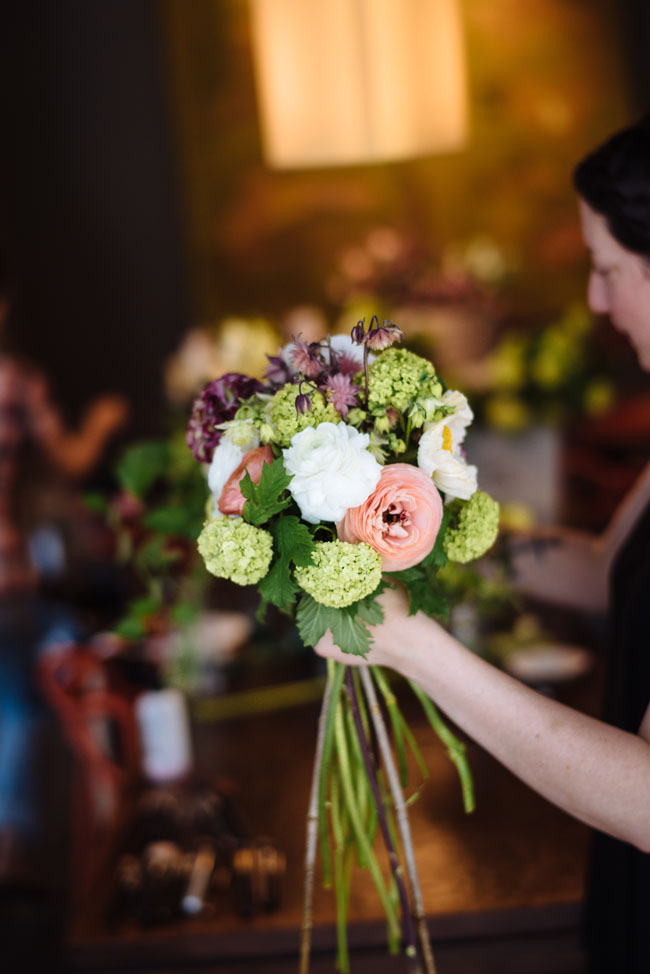 Vendor List:
Venue: Within SoDo
Dress: Custom designed and made by Emma Berg, a designer based in New York.
Day-Of Coordination by Clutch Events
Shane Macomber Photography
Event staffing by The Invisible Hostess
DJ: Bamboo Beats
Oyster Bar: Taylor Shellfish
Cheese Cake: The Calf & Kid
Cakes and Macarons: Honey Crumb Cake Studio
Cookies: Jenny Cookies
Other Desserts were made by our families
Paper goods were all designed by Vicki Nelson of Vegan Me
Floral and Event Decor was led by Jeni Nelson of Magniflora and designed by bash & bloom
Rentals: Vintage Ambiance and Pedersens
Food Truck: Hallava Falafel
Related posts: