Hello dear flower friends,
I'm back. 🙂
When I left a note on here on September 1st I would have never guessed I'd be gone until October 5th. Thank you for your patience and understanding. Everyone deals with emergencies and grief differently, I am one who shuts down and loses interest in the outside world. I did check in on instagram a few times this past month, but that was about it.
Sadly, we did lose my father-in-law. damn cancer. I hate that word so much!
I do want to say a big thank you to Taylor's Flowers in Omaha. They handled the flowers for us and I was very impressed with their work. You all know how hard it is to hand over what we do, especially to people that we don't personally know! Taylor's did a great job and we were all very happy with their floral design work. (Note to self, leave great reviews on Yelp and Facebook for Taylor's).
I did fly up to Chicago though, as planned and taught the design class. Gosh, that was fun! My first experience with destination teaching. Not surprisingly, there is a learning curve with sourcing — not bad, just different. Anyway, I'll share more stories and pictures from that day soon here on the blog.
Gosh, you guys, I do have a lot to share with you .. I just have to get back into the swing of life, you know? I'm writing this on Sunday night, Chad and I just got home and I'm looking out the window at my garden — they dahlias are blooming like crazy! Granted I see I have a lot of deadheading to do – the joys of growing, right?!
Here's just a glimpse of one of the areas of my garden –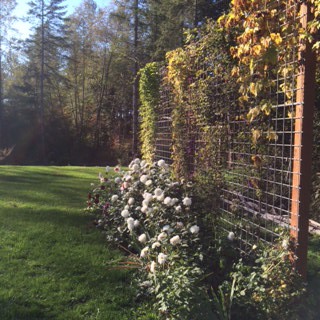 Oh, for those of you in the Washington and surrounding areas – I did schedule a class for this coming Saturday! I know, super short notice.. I've had designers requesting me to teach this class again, it's the bouquet designing and pricing workshop. You can read more about it and sign up here.
So .. I'm going to get back to work and back on schedule.
Did you know that I love flowers and flower people?? The bit of happiness that keeps me going through the tough times. Thanks guys 🙂
~Alicia
Related posts: