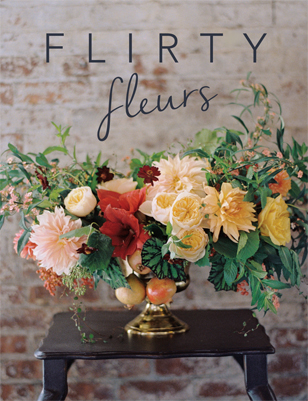 Purchase
Issue Three
We are thrilled to announce the release of the third annual print issue of Flirty Fleurs!
This issue has a little something for everyone. If it's travel that inspires you, stroll the streets of New York on a walk through the NY Flower District or tiptoe through the tulips in Holland. If it's stunning images of gorgeous bridal work you like, cruise the pages of Bridal Beauties and our Real Weddings & Inspirational Shoots to be inspired by our peers. Read up on the incredible Field to Vase Dinner Tour, which pairs flower farmers, florists and local chefs to brings guests an unforgettable al fresco dining experience rooted in American grown flowers in an article brought to us by our dear friend Debra Prinzing. Sit down for a chat about flowers and design with acclaimed New York designer Lewis Miller and learn what it takes to be the nation's "first florist" at The White House with Laura Dowling. Treat yourself to some great tips from cake designer Rachael Teufel of Intricate Icings about working with fresh flowers on cakes. Get down to business with the Alisons—Alison Ellis of Floral Artistry chats with us about branding and Alison Dahlson of Mayesh reviews the estimate-creating software programs currently on the market. Be ready to have your heart strings tugged by the incredibly inspiring women and stories told in "A Full Heart" with Shawn Chamberlain, "Plan B" with Nancy Liu Chin, and "The Long Road Home" with Ashley Woodson Bailey. And we think you all know by now that we love roses, so it brings us immense pleasure to fill more of these pages with gorgeous garden roses from Alexandra Farms. As always, we finish off the issue with a good dose of the giggles in Just For Laughs – stories brought to your by our fellow floral designers.
We thoroughly hope you all enjoy our latest issue of Flirty Fleurs Magazine; this year the magazine grew to 106 pages! It could be called a labor of love, but a project that is so worth the work in our eyes – we are constantly impressed by the beautiful work submitted by our peers as the features for Real Weddings, Inspirational Shoots, and Bridal Beauties comes together. As we pour through these pages and see work from designers throughout the United States, Canada, South Africa, Australia, and United Kingdom it is a reminder of how our love of flowers connects us around the world!
All of this comes to you from a team of three (who never even breathe the same air!); the founder of Flirty Fleurs, Alicia Schwede, Robyn Rissman of Bare Root Flora, and Kim of Kimberly Schwede Graphic Design & Illustration. In addition to writing numerous articles in this issue Robyn also designed the floral arrangement gracing our front cover, photographed by Laura Murray. Kim once again brings together all our articles and imagery in such a beautiful way, you'll want to treat yourself and sit for a spell while feasting your eyes on all this beauty.
**Order your copy HERE**


.
.
.
Related posts: