A few of you have been asking over comments, twitter and facebook which of the white rose(s) were my favorite.
I have to say, I really enjoyed this rose study. I was introduced to some new roses that I have not tried before and definitely found a few that I will now be ordering!
I really like the Escimo rose. It opened it to this beautiful rose that could look like it's straight out of your garden, I like that the center is visible and how the petals turn back. Also, it's a really nice white color, more white than cream. I just took this photo, it's been out on the table for 7 days:

This is Tibet, I love how white it is! From now on when I have a client ask for a true white rose this is the rose I will order. The petals are very soft and satin looking. Really a beauty, even after 7 days!

Mondial is one of the roses I've been hearing a lot of florists talk about and I'm so glad I got to see it for myself! It's HUGE! Very consistent rose, all the blooms opened perfectly. It's definitely the creamiest of the roses. I would use it for centerpieces or large arrangements as it will take up a lot of space:

I am actually surprised that I'm about to say I liked Akito. I've never been a big Akito fan but this test did show me a few things – 1) it's the best size for boutonnieres and corsages 2) it's a really good white color 3) it has a very cute little rose shape 4) it's a hardy little rose: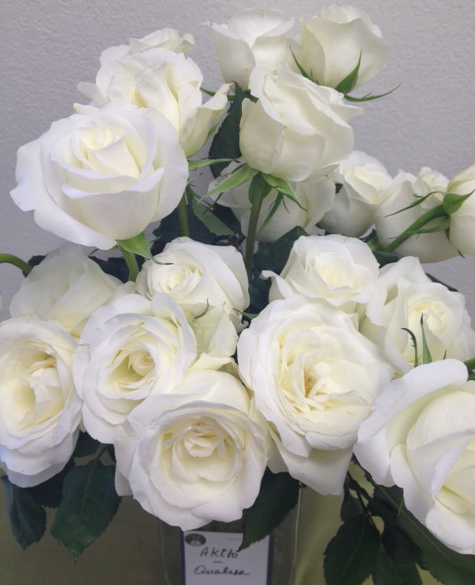 All of these roses are still on my front table, 7 days into the test. Sadly, the other 4 roses have passed on. 🙁
I will admit that I was a very bad florist this week, I only changed the water and clipped the stems once in the past seven days… what can I say, I had a few events to attend to – you all understand, right?? 🙂
Related posts: