Well, this Fleur Friday is posting so late today that it is practically a Fleur Saturday!
I'm sure you'll all empathize with me … I've been slammed this week!
Today I'm putting the finishing touches on a wedding for tomorrow, here's a sneak peek –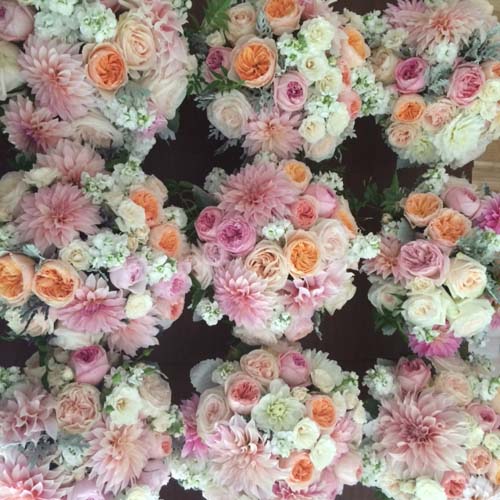 Ok, let's talk about my cooler drama this week. So I bought a floral cooler from a friend of mine, so happy to be getting a cooler after two seasons of doing without! I spent last Sunday cleaning out my studio (aka-garage) to make space with the plan that the cooler would arrive on Monday. Sure enough, the movers canceled the Monday deliver last minute and said they'd deliver on Wednesday. BOO! Cooler arrives on Wednesday and it won't turn on, those (not nice word) movers moved it on its back! So next we have to call the repairman, he arrives on Friday to fix the cooler. By mid-day Friday he had the compressor running again. YEA! Well, that was short lived because next it blew the circuit breaker. Yep. No Cooler for this weekend's wedding. We now wait for an electrician to come and re-wire the outlet. I'm just crossing fingers that the cooler is working before the next wedding!
At least the dogs are enjoying running thru it –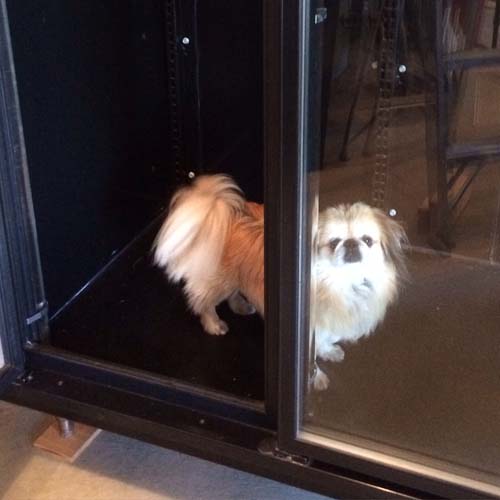 Isn't it funny how often us floral designers hear – "Oh, You are so lucky to play with flowers everyday!"
When in truth most of our time is spent fixing situations: flower orders not coming thru as planned, coolers not working, sourcing containers, brides adding on flowers last minute, etc.
Flexibility is a must in this business!
Related posts: