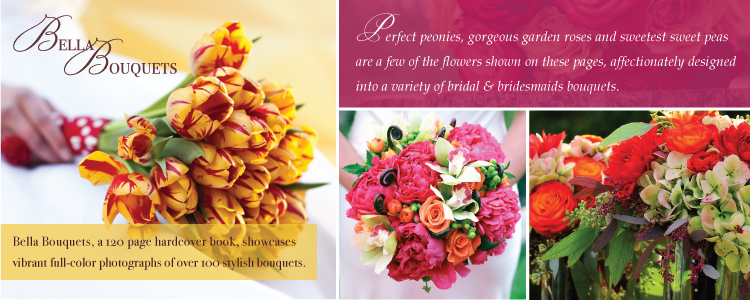 Perfect peonies, gorgeous garden roses and sweetest sweet peas are a few of the flowers shown on these pages, affectionately designed into a variety of bridal & bridesmaids bouquets.

Bella Bouquets showcases vibrant full-color photographs of over 100 stylish bouquets. Offering a wide variety of designs including elegant, modern, rustic, traditional, dramatic & romantic.

"I designed this book with floral designers & wedding planners in mind and anyone else looking for floral inspiration! I designed many of the bouquets using the current hot flowers – garden roses, craspedia, fern fronds, succulents, peonies, anemones, ranunculus & more." ~Alicia

Bella Bouquets is a 120 page hardcover book measuring 8.5″ x 8.5″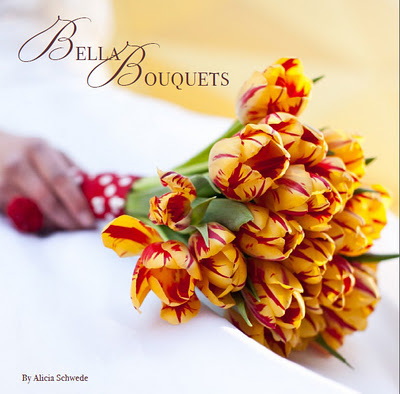 Order your signed copy of Bella Bouquets using the Paypal link below.
$19.95

Wholesale pricing is available for 5 or more copies.
Please email Alicia for more information on ordering wholesale.


Bella Bouquets Book is Available at the following locations:
Alders Wholesale Floral, Inc., New York
Amazon
Anthony's School of Floral Designs of Texas at San Antonio, Texas
Barnes & Noble
BluBungalow, California
Boettcher Mansion, Colorado
Canadian Florist Magazine
DWF Wholesale
Florabundance
Flower Duet, California
Frank Adams Wholesale, Oregon
Floral Supply Syndicate (FSS)
Louisiana Wholesale Florists, Louisiana
M&M Cut Flora, Colorado
Sequoia Wholesale, California
Stevens & Son Wholesale, Colorado
Testimonials:
Bella Bouquets is a wonderful and inspiring book that really gives the reader lots of eye candy! I love how the bouquets are grouped by color. This book is a must have for anyone planning a wedding, or for those just needing a bit of floral inspiration. ~Amy
Beautiful book with inspiring photos of fresh flower bridal bouquets. A great selling tool
for the professional florist as well as event planners. And, just pretty to have! ~Dore
I purchased a copy of Bella Bouquets, and as a professional florist, I find it to be a great tool for taking along on my wedding flower consultations. It has beautiful bouquets, complete with the names of the bouquet contents. The brides like seeing the flowers they are interested in in one beautiful book. ~Laurie
I had the opportunity to get a sneak peak at the Bella Bouquets book and was blown away by the quality, content and new floral designs showcased in the book. I have worked with Alicia on numerous events and was always impressed by her talent. I knew her book was going to be great but I was truly amazed and inspired by the bouquets she created for the Bella Bouquets book. I plan to use this book for design inspiration and ideas for my future clients. This book is a must-read for every floral designer and event planner. ~Save The Date Events