The IFTF show that I have attended twice in Holland is hosting a huge show in Los Angeles this March! Mark your calendars to attend – March 11-13 at the Los Angeles Convention Center. The show's organizer sent me the information below, really looks like it'll be a great time!!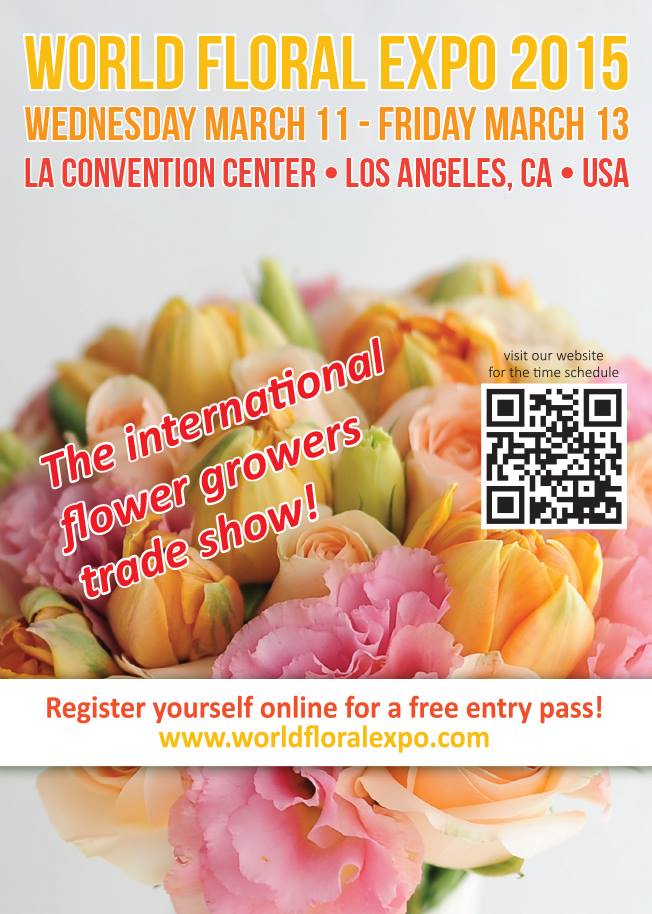 "Interest for attending World Floral Expo is growing fast with an all-time high number of pre-registrations so far. An increase of almost 300% compared to last year's show in Chicago reflects the enormous interest to attend the upcoming Californian show of World Floral Expo. Exhibit space has grown 150% to 60,000 square feet with a total number of 125 US and international floral related exhibiting companies.
The grand opening of the 2015 World Floral Exposition will begin with opening remarks by Robert Kitayama of Kitayama Brothers & President of CalFlowers, California Association of Flower Growers & Shippers. Mike M. Mellano, President and CEO of Mellano & Company, will follow and briefly trace the history of the LA Flower Market and Mellano & Company's Wholesale and Farming divisions.
On Thursday March 12 Mellano & Company is sponsoring the LA Market Tour, a visit to the largest flower center in the United States, the LA Flower Market. This tour is a must attend part of your visit to World Floral Expo. Signing up can be done through www.worldfloralexpo.com.
During the 3 day trade show ongoing flower demonstrations are scheduled by a group of 8 Dutch Flower Designers and lead by Martin Groen, former Dutch Flower Design Champion and nominated for the upcoming Fleurop-Interflora World Cup 2015 championships which be held in Berlin Germany in June of this year. A unique opportunity for all US professional floral designers and event planners to experience the latest trends in European all occasions floral designing."
More info and registration can be found on www.worldfloralexpo.com
Related posts: