Hi Flower Friends!
Well, I've been having quite a bit of fun on our facebook page for Flirty Fleurs asking all of you about what trends you are seeing for 2013 – it's great to get to connect with so many amazing floral designers across the country and world!
I recently came across a 10 year old article about what was popular in flowers and this was the list:

I asked on the facebook page what flowers designers consider to be the most popular for 2013, here's the top ten:


Next, I asked about what types of styles are being requested by brides for 2013. Sounds like the style hasn't changed a lot from the 2012 season:
vintage shabby chic
wooden boxes
blush tones, taupes, creams and whites
mercury glass
burlap and twine
garden style, lots of foliages & vines
lace
lanterns
gold – linens, flowers, trays, vessels
long, layered, flowing vintage antique ribbons
compote style vessels

Some say Mason Jars are still going strong and some say they are receiving no requests for Mason Jars this year .. maybe their reign is coming to an end??
My favorite reply to the mason jar question came from Marci at Entwined Designs in Southern California:
I hope all mason jars spontaneously explode in 2013. :o) #refusetousein2013letscampaign
We rounded up a few examples of what's on trend for 2013: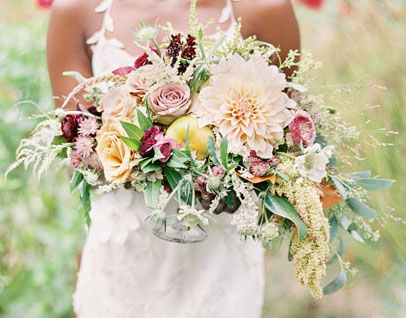 What do you think? Are you seeing any other trends starting to emerge?
(Thank you Holly Chapple Flowers, Three Sisters Custom Flowers & Events, Bella Fiori & Sweet Peas Flowers for the lovely images)
Related posts: