Today we have a question asked by designer Christine De Beer about Tool Etiquette
Question #3
I often wonder…. I am very protective over my tools and equipment. And I cringe when someone, for example, grabs my fabric scissors to cut wire. Am I alone in this or would you say there is something like Floral Designer Etiquette? Thou shalt not…
…..
Thou shall not…
…move my tools
…use my tools and not put them back where you found them. (I have enough trouble keeping up with where I put them.)
…use my ribbon sheers for ANYTHING else
…steal my stool
…get upset if I catch you at any of the above
Althea Wiles of Rose of Sharon Floral Designs, Arkansas
…..
I so agree with Christine!! I am very conscious in my studio of training helpers and freelancers about tool care, both for the tools and for themselves. I encourage all designers I work with to make it a habit of closing their clippers before they put them down on the counter. And if I do find them open on the counter, I pause and remind everyone. Perhaps it's an urban myth, but I have heard of designers sustaining deep cuts as a result of open clippers falling off their counter. And I have a special case for my fabric scissors and they don't even make an appearance until we're working on ribbon.
Clare Day Flowers, British Columbia
…..
I think when people are particular about their materials/tools, it is their responsibility to let people know what those items are used for. My ribbon scissors are labeled as such, my wire cutters are labeled as such, etc. This way there shouldn't be any confusion about what each tools' purpose is. Also, boxes are labeled with a description of what's in them and whether or not the items are fragile. Generally, I try to have assistants who share my need for organization/neatness. This way, I know I can trust them to put things back the way they found them, to follow/read any labels or instructions that have been written, and to ask if they are unsure of something. Never assume that others know what is inside your head, and you can't be everywhere all the time. Labels, labels, labels, and specific written instructions in the way of proposals, contracts and appendices!
Blair of Sweet Blossoms, Maryland
…..
Fabulous tools make a task easy.
Poor or beat up tools make a job difficult.
Buy & protect expensive tools!
From raising 4 kids I learned through much error:
A place for everything and everything in it's place.
I have always written on my fabric scissors.
In floral design you can not blame one of your designers whose mouth and elbow are holding items and while blinding reaching for scissors they grab the wrong pair. This is way my scissors are written on plus always have a ribbon on them for added insurance.
Nancy of Destiny Hill Farm, Pennsylvania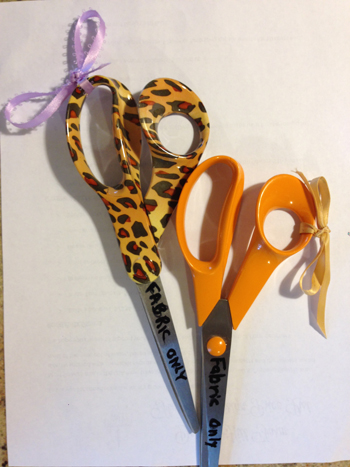 …..
Don't get me started, lol. I have had co-workers admire, covet, steal, mess up, lose, and throw away various tools over the years. Most of them ask nicely and return them, though. Every shop I've worked in has a ribbon tied around one of the handles of the ribbon scissors. You ask permission to use another's tools, it's just polite.
Margaret Burnette, Texas
…..
Our fabric scissors all have the word "FABRIC" on them, which we cross out or remove the label when they can't be sharpened effectively anymore. I am a huge stickler about this!
Polly of Robin Hollow Farm, Rhode Island
…..
If you use my ribbon scissors to cut wire I die a little inside.
Alison of Floral Artistry, Vermont
…..
This is funny, because I have never been like that, but of course have worked with many designer who are, and I absolutely respect it! At my shop, I just have a drawer of clippers, scissors, shears, knives, etc. for anyone to use. I don't care who uses what, the only thing that bothers me is if the ribbon shears are used for anything besides ribbon. I accidentally throw my clippers in the trash all the time, so I can't get too attached to them.
Amy of Crimson & Clover, Maryland
…..
We are constantly having the battle of the tools. Most recently special ribbon scissors have been designated with ribbons tied to the handles. I have actually threatened termination (jokingly of course) if I see anyone using those scissors on anything but ribbon. We also have a special pair of shears with a fancy cutting edge and I have been known to hide those away. Too often we will be hosting DIY parties in the shop and people will try to cut flowers with the fancy shears….makes my heart break. We also have the constant battle of lost knives and clippers. There seems to be a black hole of lost tools at A Garden Party. I am thinking they disappear into the trash when we do the massive floor sweep. The girls are always begging me to order more!
Dawn, A Garden Party, New Jersey
…..
I love all of my tools but I just try to get over it. Especially when I'm guilty of using the floral knife for something else, or using my shears to cut chicken wire. It happens.. although as far as the ribbon scissors they are placed far away from all the tools and we have a big pretty bow on them that means only for ribbons!
Alex of Exquisite Designs, Illinois
…..
Agreed….the proper tool should be used for the right job! And I have my personal favs….so my assistant shouldn't use them! LOL! I clean them after every use…and I want them to be stored in their closed and locked positions. OH…and they must be sharp!!!!! I am just as picky about the cuts on the stems….I want them to have a elongated angle  with a sharp tip…and no fraying!!!!
Andrea Layne Floral Design, Florida
…..
I have ribbon scissors and they have a long piece of ribbon tied on them. There is no way of mistaking them. They are also in their own tray.
Kris of KRISanthemums, Oregon
…..
I am ok with my tools sharing. I should also say I probably have a garden of tools growing over the years on my compost pile!!! I have thrown so many good tools away such as 2 pairs of Red Sakagen The Florist Scissors, and, box cutters and the list goes on. UGH:)
Tracy of Park Place Design, Michigan
…..
Thank you to everyone that participated! I definitely sense that NO ONE likes their fabrics scissors messed with!! 😉
If you'd like to participate in our future Content Calls, be sure to sign up for our newsletter – the link is at the top right of this page.
If you have a question you'd like us to ask in a future Content Call please Email it – info@flirtyfleurs.com
Related posts: