Thank you to those of you who told me a story!
Here's Tina's story:
Almost 3 years ago – the Canadian economy CRRRASSSHHHEDDD – Not good for my husbands Contracting business – NO WORK! Ouch
Me: Gave birth to my second child 🙂
Family: Our dearest and only family/friend suddenly past away = No money + No security + Sadness = Frustrating
Me: Planted my first organic flower garden to brighten my spirits (at the time – stay at home Mommy of 2)
Then BOOOOOMMMMMMM
Something hit hard and fast when my first bloom opened in my flower field – it was like walking through a candy store as a kid – soooo special
Me: Read books – learned basic skills
Posted an Ad on Used Victoria : received my first calls for wedding design
Wanted to tell my story : started a blog – telling anyone who was going through the same hard times as we were – that there are doors for opportunity waiting to be opened – I jumped through my door and here I am today – YEAAAAAA
Still loving it!
Here's Katie's story:
My name is Katie Bennett and I live in beautiful sunny and mountainous Montana. I grew up with a love of the outdoors and gardening, but my green thumb is broken! So who would have thought I would have become a floral designer! I remember the first time I saw a florists hands and thought to myself "why would you do that to yourself". Long lasting green stains, cut and scrapes, …but she loved to do it! In 2008 I took at job as a merchandising and display manager at a large sporting goods store and only after being hired did they mention I would be expected to create silk floral for the women's areas…yikes! I phoned my friend and asked for some tips and taught myself how to design. Out of that design I grew a passion for florals and eventually it progressed into real flowers. That first wedding with real florals had me hooked! I knew I could not design with silks anymore and I sold or gave most of them away. I took the plunge, applied for a business liscence and starting marketing myself as a designer. I relied heavily on referrals (and still do) and friends or aquaintences that would allow me to showcase my talent. Over the last 4 years I have learned some amazing lessons and not always the best ones. I have learned to never cut myself short and believe in my skills as a designer. I have learned to accept constructive critism, and this alone has propelled my business in a direction I never knew possible. I was told to restructure my logo and fonts, create a website, keep up on blog posting and rebrand my business with updated pricing. And it worked! This year I was able to take my garage business and expand it into our new home. I have a large work space and custom cooler along with a totally hip office that screams "Mac's Floral". It's my style and I was able to design it myself. I feel confident bringing my clients to the workspace for consults, and I am proud of the space I have created for floral design! I hope this is inspiration to others as they venture into the career of their dreams. I love when people ask me "if you could do anything for a career, what would it be?" and I am able to answer "I do exaclty what I love and I can't imagine doing anything else".
Here's Paula's story:
I just have to have flowers in my life! The problem is, I didn't realize it until just recently. I have always provided the florals for functions with friends and family and thought of it as just a beloved hobby. I had been working at a local hospital in the O.R. as an Instrument Technician when that all changed. One of my co-workers passed her instrument certification exam ( CRCST ) after failing it the first time. I showed my support by presenting her with the most fragrant of bouquets. The congratulatory flowers included deep lavender hydrangeas from my garden and snowy white lilac buds falling over the fence from my neighbors yard. My potted orchid contributed a fresh vibrant lime green cattleya bloom and I added a couple of concador lilies I had on hand. Oh, and hosta leaves to accent the color of the orchid and show a little greenery. I felt like this was occasion enough to part with a cherished vintage barnwood box as a vessel for my masterpiece. To my surprise I noticed a lone bunch of lily of the valley at the market on my way to work. Back in the car the other posys were happy to make room and they fell together creating a design all their own. Immediately after leaving the flowers at the Surgery Desk it happened…inquiry after inquiry from the nurses wanting to know who my florist was? I was shocked to know I could pass off my amateur attempt at floristry as the real thing. It wasn't until the charge nurse said "Paula…you really missed your calling". It hit me like a ton of bricks…could I make a career of this ???… So that is what I'm doing… Embarking on a new career late in the game. Who knew ??? I would love the help of Alicia's BEAUTIFUL book and all the inspiration it has to offer as I play catch up!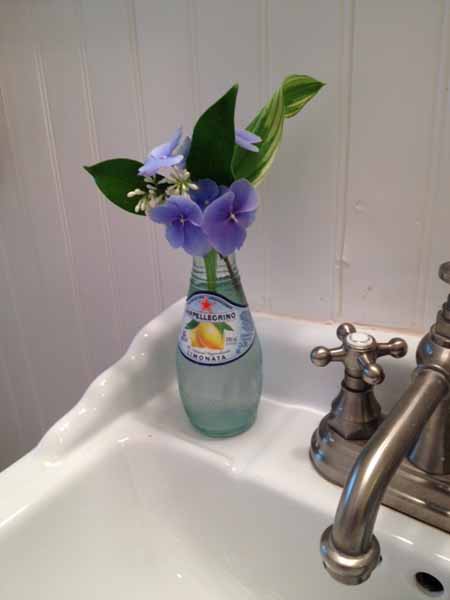 Ladies,
I loved all of your stories, thank you for sharing who you are and how you got here with me and all the Flirty Fleurs readers! You will all be receiving a copy of Bella Bouquets book!
xoxo,
Alicia
Related posts: