Your Name: Holly Rutt
Your Business Name: Sweet Pea Floral Design
Your Location: Ann Arbor, Michigan
How did you start your business?
My business was so unexpected I feel like I stumbled dumbly in the direction of my dreams. I was praying to St. Therese of Lisieux (AKA the little flower) asking for a new job because I was unhappy as a cashier at Whole Foods Market. That very day a woman asked me if I knew anyone looking for a job because she was leaving her position in the flower shop. I applied, got the job and was promoted to manager within a short time. It was love and after graduating university I quit to take a "big girl job" as an office manager. I was clearly miserable at my desk job when a friend suggested we start a wedding floral design company together. Two and a half years later I was fully booked with 45 weddings and had long since left my "day job". My friend moved on to study midwifery and I looked around surprised to find myself an independent business owner with a successful following. It all happened so fast I can't even believe it.
How many years have you been in business?
Sweet Pea was official as of January 2009 but I have been designing for this or that company since 2003.
What is your design aesthetic?
I tend to the organic field picked side of design but I like to cater as much to my bride's aesthetic as possible. I like the flowers to appear carefree and effortlessly beautiful, not overworked and forced into modern shapes. I love to include as many different types of foliage in each design as I can to build a nest of texture that makes you want to look deeper.
What inspires you?
I am completely inspired by nature, that golden spiral that appears in so many places, leaf veins, nautilus shells, wood grain, and feathers, camp fires, and my house plants (of which there are many). Whenever I'm uninspired a good drive to the country or walk in the woods fixes me right up. A strong cup of black coffee and James Taylor's greatest hits will do the trick when I can't get away.
What are the trends, flowers & colors that are unique to your region?
I love the pride my brides take in offering Michigan made wedding favors including my own handmade custom label soaps and lip balms. One wedding sticks out to me as unique to our region featuring Petoskey stones with each centerpiece.


Are you a retail shop, studio/warehouse or home based?
I am home based with dreams of converting a garage into a 3-season studio with big French doors and a wood-burning stove. For now I settle to design in a much humbler indoor studio with less natural light than I would like but still spacious and I'm grateful to spread out more here than in our last home!
Do you offer any services in addition to floral designs?
Yes! At this time I offer custom favors such as hand made soaps and lip balms with labels that reflect the motif of each unique event. Within the year I hope to add more event design services for my clients such as linen service, and possibly a few lines of invitations as well.
What does your toolbox look like?
I love my vintage green metal tackle box, its so industrial chic (if that's a thing)
What tool in your toolbox can't you live without?
It's got to be zip ties! I can't tell you how many times they have saved the day. When everything is threating to fall apart or blow away……zip ties to the rescue


What's your favorite flower?
Trillium. I'm way to chicken to get a tattoo (or pierce my ears for that matter) but if I did it would be a trillium. Because it is the state flower of Michigan, because it is the icon of Ontario where my mother hails from, has beautiful religious symbolism and grows in the woods among the ferns and mushrooms. They are illegal to pick but so delightful to stumble into.
Anything else you'd like to share with Flirty Fleurs followers?
Thanks to Alicia for writing such an inspiring and informative florists blog!! I am so honored to be counted among your featured designers (my heros)
Sweet Pea Floral Design
122 South Main Street
Suite 110
Ann Arbor, MI 48104
734.717.8684
site: www.sweetpfloral.com
blog: http://www.sweetpeafloraldesign.blogspot.com
facebook: http://www.facebook.com/sweetpeafloral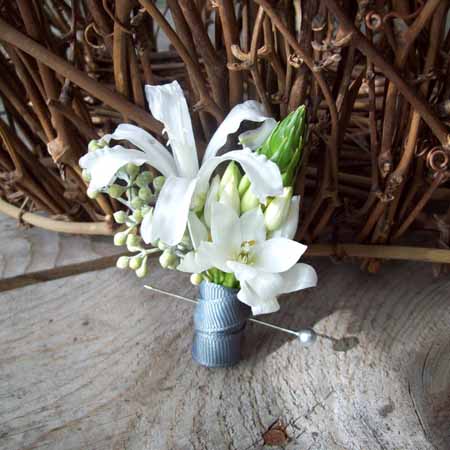 Related posts: