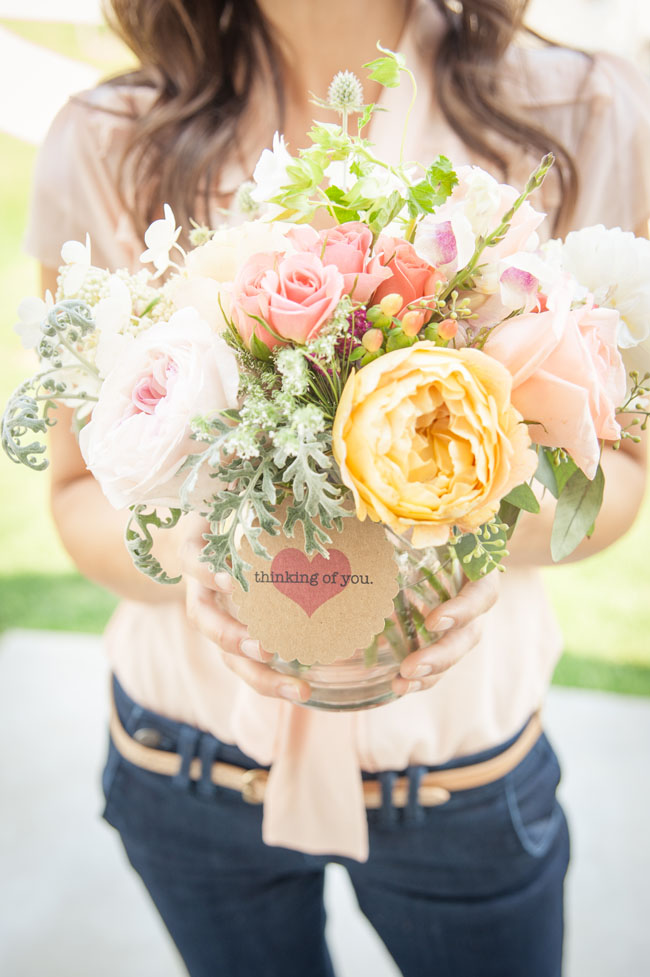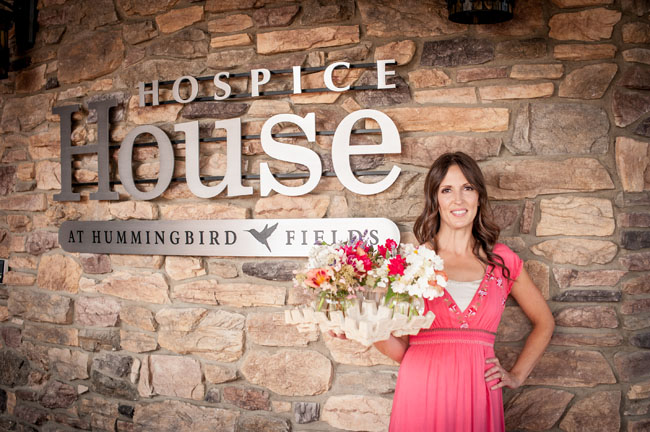 Recently I had the pleasure of meeting Shawn Chamberlain of FULL BLOOM when she attended one of my floral design classes in Seattle. I was instantly intrigued about her project of 'Recycle The Love' and wanted to learn more. FULL BLOOM is located in Coeur D'Alene, Idaho, and it is here where she spreads the power of flowers. Fresh flowers can help aid in reducing stress and give comfort to those who are dealing with death, terminal illness, severe injury or sickness. Shawn and her team of volunteers accept any gently used or fresh cut flowers from special events and/or gardens to help create beautiful bedside bouquets for local area patients. They recut, repurpose and recycle donated, gently used blooms into beautiful bedside bouquets for patients in area hospitals, hospice care, nursing homes, and other long-term care facilities. How fantastic is that?!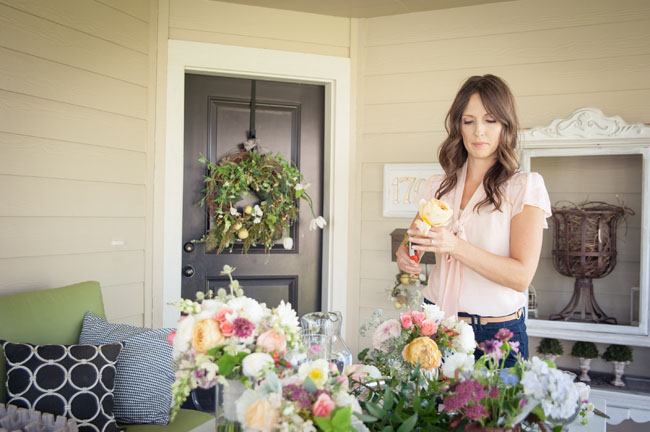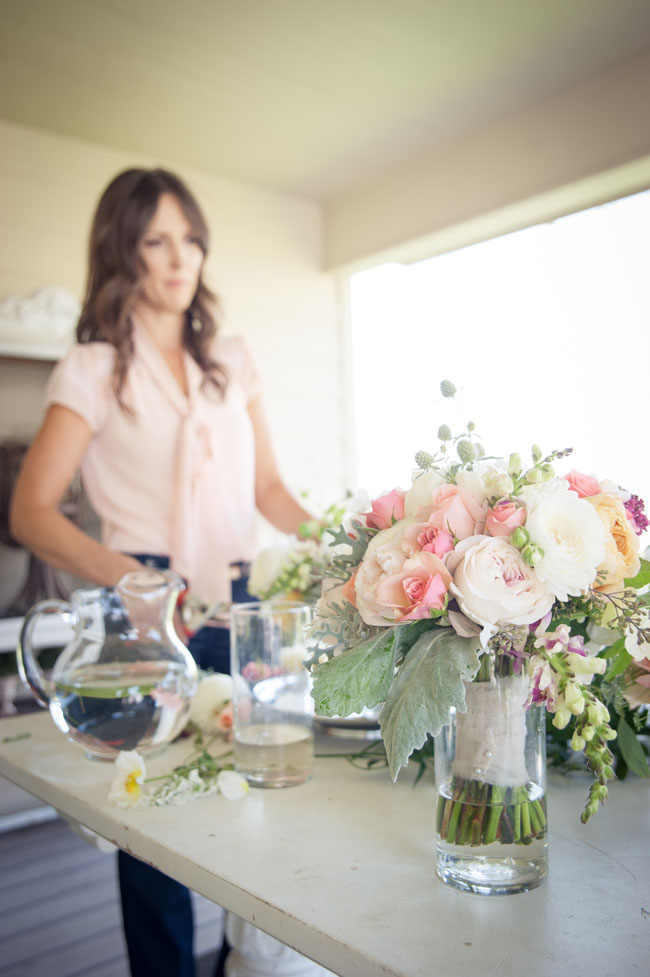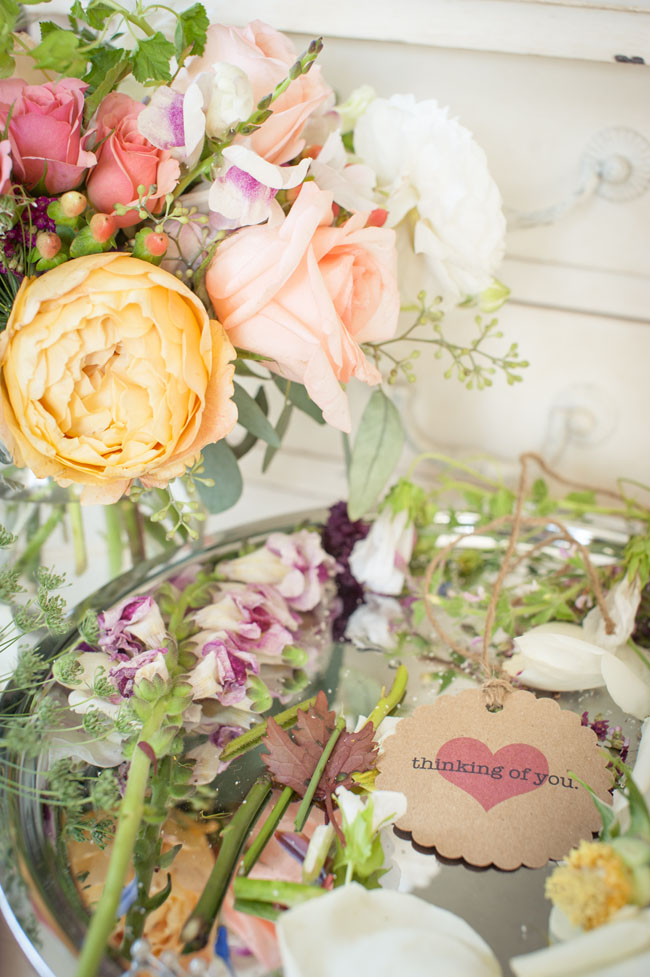 Shawn, How did you come up with the idea for Full Bloom and when did you start?
The idea came about one summer evening while I was working in the gardens at a local hospice facility. I could see in one of the patient rooms, a young mother. I began to reflect about her situation and wanted to do something to let her know someone was thinking about her. I had just cut some flowers, so I arranged them and gave them to a nurse and asked her to deliver them and to tell the young mother someone was thinking about her. I'm not sure it made a huge impact on the patient, but it did on me. I thought, "wait. I'm on to something here." So that's sort of how it came about. FULL BLOOM is in it's 2nd year of operation and hundreds of bouquets have been delivered since that one evening. Pretty amazing, I think.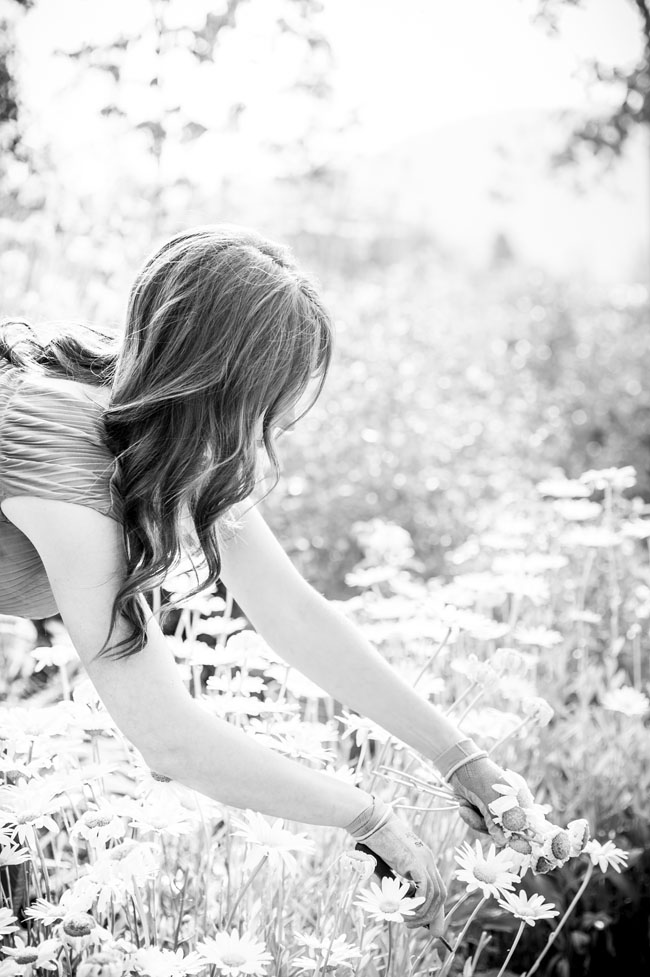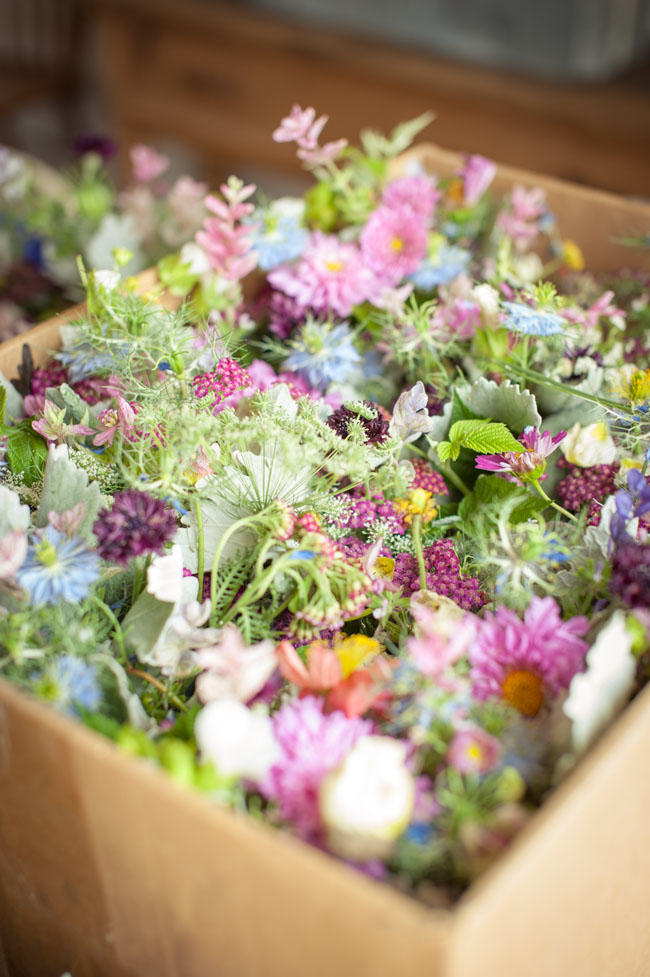 Can you tell us how Full Bloom works? How do you 'Recycle The Love'?
I love the phrase "Recycle the Love" because that's exactly what we are about and it's so easy to do! To make a flower donation, all you have to do is go to thefullbloom.org and send a quick email telling us you'd like to donate. I collect a few details about the donation, then contact the planner or florist and arrange the pick up. I have volunteers recut and repurpose all the flowers into bedside bouquets and they are usually out for delivery the very next day. That's how we recycle the love! It has been really rewarding knowing that this simple gesture has the ability to connect so many people in such a positive way. Whether it's the one donating, receiving, or the volunteers that help arrange and deliver, every person finds some joy and meaning in it. It's been really awesome to connect people in this way. Love is such a good thing. Isn't it?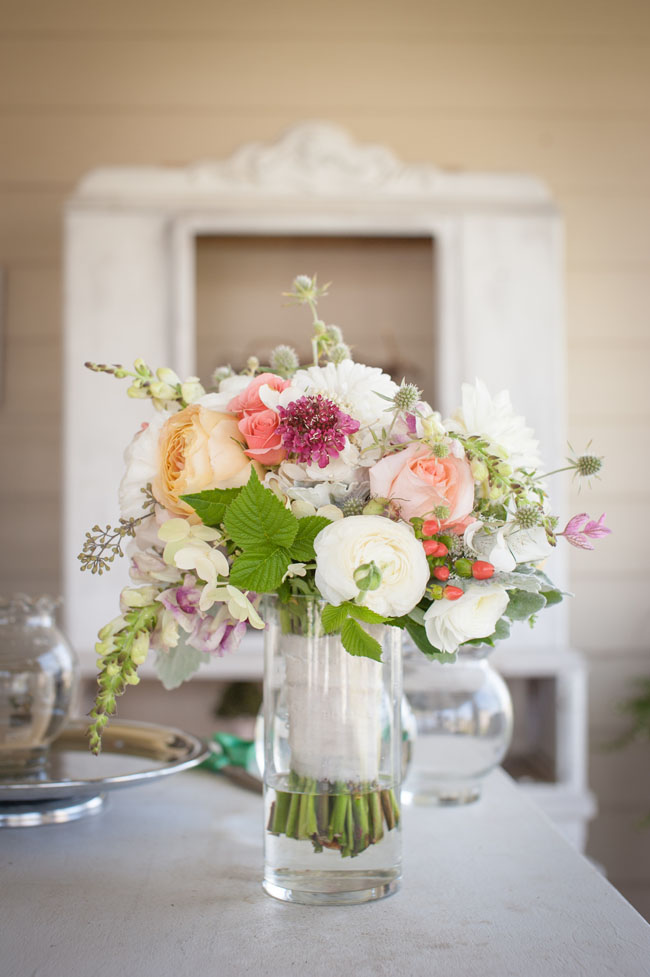 I'm sure you are full of wonderful stories of how flowers have touched someone who really needed them, can you share one of your favorite stories with us?
I do not personally go in to the patient rooms and deliver flowers – I leave that up to the nurses & caregivers, so I do not get to see the response of those receiving them, however, I did happen to have an experience with a patient that I will not forget. It reaffirmed to me that I am doing something good and it's making an impact on the lives of others. It went something like this: I am on a flower delivery to a care facility. As I was bringing the last vases in, I saw a nurse and a woman ahead of me in the hallway. The nurse had just given the woman one of the bouquets of flowers.
The woman was walking with her walker, so the nurse set them on the seat of the walker.
The woman asked, "Who are those for?"
The nurse replied, "Well, they're for you. Someone is thinking about you."
The woman: "Who would be thinking about me?" This question stopped me in my tracks.
Nurse: "Maybe this lady behind you can tell you, she brought them in." The woman turned to me and with moist eyes said, "These are for me? Well, they're beautiful."
I replied, "Yes they are and so are you.."
The woman then quietly said, "thank you, for thinking of me.." It was a very simple exchange of words, but I walked away knowing at least two lives were touched that day – hers and mine.
Thank you, Shawn, for sharing your story of Full Bloom, very inspirational!
For more on Full Bloom check out the website here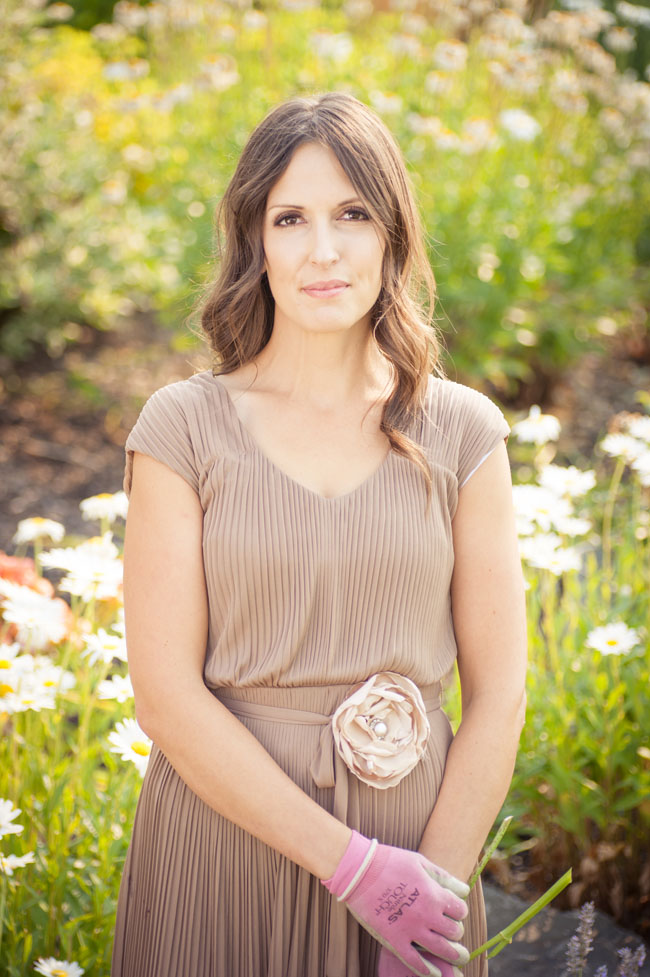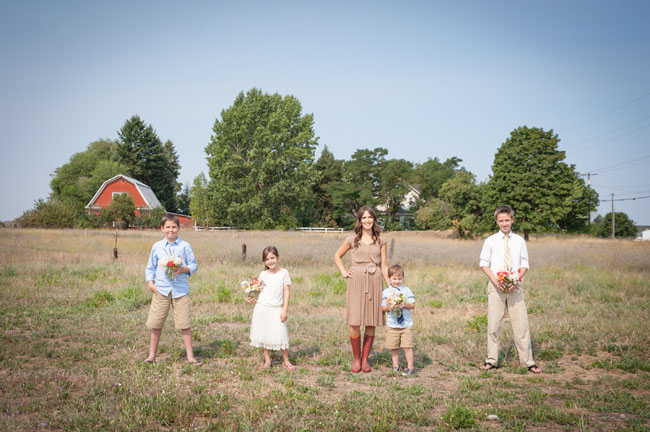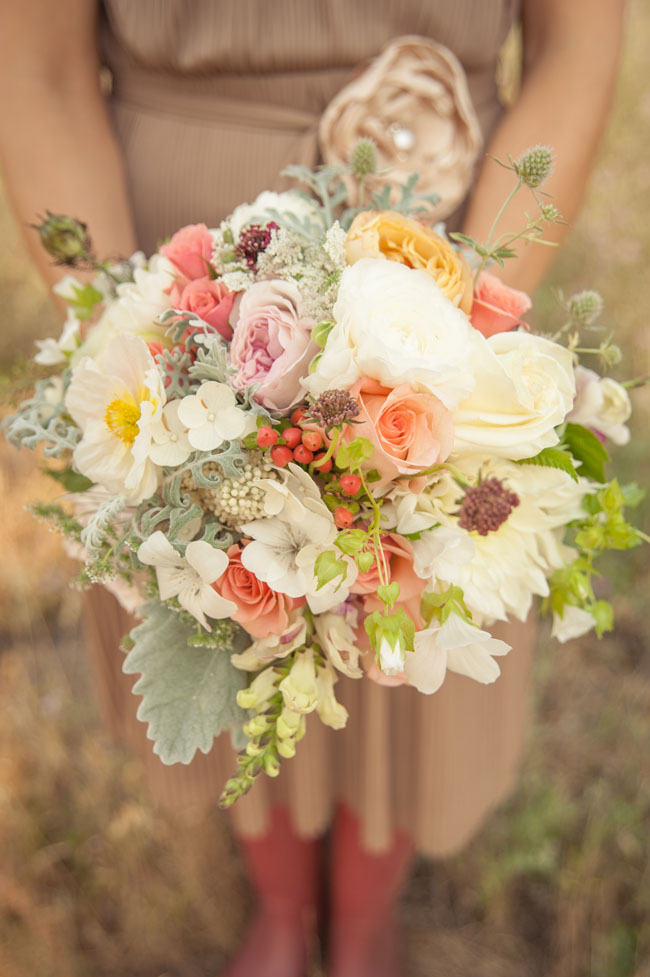 Related posts: