Hey flower Friends! I have a fun piece to share with you today from my friend Nancy of Destiny Hill Farm! Thank you, Nancy, for sharing these flower farming tips with our readers! See more of Nancy's farm & flowers on her website.
Recruiting Florists to give flower farming a try!
Growing some of your own product will give you a new insight and appreciation for your craft plus, maybe save you a little cash.
Florists, you can grow cut flowers at your home, apartment or store!
Here is a quick 10 step course on growing cut flowers.
1. Find your growing zone number, just google your zip code.
2. Dirt is everything! If you are fortunate to have an area to grow flowers then send your dirt off to be tested. Check with your state's local Cooperative Extension office on how and where to ship your soil for analysis of the ph and nutrient levels.
3. No ground or space to grow? Do you have knee issues? No problem, simply purchase or have someone build a raised garden for you to grow cutting herbs, gomphrena and dusty miller. Google "raised flower bed images" for some great ideas. If your urban space is extremely limited then try some simple container gardening and grow calla bulbs and herbs this summer for cuts.


4. Limited sun? Most cut flowers like sun but, you can still have some fun and take advantage with shade loving hydrangea or ferns for cuts.
5. Weed! Weeds squeeze out all growing space and nutrition. Weeds will take over and must be controlled. A simple solution is to put down many layers of black and white newspaper or brown cardboard to prevent weeds from growing. Either place paper around potted items you purchase or make a grid with the paper allowing planting space for your seeds, bulbs, and tubers. Add a layer of mulch and kiss the weeds goodbye. Unfortunately, you will still need to weed around your growing product but it will be manageable.
6. Get to know Johnny's Selected Seeds. This 100% Employee owned company provides excellent growing information and sells cut flower specific seeds. www.johnnyseeds.com


7. Love dahlias? They need sun, space and nutrition. We all know dahlias do not appreciate being shipped so if you have sun and space grow your own. These large growing plants will need room and staking. Check out Swan Island Dahlias at www.dahlias.com
8. Sun & Soil recaps! If you have at least 6 hours of sunlight then go for flower farming. Amend your soil or purchase good compost dirt. Keep your flower bed area raised higher for good drainage. Cover the dirt with heavy paper or landscape fabric to manage weeds. Add mulch and water as needed. If you have deer prepare to net your flowers.
9. Free Therapy is provided by Mother Nature. I believe we all benefit by having our hands in the dirt. The florist industry is hard work, stressful and not always profitable. Digging and growing will relax and rejuvenate any budding flower farmer/florist.
10. Beginner flowers to grow:
Sunflowers such as Sunbright, Sunrich and Procut
Gomphrena- QIS and Strawberry fields
Benary's Giant Zinnia
Herbs such as Sage, Basil, and Dill
Calla bulbs, Dahlia and Dusty miller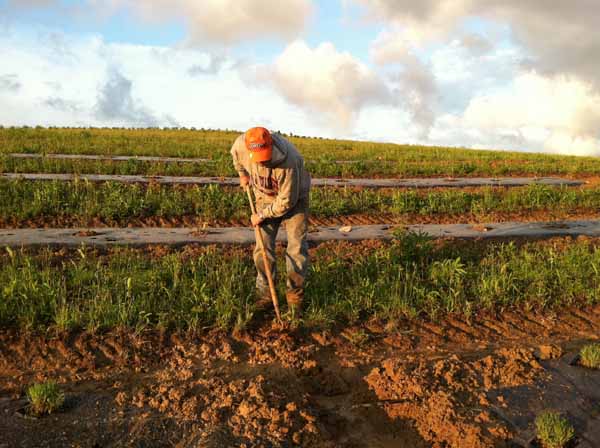 Related posts: