About the Bride and Groom:
Samantha and Fernando Arizmendi are an amazing couple. When we say
amazing what we mean is that if we could clone them and use them as
examples of what a wedding couple should and could be, we would. Every
Bride and Groom has obstacles when prepping for their wedding but these
two were tested throughout the process. Samantha turned a horrible leg
incident into a bedazzled moment when instead of letting a cast get in her
way, she used it to create a glam cast moment by gluing thousands of
rhinestones to her bridal cast. How many Brides can say that got to wear a
sparkled leg cast under there dress!
As if that wasn't enough, our wonderful California weather decided to pick
1 out of it's like 2 actual rainy days to occur on her Wedding. Clouds,
thunder and panicked vendors 30 minutes before the ceremony rushed to push
through and try to create her outdoor wonderland wedding. Talk about
BRAVE. We crossed our fingers and set up as fast as possible to try and
create this dream outdoor wedding. Thank goodness for the Bride and
Groom's desire to share in this special day regardless of rain or shine.
The rain….it stayed at bay until the Ceremony was over and then that
day, it let loose and poured.
When Samantha approached us and said she wanted to utilize baby's breath,
I have to admit that I cringed. Not only is it not something I don't use
it's something I associate with the 80's and let's face it….I lived that
already and I have no intention of going back to those days. Let's just say my
Hot pink and Black LA Gears are packed away, never to be found. After I
had the chance to meet and talk about the reasons behind the floral choice
did my wheels start to turn. Afterall, our philosophy is "more is more" so
what if we applied this theory to Baby's Breath to turn this wedding out?
That is exactly what we did. Over 100 bunches of Baby's Breath was used to
create 13 Tall Centerpieces and Ceremony décor. 11 Short centerpieces
filled with Fluffy White Hydrangea and Roses were tucked inside Gold
Pedestal bowls.
Luckily our Bride was not only Brave but original to boot. When she asked
us to flare up her Elegant White and Gold wedding with some skulls, I
flipped in a totally good way! We incorporated a lucky skull to the Grooms
boutonniere, a skull to the Brides lace Garden Rose filled bouquet and my
fav, to honor her Grandfather a special Owl to express their love. These
are the details Brides forget about. Everyone is so busy copying a
typewriter that was original to a bride 2 years ago and incorporating it
into their wedding, instead of utilizing items that truly are UNIQUE to
them.
It really was an immense pleasure being part of the Arizmendi's wedding. I
wish them both a lifetime of happiness filled special details throughout!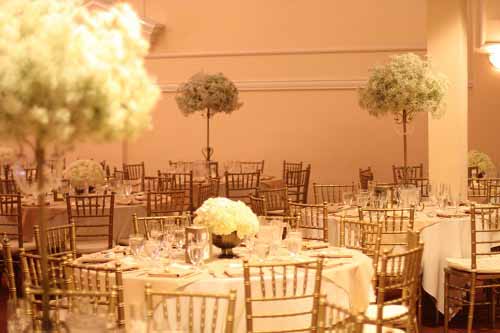 Wedding Vendors:
Florist: Entwined Design www.entwineddesignflorals.com
Photographer: Kevin Le Vu www.kevinlevu.com
Venue: Coyote Hills Country Club
Marci, thank you for sharing this fabulous wedding with us, we love it and YOU!
Related posts: