Hi Flower Friends,
I recently sent out a Q&A to our newsletter subscribers and usually I receive plenty of replies, but this time only a few trickled in. My guess is that many of you are still very busy with wedding season and answering emails from brides. Sooo… I'm posting the Questions here and am requesting that you email me your answers – info@flirtyfleurs.com — and I'll post the answers in the coming weeks. Hopefully this will help us get a good selection of answers!!
Read thru the 7 questions below and you may answer as many of the questions as you like.
The Question and its Answers will be posted on flirty fleurs — www.flirtyfleurs.com — weekly on Thursdays!
…………………….
Question #1
How do you calculate out your fee for deliveries & installations? What is a reasonable fee for these services?
-Lynda
…………………….
Question #2
I'm currently vacationing in Thailand, and spending a lot of time gazing at the amazing bougainvillea. And it's something I would really love to use more of in arrangements but have never considered it further due to their incredibly short vase life. Does anyone have an suggestions on conditioning or treatments that these fabulous flowers can benefit from to increase their longevity? For example does anyone know if dipping cut stems in alum (similar to hydrangea) would work?
-Karen
…………………………..
Question #3
I'm curious about freelance rates around the country. See lots of requests for freelancers but never any info on the pay. What is the typical going rate in each city?
-Lucinda
…………………………..
Question #4
I am currently in the process of renovating a new location for my business. In this new space I will be building a 8 x 10 floral cooler. Working with contractors can be scary and frustrating. I am wondering if any other business owners have already been through this process? And if so; any advice to pass along? Mistakes that your contractors or yourself made? Approximate cost for the job?
-Haley
…………………………..
Question #5
I just bought my own little flower shop this past February. Unfortunately, being young and going into business for the first time, I was very naive. The elder brother and sister I had purchased the store from were suppose to retired (One was 58 and the other 62 years old). I thought everything was going well until Passover, in April, where I only received a handful of orders. The store, being next to an affluent Jewish neighborhood, this was very unusual. I learned a few days before the holiday, through a customer, that the previous owners had solicited the client list that they had sold me, and took their orders. Not only that, but they were working out of a wholesaler's warehouse from whom I also bought my own flowers! Talk about being double crossed. I threatened for legal action and the day before Passover, the previous owners agreed to give me the orders.
So here's my question: Is there anything I can do to protect myself for future holidays? Can wholesalers do this? Isn't it damaging for the florist community?
(previous owners did sign a non-compete stating they are not allowed to operate a flower shop directly or indirectly within 3km for 5 years)
-Anonymous
…………………………..
Question #6
This weekends wedding was a beast for me. It was a whopping 11 tables and 6 cocktails, easy-peasey, right? But there were rentals of pillars and backdrops and the loading dock was a country mile from the set up sites. It was 15 minutes of walking, 2 service kitchens and two elevators from the truck to the reception site. With this kind of obstacle course, efficiency is paramount for timely delivery, calm work environment and my aching feet. 
I am interested to hear what tricks of the trade there are for load-in. How are trucks packed? What's the preferred dolly/cart? Are florists designing based on what they can transport the easiest? 
One of my biggest strengths is making something work, no matter how hard it is to accomplish. This is also one of my biggest weaknesses. 

I do not want to be killing myself with load-in if there is an easier way. Thoughts?
-Sarah
…………………………..
Question #7
Would you consider a post regarding the line between being the florist and being an event designer? 
Recently I had a bride come in with picture of what she wanted for floral. We finished the quote and then she wanted to know what chairs, dance floor, invitations, hanging lights vs festoons vs up lights, etc. 
I am all for providing opinions and feedback. That's not what this was. This was more of a expectation for a design rollout. She even told me, "well, the florist designs the wedding".
I think this is from an era where the only design choices were linens and what color bow to use to cinch that net filled with Jordan almonds. Now the bride's wearing cowboy boots and emerald jewelry in her engagement photo because in a year she's getting married in a barn and her bridesmaids will be wearing emerald dresses. 
In this age where the drinking straws match the pendants, which coordinate the menu cards, which have the same font as the "Pick a Seat" sign, which has a small, hand-drawn sketch of cowboy boots which harken back to what the bride wore in the engagement shoot a year before, I am not interested in event design. Can you provide some feedback on where the line is? I want to be helpful, but I don't want to provide free design services either.
The bottom line – how do you make it clear to a bride when you want to do flowers only vs when you want to offer full event design services?
-Sarah
…………………………..
You can hit 'reply' to respond directly to this email.
The address is – info@flirtyfleurs.com
…………………………..
Now to sweeten the deal — answer THREE or more of the above questions and you'll be entered into a contest to win a one year subscription to Flower Magazine!!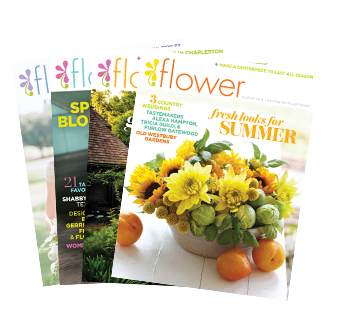 Related posts: