The Question:
I'm thinking of fashioning a way to transport bouquets & arrangements, but need some inspiration. I've seen a few photos, but wondering what works well for others. I drive a Tahoe and am thinking of buying a van if business continues to blossom. Curious to know what others do to pack and transport flowers to their destination.
Jessica in Kentucky
………………………………………………….
The Answers:
How one of our customers transports her final products – she re-purposes one of our boxes by cutting holes in the lids and placing the bouquets/vases inside so they don't fall over!
Shea, Delaware Valley Floral Group, New Jersey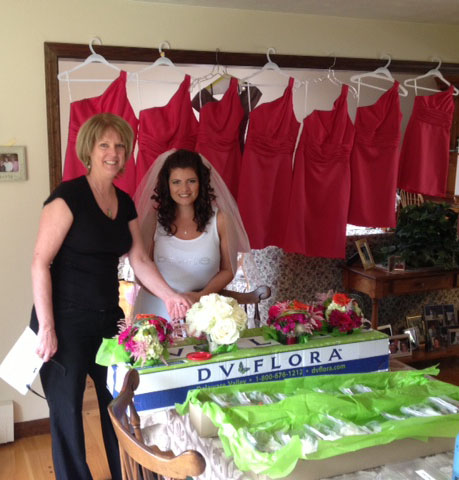 ………………………………………………….
I had wooden racks made that slide into the back of my delivery vans. (leaving me about 3 ' space in the back of the van for buckets of flowers or higher pieces). This gives me two levels and I am able to transport so many flowers without wasted space. …(Although it is probably not the safest way to travel). I also use plastic soda pop crates (perfect for cubes) to transport smaller vases. They work great as the have low handles and are very sturdy. They are stack-able and slide right into my racks in the cooler. I transport my large focal pieces in milk crates and stuff towels around the urns or glass compotes. Lastly, I fill new black tube socks filled with kitty litter. These are similar to "sand bags" and weigh down and hold the pieces I am transporting in place… And if they happen to get wet you just hang them out in the sun and they quickly dry. (I have probably 200+ sand bag socks which I store in totes)…Good Luck!
Amy, Amy Kate Design Studio, Michigan
………………………………………………….
From Ann of Farm To Vase: Local, Seasonal, Sustainable Floral Design, Wisconsin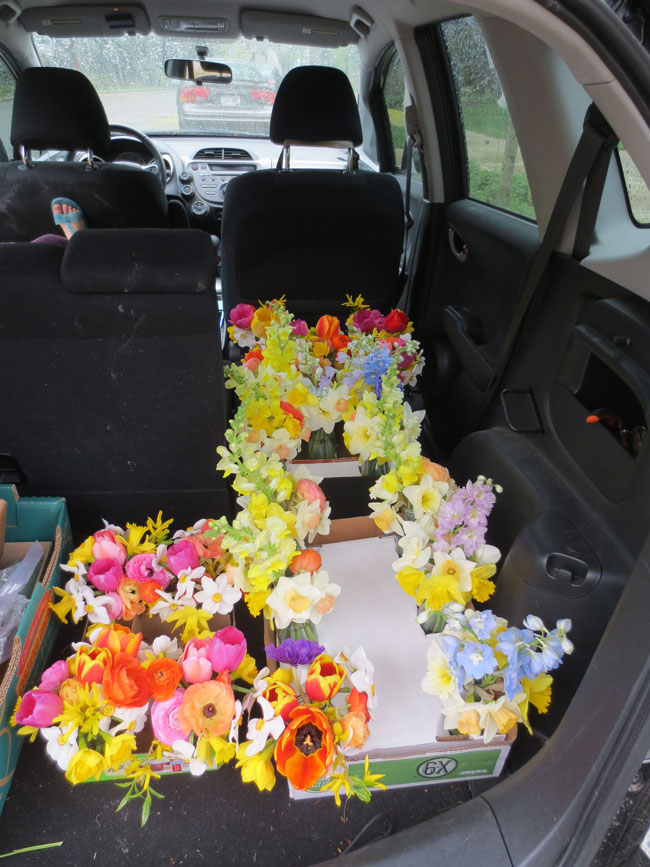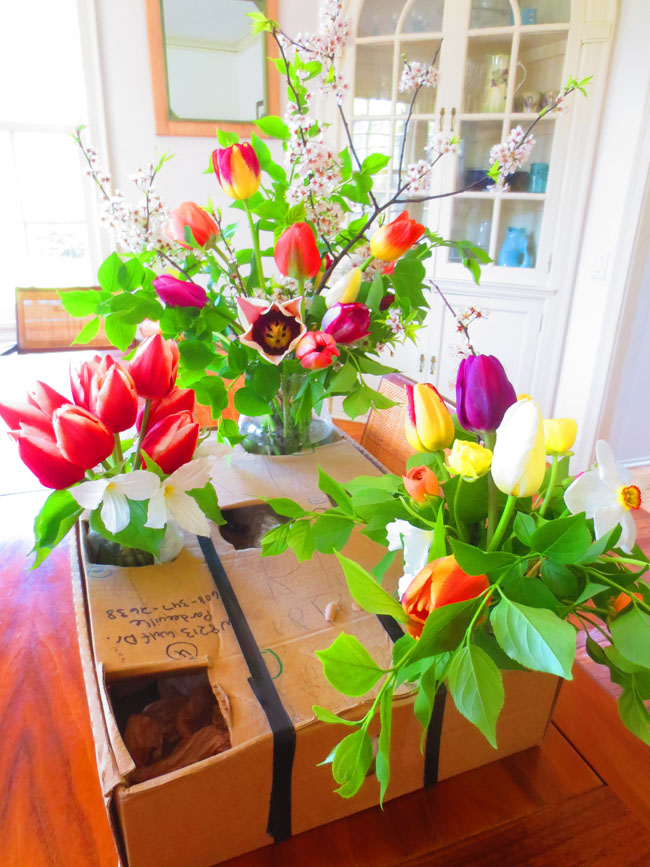 ………………………………………………….
When I first began designing my mode of delivery was a mini cooper! You'd be amazed how much you could put in that car! Then I went to a Honda CRV and currently to a Honda Pilot…mainly for the cargo space. The grandkids car seats work great for just a few (strap the container in the car seat and you're ready to go). Two foam holders fit across the back of the Pilot which is nice. For larger events(especially for tall) I use a 8×12 cargo trailer.
Kris, KRISanthemums, Oregon
………………………………………………….
I have learned some great transportation tricks. From your wholesaler get rose boxes that are the height of your container (or a little lower). Keep the box top on and cut out holes in the top spaced apart according to how wide your design is. If it is a cylinder, use a box cutter to cut out an asterisk shaped pattern, then just push the container down into it. It holds great. You can usually get 5 centerpieces per box and they just slide right into the back easily. Can get 32 centerpieces to fit into my Sequoia truck floor (with rear seats removed and middle seats up and secured) on one level, so 64 if you have a top shelf built in (my next project for my handyman husband 🙂 )
For square or rectangular containers, just cut out a shape in the box top that is slightly larger than the container and slip it down into it. The boxes can be re used, recycled, thrown out or kept in your truck to easily transport the containers back safely and quickly after tear down. I save the precut boxes that fit my containers on a shelf so I know they will fit for the next gig.
For taller and larger containers, the floral designer I do contract work with taught me large plastic house paint or utility paint buckets are great. Just put the tall container in the center and support it on all sides with chunks of styrofoam to keep it stable during travel. For large arrangements in lomey with oasis, get some sturdy plastic milk crates and put a flower pot , planter, some other container that you can set the lomey on after stabilizing with styrofoam (never the white kind, though as those little white balls stick to everything. Use the heavy duty green styro sheets from the craft store or wholesaler. Good luck and safe travels!
Madeleine, Fleur de Vie, Texas
………………………………………………….
I use Seminole Floral Delivery System, no matter what you drive this system can be adjusted to fit any delivery vehicle. The board comes in squares that fit together like a puzzle to form basic rectangle or square forms. Then you put the pegs around your designs! I love it! Oh and it is grandmother approved too! My Grandmother has her own system dedicated just for shopping. I highly recommend it!
http://www.seminoleds.com/main.html
Summer of Summer Thyme Floral, Pennsylvania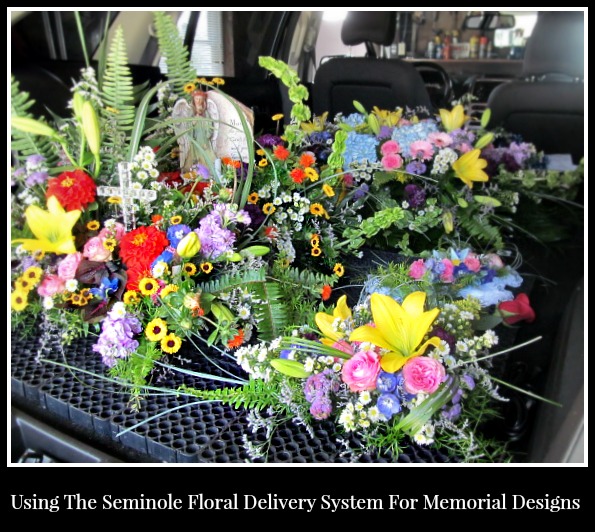 ………………………………………………….
There are many options and it is always interesting to see what other vendors use but hands down I have been thrilled with the collapsible crates from The Container Store….they easily transport two centerpieces per crate, are stackable and very sturdy. I line mine with a rubber maid shelf liner and everything is very stable. They can be ordered on line and shipped directly to you or in house at your local store!!
Lisa of Petals and Promises, Maryland
………………………………………………….
I use the boxes that my flowers come in from my wholesaler. I cut holes in the top of the box to fit the vase into, that way it remains upright while I'm driving. Depending on the types of flowers, the vases are close enough that the flowers touch, but if I'm using lilies or other flowers that are delicate, I make them farther apart so they don't bump into each other. This also makes it easy to carry out to the car (with my husbands help of course).
Janelle, For The Love Of Flowers, New York
………………………………………………….
I don't have any great pics, but I have a Tahoe too. My husband is a most excellent packer. One method we use for centerpieces is to cut slits in the cardboard box lids from flower orders. Most vessels are quite secure. Another way to save space is to use large plastic bins with sturdy lids. I use them for smaller low centerpieces. I stack them up sometimes three high. The bins prevent water from getting all over the vehicle! The bins can also be loaded single high, and items can be put on top.
Laurie of Fleurie, California
………………………………………………….
Here are some web sources regarding floral transport along with some other photo ideas I've come across in the past.
From Jennifer Mancuso, Michigan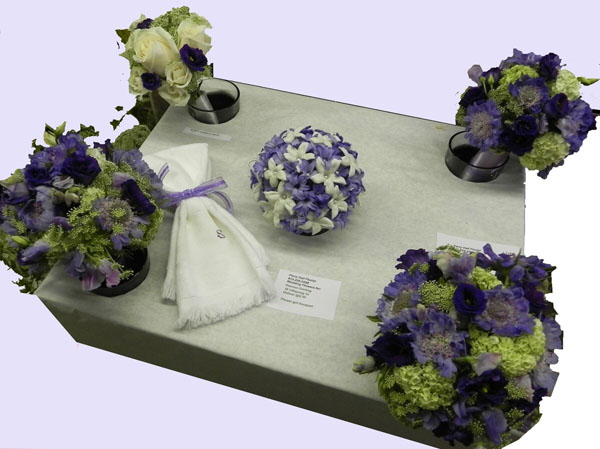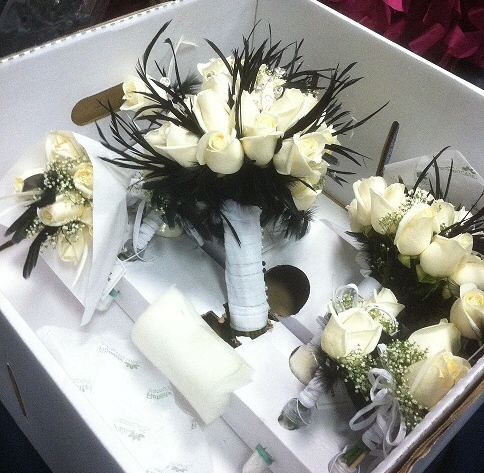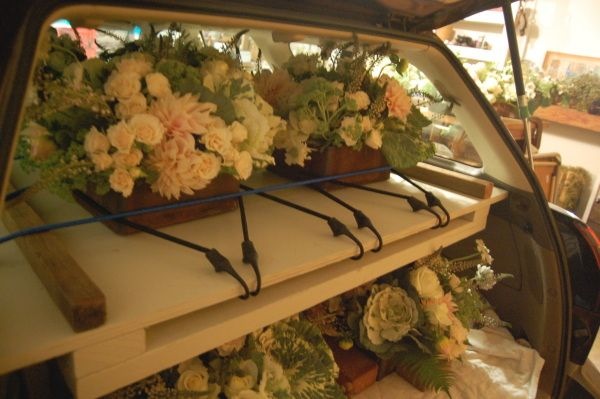 ………………………………………………….
An answer for those Canadian companies – milk crates. They haul everything just perfectly!
Andie of Dandie Andie Floral Designs, Ontario
………………………………………………….
Do you have a question you'd like to ask for a Q&A session? Email it to me at: info@flirtyfleurs.com
Related posts: