The Question:
This weekends wedding was a beast for me. It was a whopping 11 tables and 6 cocktails, easy-peasey, right? But there were rentals of pillars and backdrops and the loading dock was a country mile from the set up sites. It was 15 minutes of walking, 2 service kitchens and two elevators from the truck to the reception site. With this kind of obstacle course, efficiency is paramount for timely delivery, calm work environment and my aching feet.
I am interested to hear what tricks of the trade there are for load-in.
How are trucks packed? What's the preferred dolly/cart? Are florists designing based on what they can transport the easiest? One of my biggest strengths is making something work, no matter how hard it is to accomplish. This is also one of my biggest weaknesses.
I do not want to be killing myself with load-in if there is an easier way. Thoughts?
-Sarah
………………………………………………….
The Answers:
We use carts, refrigerated box trucks and enough man power to get it there at the time we say we will. If there is a venue you have never worked at before it's good to go take a visit so you can say well it's only 11 tables and a few cocktail pieces but all of those rentals are going to take a small army to get there and charge wisely. Everything and I mean everything goes on a rolling cart we do not lift as it's not good for our lower backs in the long run. Plus one person can push one cart and that is like moving 8 flower boxes full of flowers. So it turns out to be cheaper in the long rung. Shrink wrap and carts on wheels is how we roll. Pun intended!
Alex of Exquisite Designs, Illinois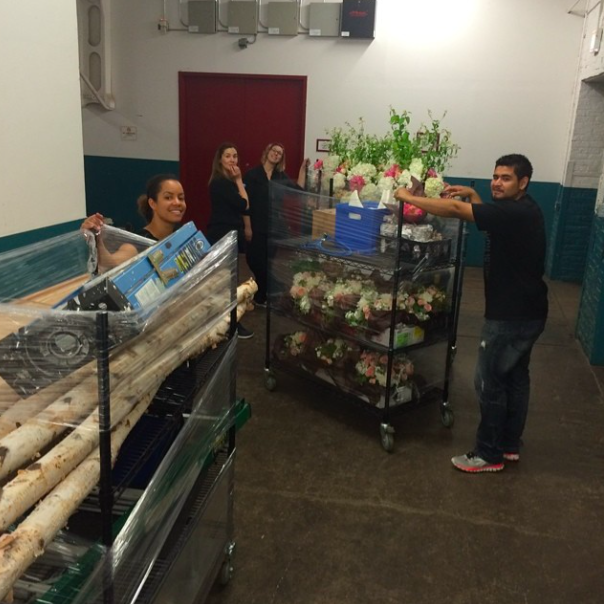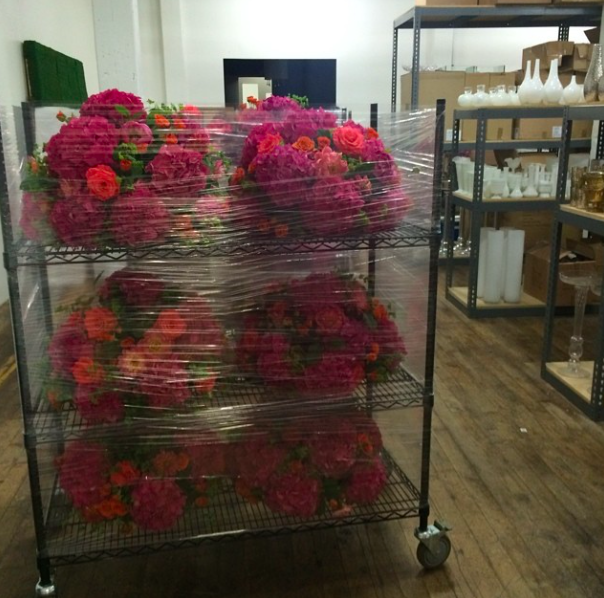 ………………………………………………….
I had the very same situation this weekend. In 14 years, this was the most difficult delivery I have had. It was the same story. Downtown Dallas, a new venue for me and a single loading dock which happened to be occupied at the time of our scheduled delivery. We ended up at a loading dock across the street and had to take 2 security elevators and walk 2 blocks to the venue. This was for 26 centerpieces, vintage columns, large urn arrangements…..you all know the drill. They provided us with one small kitchen cart to use…….do the math. They cannot pay enough for this!! There were 3 of us making the delivery which normally would be fine. So, I am also curious how others work through this kind of delivery. Here are the things I would do differently. If it is a new venue, I am going to do a pre-visit to make sure I know what is ahead of me. Secondly, we will be purchasing our own carts……although it's never been an issue until now. Thirdly, I could have easily used two extra staff IF I had known what was waiting for me. Last but definitely not least, I will charge triple!!!! There is a silver lining to the saga…….I got the best text from the MOB……"Your flowers were beyond magnificent!!! Even more beautiful than we had ever dreamed of!!! You totally caught our vision and executed beyond and executed beyond our expectations!!!" Ok……maybe the delivery wasn't THAT bad!! We count on those comments to keep us going don't we? Thanks again to Alicia for the constant encouragement this blog gives me!
Jan Barstad
………………………………………………….
Do you have suggestions and advice for Sarah? Please leave it in the comments section – thanks!
………………………………………………….
Do you have a question you'd like to ask for a Q&A session? Email it to me at: info@flirtyfleurs.com
Related posts: