Looks like garden roses will be one of the IT flowers for this wedding season, don't you agree?
There are so many color varieties to choose from, especially in the pink hues. Florabundance provided these beauties for us to test, grown by Alexandra Farms of Colombia.
(BTW, I'd really like to visit this farm one day, love their product).
Florabundance sent us six different pink garden roses; mariatheresia, bridal piano, baronesse, pink piano, romantic antike and pink o'hara.
As soon as the roses arrived via FedEx I opened the box and processed the flowers – into vases with flower food and room temperature water. Each vase was tagged with the name of the rose and placed on the table in my meeting room.
Let's see how these babies open up!!
A few notes about the garden roses:
They all lasted a good 7 days, most were done on day 9.
Pink O'Hara definitely lasted the longest, about 10-11 days.
Mariatheresia and Baronesse lasted the shortest amount of days with wilting starting on day 7.
They were never placed in the cooler, they spent the entire week in my meeting room which gets a good amount of light with a temperature around 68-70 degrees.
A few of my floral designer friends came by to check them out and give some feedback-
Romantic Antike was the crowd favorite – the huge poofy bloom is just so gorgeous and the slightly off pink color, almost a dusty tone made it so appealing.
Everyone agreed that Baronesse and Mariatheresia had the most appealing shapes for design work, they open very round and somewhat flat which make them easy to use in designs.
Pink O'Hara probably received the least amount of love, mostly that they look too close to a normal rose shape.
My personal favorite is the Bridal Piano, this gorgeous and sweet pale pink rose is so romantic and I am quite fond of the little buds surrounding the main large rose. The little buds did not open up.
Pink Piano had the same shape as the Bridal Piano with each stem having the additional tiny rose buds. The feedback I received on this one is that the petals looked so packed which caused some slight tears/bruising.
The foliage on all the roses was a deep dark green and very healthy looking.
Because of the increasing popularity of Garden Roses worldwide availability on certain colors and varieties can vary. I highly suggest placing your orders well in advance. For more color options please visit Florabundance's Website.
I have ordered the Caramel Antike garden rose in the past, it's quite fabulous! I'm also a huge fan of Alabaster, as seen here.
I only made one design with these as I really wanted to see how they did in the vase. Here they are with the clematis from last week, yes, I still have clematis in my cooler!!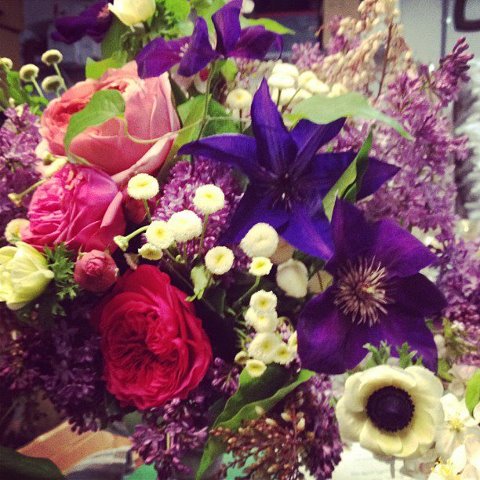 Contact information:
http://florabundance.com/
P: 800-201-3597
Related posts: