If you've followed this blog for the past 4 years or know me at all, you know that I love London! It's such a fabulous city! I love that I can get around town via the Underground and it is absolutely filled with wonderful things to see for flower lovers.
Ohhh… and was this past visit filled to the brim with flower goodness!
Today I'll give you a re-cap of what I did and saw and the following days this week I will post more in depth looks at each event.
First, I arrived into Heathrow and caught the express train into Paddington Station. First thing I see – flower stand: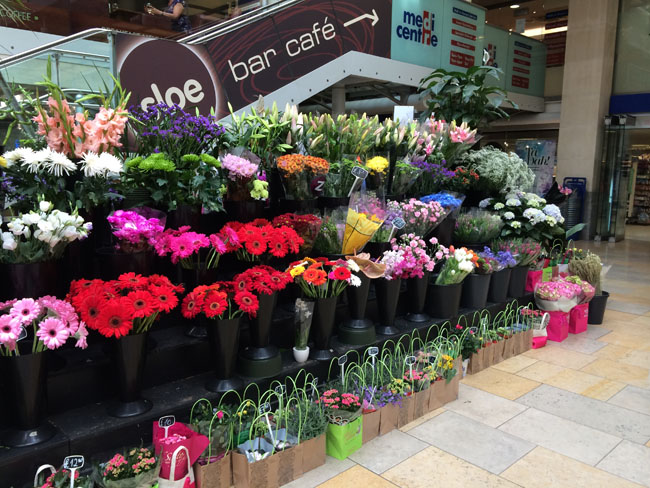 Then I was off to the next train station to meet up with my friend, Emma, who I stayed with and again I see more flowers: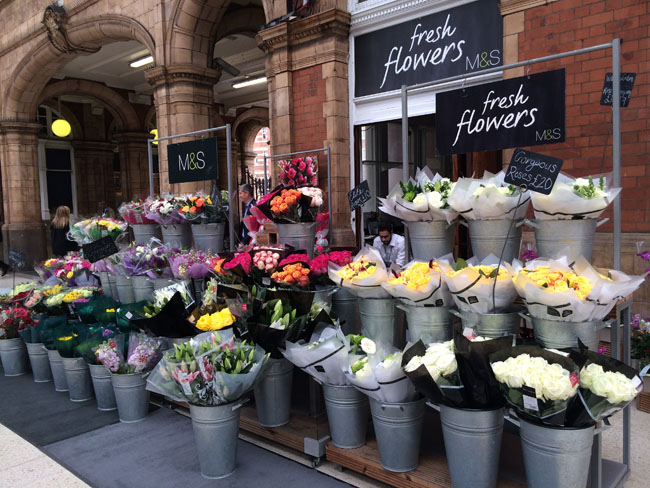 Thursday morning I was up bright and early and off to the New Covent Flower Market to meet up with the one and only Paula Pryke! Love her! We perused the flower market, chatting with other flower designers and admiring the gorgeous flowers available. We had a nice time at the market and then we caught a cab over to Neill Strain's phenomenal shop in Belgravia. Neill's shop is so beautiful and I just love going there for a visit.
Here's Paula & Neill in front of his shop:
Neill had a special flower show as part of Chelsea Fringe happening at his shop called Passion for Peonies. He had peonies that I've never seen before, so many incredible varieties.
Neill, Paula and I enjoyed a fantastic brunch and chatted about the floral scene in London. They told me about visiting Chelsea In Bloom. Then Neill says – let me see if anyone has an extra ticket to Chelsea for today. (I had one ticket for Chelsea for Friday. If you ever go to Chelsea make sure to buy your tickets well in advance as they do sell out!). After our fun visit Neill drove me over to Chelsea In Bloom and told me he'd text when he finds a ticket. Chelsea In Bloom takes place at various shops around Sloane Square (the neighborhood just outside the Chelsea Flower Show). Sure was fun hunting for the shops that were participating and watching passerby's reactions. About 90 minutes later I receive a text from Neill – he has a ticket! I was so excited, all of a sudden I was going to Chelsea a day early!!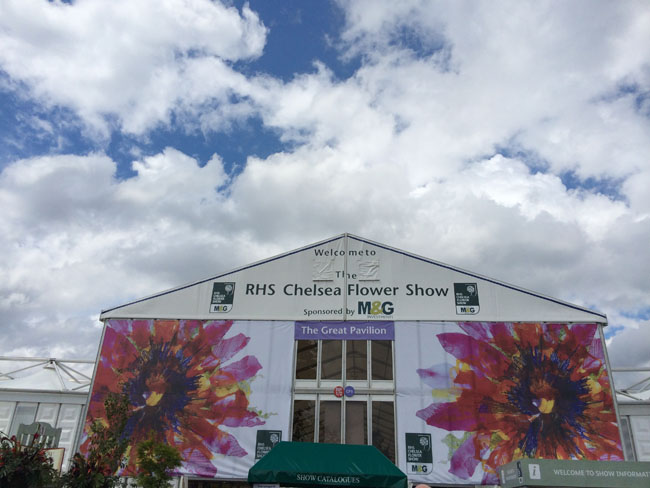 In the coming days I will be posting quite a few photos from Chelsea .. as soon as I sort through all of them!
I only spent a few hours there on Thursday as I knew I'd be there all day on Friday. After leaving the show I walked around Chelsea, Sloane Square and Pimlico Road. Wandered upon Nikki Tibbles' Wild At Heart Shop:
And saw this gorgeous floral design sitting in the shop: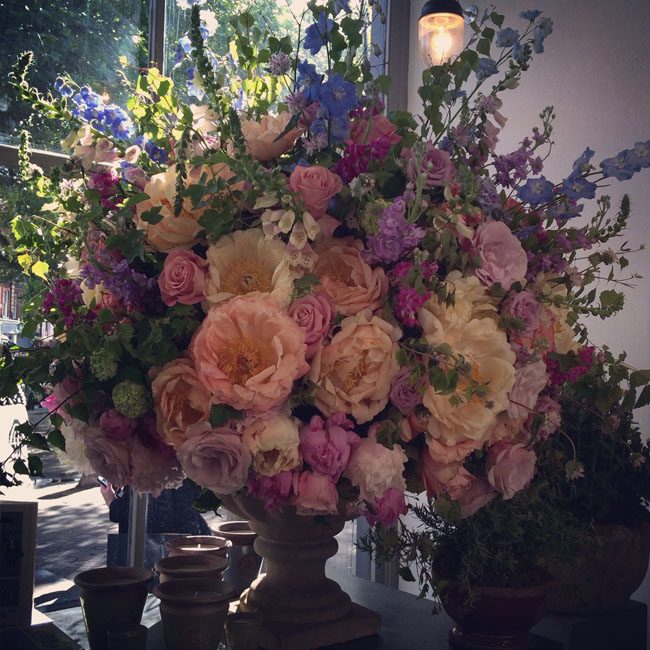 Then I was off for more walking, wandered up through Belgravia neighborhood and ended up by Buckingham Palace. Then caught the underground back to Emma's flat.
Friday morning came and I was off for a full day at Chelsea Flower Show! Yes, I really spent all day there and I think I saw everything. Hopefully I saw everything! Plus, I got to visit with Rona of Flowerona Blog. So great to see Rona and catch up, plus she knows all about Chelsea and could fill me in on details. Emma and her friend, Wendy, joined for the evening hours and we were the last of the group that left when the gates closed at 8pm. Off for a walk through the neighborhoods and a great dinner.
Hold tight .. you'll be seeing plenty of Chelsea photos this week!
Saturday came and we decided to go for a drive into the north, towards Birmingham we drove. That idea turned out to be brilliant. Joe Massie was in Birmingham working on a floral installation.
Check out this piece he designed: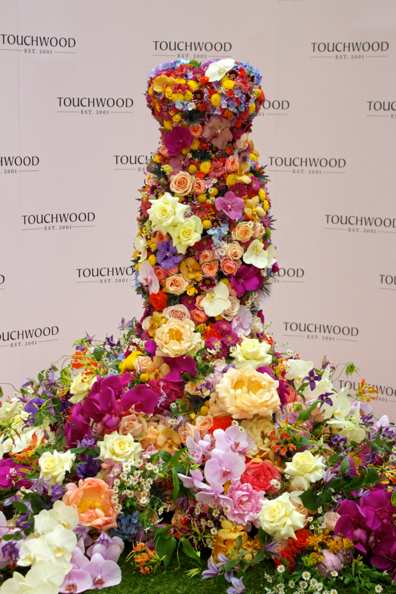 Joe, Emma and I enjoyed a long visit over dinner in the small town of Wolverhampton. Good times and felt I had to pinch myself to believe I was there sitting with my friends at a random pub in Northern England.
I can hardly believe where Emma and I ended up on Sunday. David Austin Roses. Yes, that David Austin! Located just outside Wolverhampton are the David Austin Rose Gardens. We perused the gardens, and more gardens. We had tea (cappuccino for me) and crumpets in their tea room. We studied the plants for sale. Finally selected an amazing yellow Graham Thomas Garden Rose for Emma's garden.
Talk about a perfect day, a perfect weekend and a perfect week!
Sunday evening we drove back to London. I quite enjoyed driving thru the countryside, the weather was perfect and the rolling green hills so beautiful.
Monday rolled around and we decided to take an easy day after 4 days of running around. The biggest outing was to visit Peggy Porschen's cake shop in Belgravia. Peggy's cakes are glorious to look at and just as good to eat!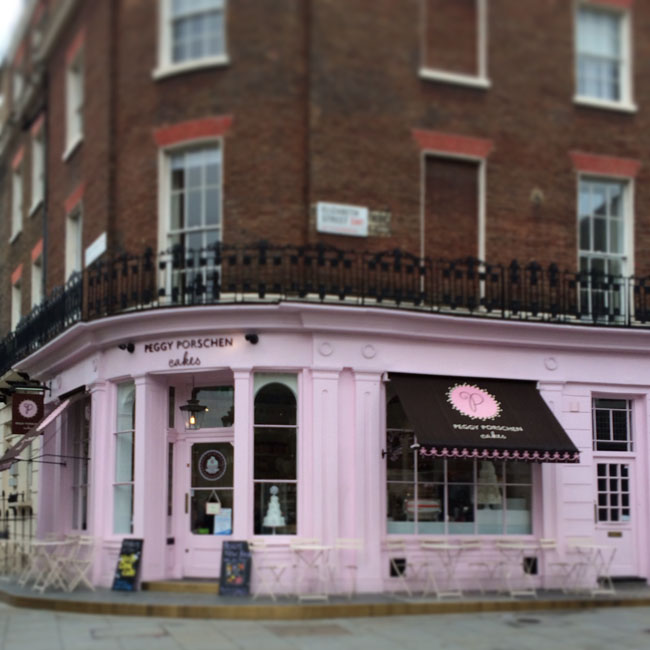 Tuesday came way too quickly and it was time to return home. Crazy how quickly a week can go by, of course two days are lost to the traveling to and from Seattle to London.
Oh, one more thing I saw while out strolling around London – sides of buildings covered in plants. I thought these were just spectacular!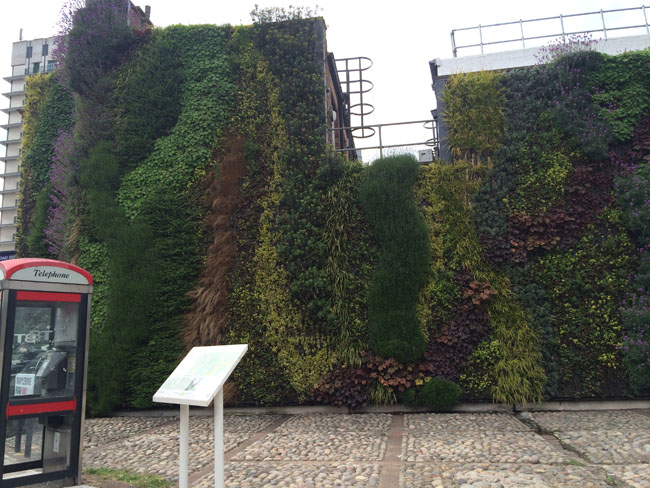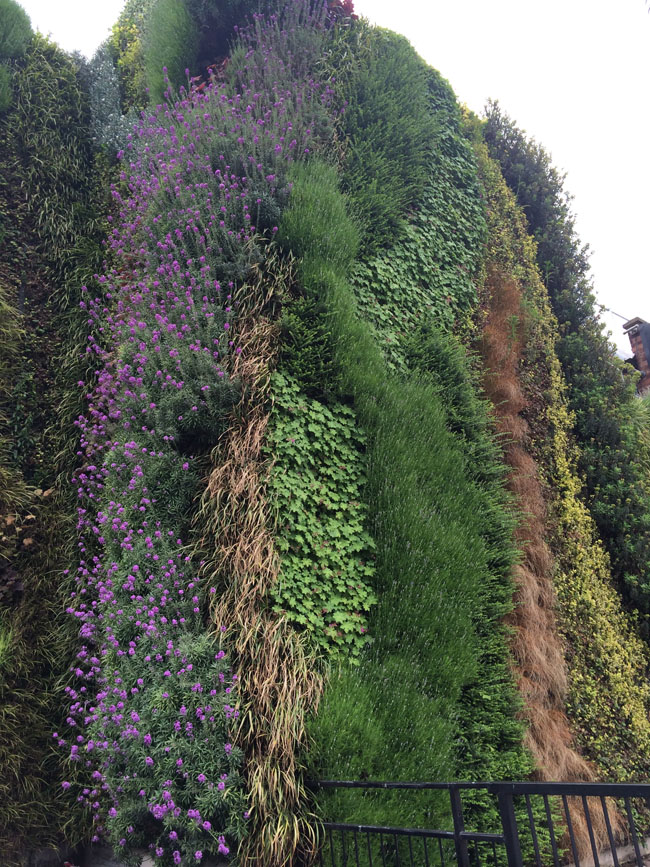 Related posts: