For many florists like myself, everyday computer work can bog us down and take away important creative time. Tasks such as creating/revising estimates, wholesale order forms, design recipes, and tracking client payment can be very time consuming and prevents us from being able to do what we want to do – design, be creative and ensure our clients happiness!
But, this problem has now been solved with Lobiloo – the first image-based estimate management solution made for florists, by a florist!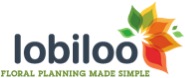 At a price you can afford, Lobiloo allows you to easily create visually inspired estimates for your clients. It has a drag-and-drop interface where you can easily include beautiful images of flowers and hard goods (you can either upload your own or use from the existing database), along with pricing (that can be saved for future estimates), providing your clients with a visually appealing estimate that took you only a fraction of the time to create.
Below are just some of the features of Lobiloo:
-Only $19/month (no contract)
-Saves price per stem as well as prices for hardgoods and rental items
-Compiles wholesale order forms and streamlines cost-outs that ensure profit margins
-Compiles design recipes for you
-Tracks client payments within the estimate
-Creates image-based beautiful estimates
With all of these features, plus great customer service, Lobiloo can save you time and improve your business. Start your free one month trial today!
Watch our introduction video for more details about the platform, how it works and how it can help transform your business:
Intro to Lobiloo from Freeport Metrics on Vimeo.
Related posts: