We are huge fans of Joseph Massie from the UK, his floral creations are absolutely awe inspiring. Check out his latest art piece!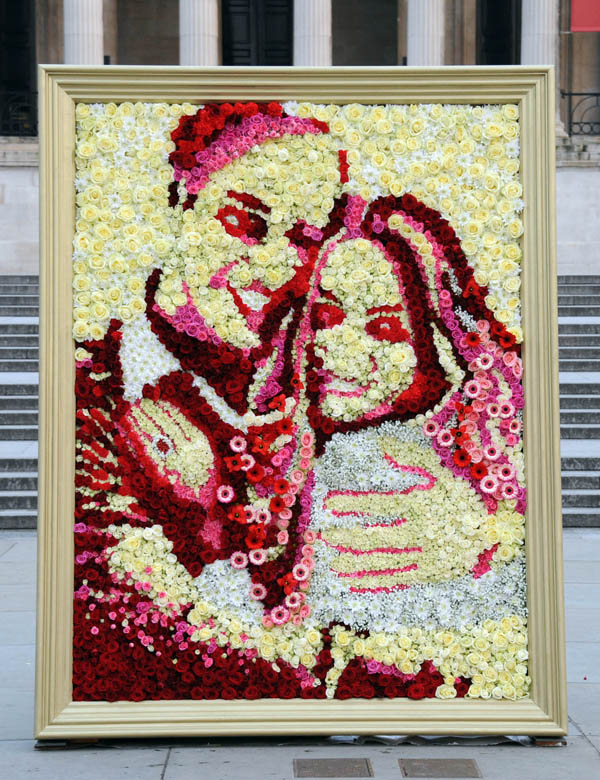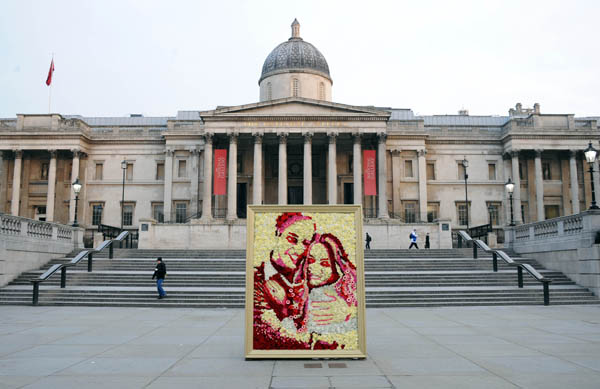 How rose-mantic: Asda joins forces with Joe Massie to create a stunning portrait of the Duke and Duchess of Cambridge, made entirely from the supermarket's Valentine's Day flowers
KATE AND WILLS: SUCH A BOUQUET-TIFUL COUPLE
· Asda partners with RHS Chelsea winner, Joseph Massie, to create a unique portrait of the nation's favourite couple
· The masterpiece required 1,830 flowers and took 150 man hours to make
· 43% of Brits vote the Duke and Duchess of Cambridge the couple with the most romantic love story of all time
Asda unveils its very special portrait of the nation's favourite couple, the Duke and Duchess of Cambridge, made entirely out of Asda's finest Valentine's Day flowers.
The floral masterpiece of the Royal couple, which was exhibited outside the National Gallery in Trafalgar Square, London, has been created with the help of Joseph Massie, the UK's reigning young florist of the year. With 43% of Brits voting Kate and William's story the most romantic of all time, this artwork is set to inspire Brits to treat their very own prince or princess with a gorgeous bunch of flowers this Valentine's Day.
Massie's artwork stands at an impressive 8.8ft tall by 6.6ft wide and is finished with an ornate gold frame. It was created using a sweet-smelling combination of flowers from Asda's Valentine's Day bouquets available in-store, including Aqua, Akito, Bordeaux, Passion and Naomi roses, carnations, Lollipop and Red Rock germini and tulips, and took a staggering 150 man-hours to perfect.
This endeavour is not unfamiliar to Massie, who has taken the horticultural world by storm, winning the RHS Young Chelsea Florist of the Year four times in a row, and last year creating Asda's incredible flower dress made from the supermarket's stunning Naomi and Carmen red roses, chrysanthemums, gerberas and carnations.
Massie said: "I'm always looking for the next big project to create art with flowers, so this was the perfect challenge. It has been fantastic to work with Asda's stunning flower range again to recreate such an iconic image of William and Kate for Valentine's Day. I hope it inspires people to treat their loved ones on Valentine's Day with a bunch of flowers and create their very own happy ending."
Katherine Town, Asda's flower buyer said: "We know love doesn't just exist in fairy tales, Kate and William are a perfect example of a true love story with a real life prince charming! Joe's done a great job in showcasing the range of Valentine's Day flowers at Asda with this rose-mantic piece of art. But showing how much you love someone doesn't have to cost the earth; we have bouquets in-store for all budgets, starting from just £2 for an Extra Special single red Columbian rose, and up to £30 for an Extra Special Luxury Rose Bouquet."
Asda's Valentine's Day bouquet range is available in store and online at www.asda.com.
About Joe Massie
Joseph Massie (24) is one of the UK's most original, young floral designers. Joe began working with flowers as a career aged 13 and based in his hometown of Liverpool, Joe began competing in floristry competitions from 16 years old.
He has won several prestigious awards, including four RHS Chelsea Gold Medals, and four Best in Shows consecutively since 2009. With 10 National Championship Gold's under his belt and currently ranked 2nd in the European Youth Finals (Eurofleurs), and 3rd in the World Youth Finals (Worldskills), Joe has worked and trained in over 10 countries; competing, teaching and demonstrating his unique aesthetic in botanical art.
With a passion for contemporary design, fused with a love of excellence and quality, Joe is a name to look out for. For more information please visit http://www.josephmassiecreative.com/
Awards won by Massie:
· RHS Chelsea Gold Medals and Best in Show x 4 (2009/2010/2011/2012)
· BFA Young Florist of the Year (2007/2009)
· 2nd Place – European Youth Finals (Eurofleurs 2010)
· 3rd Place – WorldSkills Floristry Finals (2009)
· Interflora Florist of the Future
· WorldSkills UK Floristry Champion
· Rosie Hughes Designer Award
Related posts: