The RHS Chelsea Flower Show starts this week in London and I plan to live vicariously thru social media!! I got word that my friend, Joe Massie, has an amazing floral installation planned. His team sent me this sketch of the planned installation and the following information. I can't wait to see photos of how it all comes together!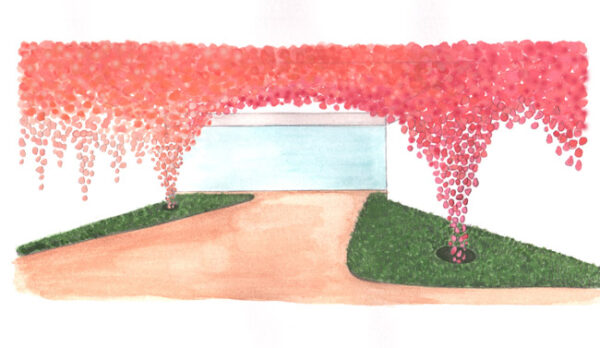 Award-winning floral artist to create show-stopping exhibit at Chelsea Flower Show for Queen's 90th birthday
Joseph Massie, five-time RHS Gold Medal Winner, has been commissioned to create a floral installation at the RHS Chelsea Flower Show 2016 (24-28 May) to celebrate the 90th birthday of, RHS Patron, HM the Queen.
Botanical artist, Massie, 27, from Liverpool, has created a design that will see a swathe of 5,000 fresh-cut Avalanche roses from Meijer Roses and 1,000 preserved rose petals suspended in the air to create a romantic, sensory tunnel.
Massie's floral tunnel design, entitled Rosa, will be 20 metres long by 10 metres wide and suspended four metres above the ground.
The project marks Massie's first return to the Chelsea Flower Show since he achieved five successive RHS Gold Medals and four Best in Show Awards between 2009-2013. Joseph was the youngest person ever to achieve this feat.
Joseph Massie, botanical artist and designer of the Rosa installation, said: "I am thrilled to be back at Chelsea – and on a much a larger scale this time around.
"It is a huge honour to be commissioned by the Royal Horticultural Society to create an installation to celebrate Her Majesty the Queen's 90th birthday.
He added: "I would be lying if I said I wasn't a little bit nervous to know what Her Majesty's verdict will be when she sees my installation for the first time!"
To create Rosa, Massie will use the finest preserved rose petals that will appear rise up from the ground to a floral ceiling, strung on invisible threads, from two opposing corners of the space. Petals in warm, summery pink tones will rise up on one side, contrasting with softer apricot tones opposite – in keeping with this year's RHS Chelsea Flower Show logo colours.
In matching tones, full-headed, fresh-cut roses will be intertwined with the preserved petals as they rise, forming two fuller columns, which will thicken and pool out as the florals reach the ceiling of the tunnel. Chunkier rose heads will then spill out overhead and the two contrasting colours will meet in the centre, creating a truly spectacular floral display.
Massie, continued: "With my design, I am aiming to create a sensory and immersive experience by presenting fresh rose blooms in a truly romantic and captivating way.
"I really hope that the Queen, and all of this year's visitors to Chelsea, will enjoy the exhibit."
Five thousand flower blooms and five different types of rose varieties from Meijer Roses will be used to create Massie's exhibit, including Sweet Avalanche, Pearl Avalanche and White Avalanche, as well as more than 1,000 preserved rose petals. The roses and preserved rose petals will dry naturally over the course of the week and will be recycled into new artworks after the Show has finished.
Massie has recruited 25 volunteers to work alongside him, assisting with the installation over four days in the lead up to the Show. Volunteers were selected from Massie's flower school, the UK School of Floristry, and from other leading colleges around the UK, as well as students from Australia, France and Sweden.
Joseph Massie has collaborated with Meijer Roses and Avalanche Roses to create the Rosa Avalanche installation at the RHS Chelsea Flower Show 2016.
The Rosa exhibit will be beneath the Rock Bank restaurant, which connects Main Avenue and Ranalegh Way.
For more information about Joseph Massie, visit www.josephmassie.com
The RHS Chelsea Flower Show 2016, sponsored by M&G Investments, takes place from 24-28 May 2016 in the grounds of the Royal Hospital Chelsea. The theme of this year's Show will champion the health and wellbeing benefits of greening-up our grey spaces. For more information, visit www.rhs.org.uk
UPDATE! FOLLOW ALONG ON INSTAGRAM AS JOSEPH WORKS ON THE INSTALLATION!!!
Related posts: