I was introduced to photographer Annabella Charles through Karin Woodward, creator of Flower Wheel and owner of Haute Horticulture, and instantly fell in love with her photography work and how she captures the essence of flowers. I have a feeling you'll love her work, too!

What inspired you to become a photographer?
My mother handed me a camera when I was 11 years old on a trip back to Italy ( she is from Italy ) I took a ridiculous amount of pictures on that trip. When we got the film developed… I knew immediately that this is what I wanted to do.
What type of camera and lenses do you use?
Canon baby 😉 I currently use the Canon 5D Mark II
lenses… I am a minimalist. for weddings I use the 50 1.4 85 1.8 and macro 100… for still life and products I use the 50 and the macro 😉
I'm a sucker for details…. so the macro comes in handy for all of those pretty close ups

Do you have a favorite flower?
Oh wow. a favorite flower. I love to photograph fluffy flowers like giant Garden roses and Peonies.. They are so romantic.

Any tips for florists taking photos of their designs?
Flowers are so beautiful… and they look best in soft natural light. So try and get a few photos in that setting.
And don't be afraid to ask the photographer to take some photos of your designs for you.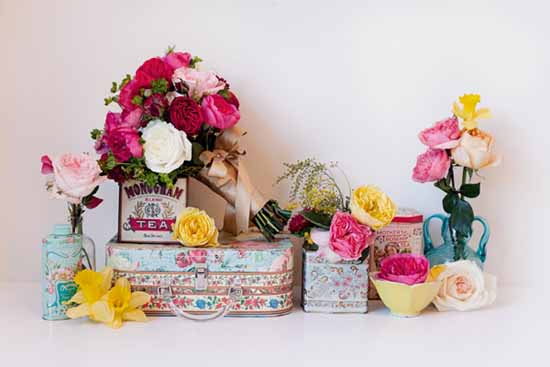 Unless otherwise noted the above floral designs were created by Haute Horticulture.
To see even more of Annabella's gorgeous work please visit her website.
Related posts: