I couldn't let this whole series happen without trying on flowers myself!
I called on a few of my friends and pulled together a fun little shoot. First, my extremely creative floral designer friend Crystal, she designed my headdress and her headdress (we featured her work this past Monday on flirty fleurs). She actually made her piece in the car as I drove us an hour north to Ft Collins for the shoot!! We had such a great time together 🙂
My dear friend Janine did our makeup and I loved what she did for us, thank you Janine!!
R.J. Kern came to mind right away when I thought about which photographer will be excited about the project and appreciate the artistic feel I was looking for and he suggested and introduced us to photographer Rachel Olsen. All came together for a great day of being creative for the sake of being creative.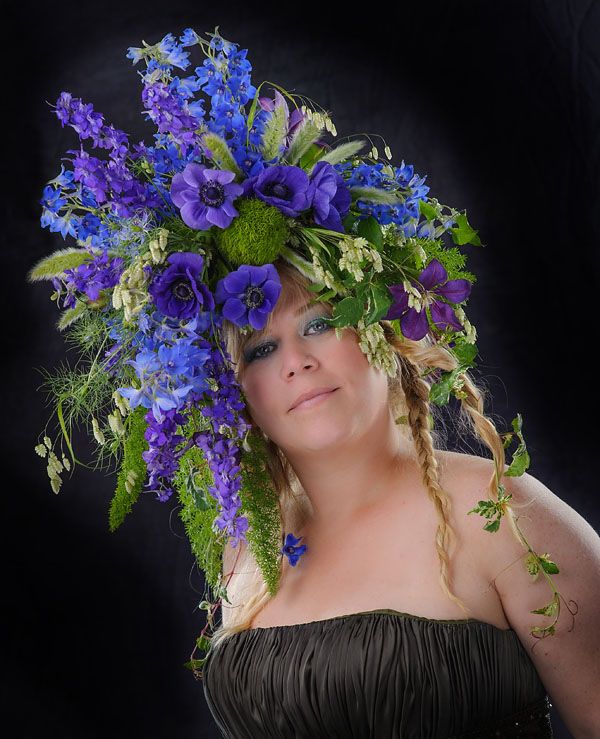 My beautiful friend, Crystal:

Rachel's sweet little daughter Brynn wanted to get in on the action:

We had a great day together! R.J. said to me at one point – isn't it fun to be creative for ourselves?? I gave him an enthusiastic YES!
I'd highly recommend any creative business person to take time off from the job and just play – try something different or unexpected, it's so refreshing!
Tomorrow I will show some behind the scenes photographs.
The Team:
Creative Design & Styling: Alicia of Bella Fiori & Flirty Fleurs
Floral Design: Crystal Oleskevich
Photography: R.J. Kern & Rachel Olsen Photography
Makeup: Makeup by Janine
Related posts: