I'm so pleased to be writing another article for the Flirty Fleurs Blog. Alicia has been so inspiring to me as I await the new ideas, new flower tips, and behind the scenes stories from her perspective.
One of the things I often sense from clients today is that they have these fantasy inspiration boards through pinterest or lover.ly that to them should be achievable. After all, if it's so easy to find all this wedding "eye candy", it's got to be fairly reachable for any budget, right?
Unlike when I was wedding planning in 1999, where the average bride would only see a handful of real weddings in magazines, today you can see plenty of new real weddings every day (actually – not just a handful in magazines but dozens upon dozens of real weddings on blogs, on line digital magazines as well as through pinterest, facebook, twitter and instagram), so there is no shortage of real weddings! What was once seen as special, unique, and one of kind, today with the oversaturation of "real weddings", it would make anyone planning a wedding now to feel like all things are within their budgetary grasp.
But is it?
What is behind the cost for a real event, might just surprise you.
Let's break down this Gatsby inspired Art Deco table featured in April 2013's Grace Ormonde's digital wedding issue.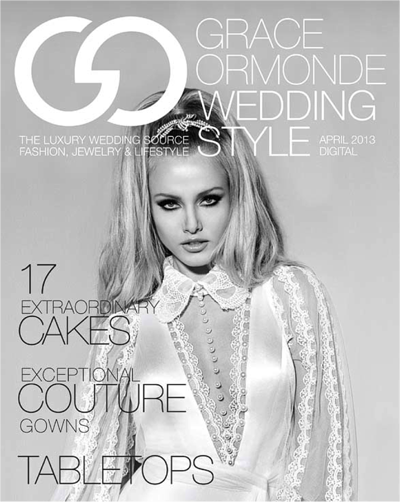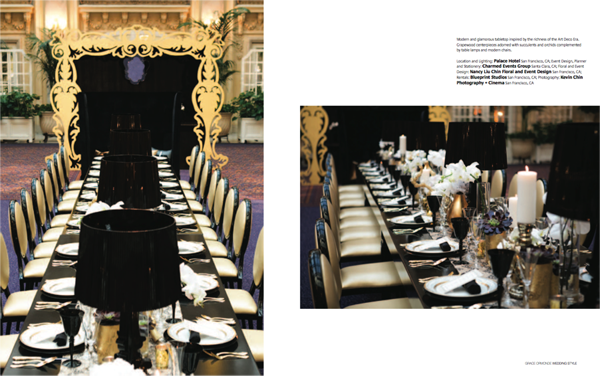 This table photographed by Kevin Chin and designed by Charmed Events and NLC Designs.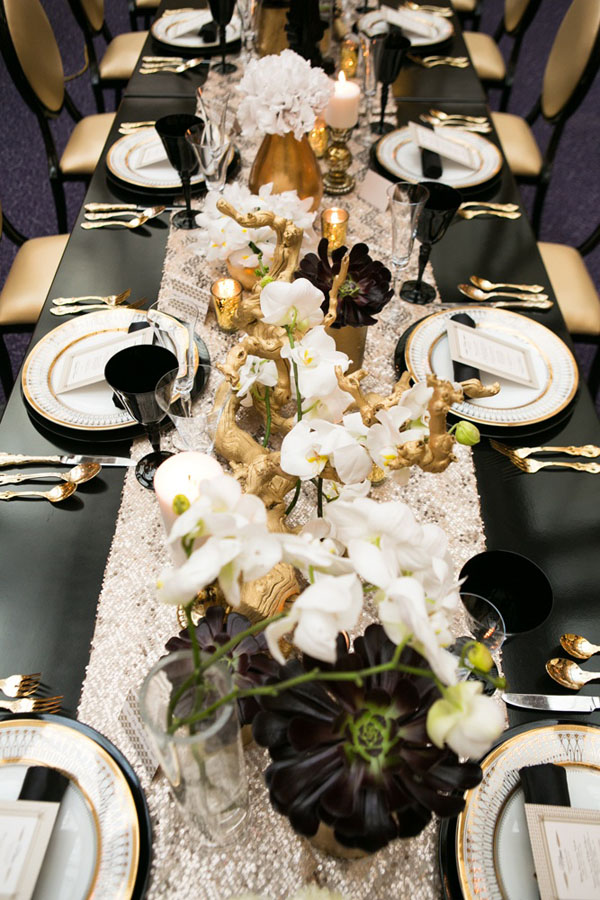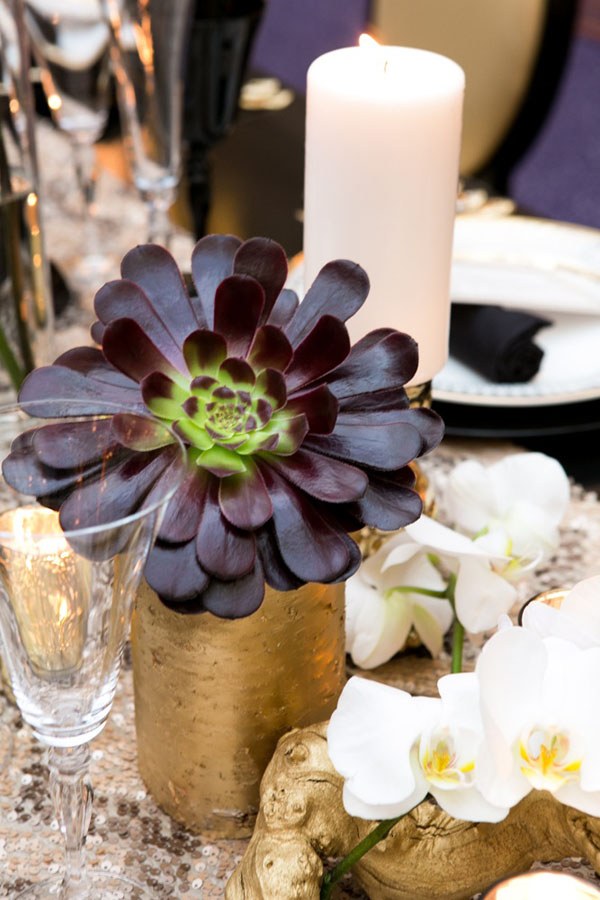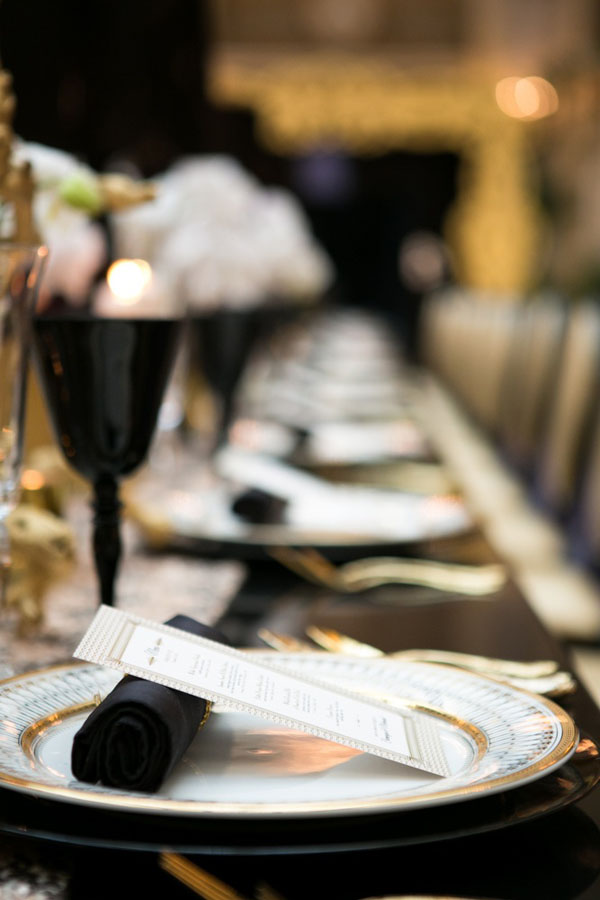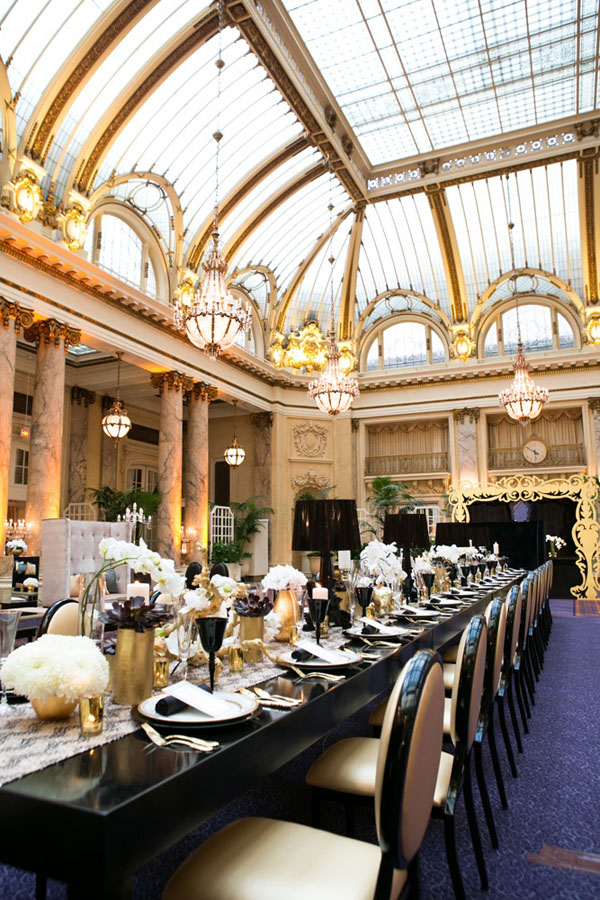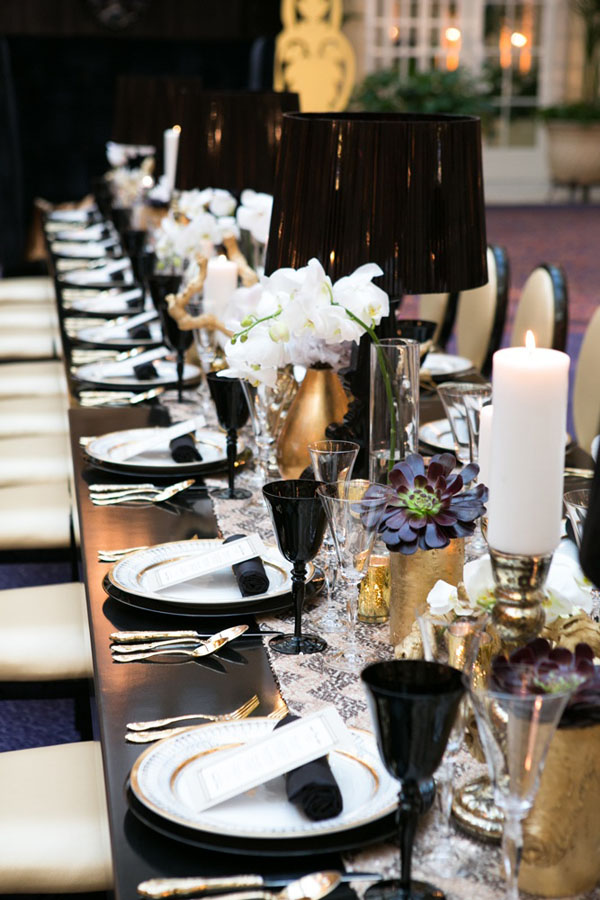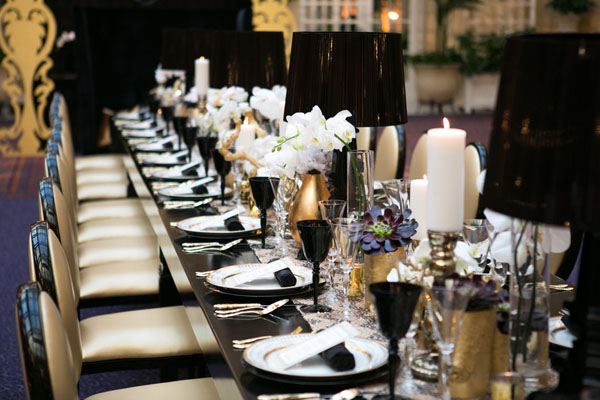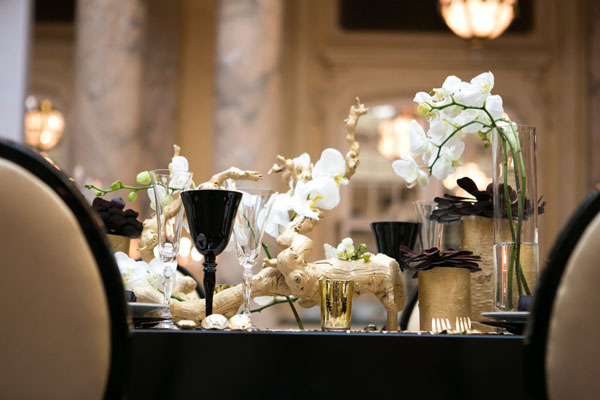 For this 24 foot long table, let's break down the costs – for 24 guests
3 8 feet table Black – $225 each
30 Louis Chair Black chair with Gold Cushion center – $17.50 Each
5 Black Acrylic Lamps – $45 each
1 Gold And Black Back Drop – $500
30 Gold King A. Dinner Fork – $1.20 each
30 Gold Dinner Knives -$1.20 each
90 Gold Salad Fork(30 for salad, 30 for 1st course, 30 for dessert)- $1.20 each
60 Gold Salad Knives – $1.20 each
30 Gold Teaspoon – $1.20 each
30 Black C. Napkin $2.25 each
30 Black Onyz Goblet – $1.56 each
30 Champagne Glass $- 1.46 each
30 Wine Glass -$1.46 each
30 Water Glass – $1.46 each
30 Black Charger – $3.15
30 Gothic Plate – $.1.00 each
90 Gothic Salad Plate(30 for salad, 30 for 1st plated course, 30 for cake) – $1.00 each
30 Cups – $1.00 each
30 Saucer – $1.00
30 Dinner Plate white with Gold – $.57 each
4 Chevron Runner – $30 each
20 gold logs – $5 each
4 gold arrangement with all white lisianthus – $70 each
3 gold arrangements with white irises – $55 each
12 narrow glass with white phalenopsis – $40 each
20 black succulent – $7.50 each
24 gold votives – $2.25 each
15 assorted Mercury Distressed Candlesticks – $10 each
15 Pillar candles – $12.50 each
3 oval gold arrangements with white cyclamen – $55 each
8 pieces of gold sand blasted grapevine – $25 each
4 cans of gold spray paint – $5.50 each
2 bunches of loose white phalenopsis orchid – $150 each
*setup, delivery, taxes and breakdown costs are not included.
What is the per guest cost for this table?
A: $170 per guest!
It's sometimes hard to understand but a reception is not just about the flowers but it's a combination of many parts.
This was a ballroom table so look forward to my next article will I will break down a farm/rustic table.
Contact Information:
Nancy Liu Chin Floral & Event Design
Thank you, Nancy, for this insightful article! As always, you are such an inspiring treasure in our floral industry!
Related posts: