At the end of the last post on Flirty Fleurs Blog, I promised Alicia that I would do another behind the scenes breakdown of real costs. Last time, the design was more luxe and glam. This time I wanted to feature rustic/farmhouse, country elegance. I have a feeling that this style might connect with more of you as not many weddings are Gatsby like(yet!)
I certainly want to reiterate what I said previously which is this — the world, as we know it, is filled with instant gratification. Through the ease at which any bride, groom, planner can now find stunning inspirations via"social media or the internet outlets " (aka pinterest, twitter, facebook, instagram, blogs), wedding "eye candy" has encouraged a heightened level of expectation — which many clients may not be able to afford.
Visual impact of posts, tweets, instagrams from planned photo shoots and actual real weddings have set the bar – the standards of beauty for a wedding is now much higher than ever before. What was in yesterday, might not be good enough today.
What was once considered a fantasy, now seems and appears to be a norm that should be doable, reachable. Because every day people seem to have weddings that look equally as glamorous as celebrities, brides (and their planners) are having a harder time trying to distinguish the true value of things.
For several years now, there seems to be dozens and dozens of weddings featured daily that are all so beautiful and quite detailed oriented. It's made people think that every wedding can look like a published real wedding.
I promised in the last article that I would show a breakdown of another design. I wanted it to be rustic and country since the last one was more ballroom and luxury. I also wanted to feature a table design that was more simple and featured items that were not premium rentals. Going with linens that were actually poly cotton. Dishes that were standard. This photo shoot at Quarry Hill featuring BLR Photo and A Savvy Event was previously featured on Style Me Pretty and also in 2012's Today's Bride Magazine.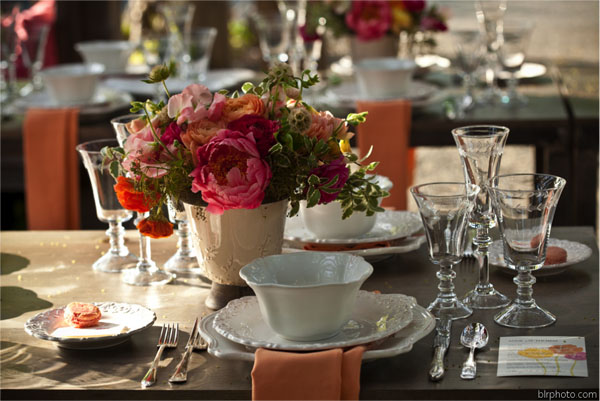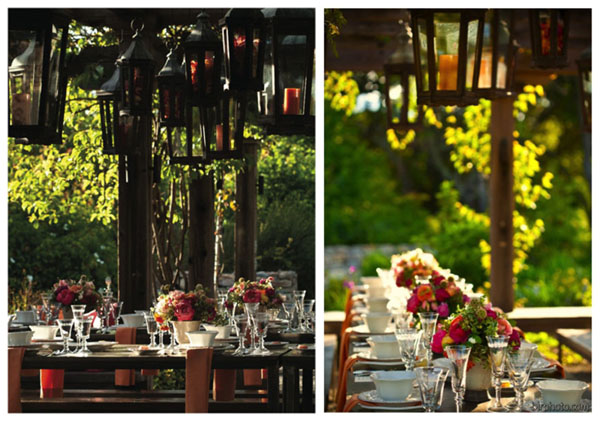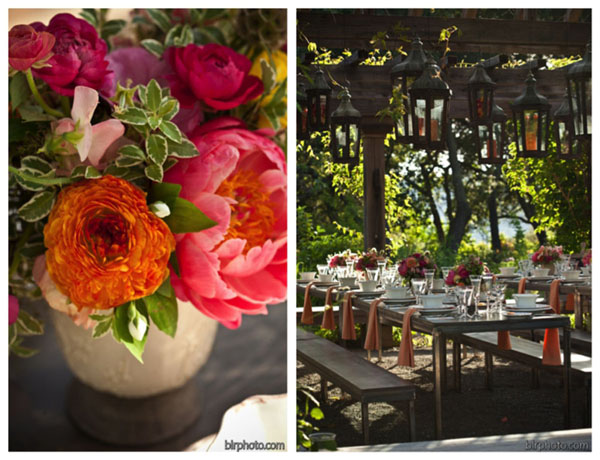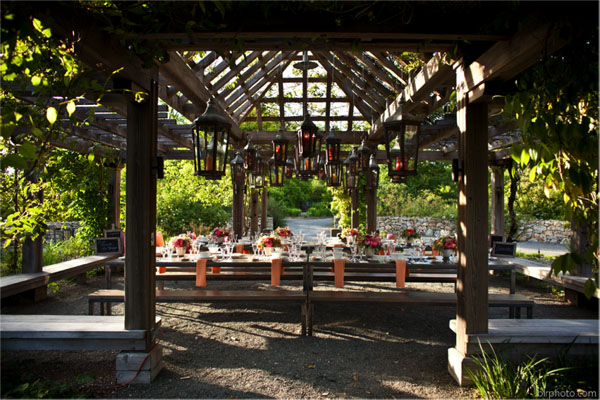 For this reception underneath a wood gazebo, we(meaning our awesome planner, A Savvy Event and I) decided on 2 long tables(each 16 feet long, seating 16 guests each). For this rustic, garden look, let's break down the costs – for 32 guests
4 8 feet table metal tables – $60 each
8 wooden bench – $30
6 Large Rustic Lanterns – $25 each
6 Medium Rustic Lanterns – $20 each
6 Small Rustic Lanterns – $15 each
30 dozen rose petals – $150
Scented Colored candles for Lanterns – $8.99 each
32 Bowls – $.55 each
32 Cream Dinner plates – $.55 each
32 Cream Chargers – $1.15 each
32 Bread Plates – $.55 each
32 Melon Poly Cotton Napkins – $.75 each
32 Champagne Etched Glass – $.75 each
32 Water Etched Glass – $.75 each
32 Wine Etched Glass – $.75 each
32 Knife – $.60 each
32 Salad Fork – $.60 each
32 Dinner Fork – $.60 each
32 Spoon – $.60 each
2 boxes of 24 macaroons each – $42.00 each box
8 rustic centerpieces featuring coral charm peonies, ranunculus and other seasonal flowers from NLC – $75.00 each
6 Assorted Pillows – $15.00 each
*setup, delivery, taxes and breakdown costs are not included.
What do you think is the per guest cost?
Is it between
a) $20 – $35?
b) $35 – $50?
c) $50 – $75?
d) none of the above
Please note: For this photo shoot, Kelly McKeskey-Dolata, wedding planner and owner of A Savvy Event and I rented all the tables, lanterns, dishes, glassware, linens, pillows, flatware. The flowers, macaroons and the paper products were not rental items. All rentals courtesy of Wine Country Party Rentals. Venue at Quarry Hill in Sonoma. Photography by BLR
I would like to end this by saying that I'm guilty of feeding this frenzy of complex tablescapes, glamourous weddings, and intricate pretty details that all seem pretty effortless. Effortless. But it would be naïve of me to say that behind even a simple table design, there were countless of decisions and hours and hours of thought. I'm lucky to have an abundance of resources(yet I always want more) that can make any dream, inspiration happen!
Let us know what you think about this more budget design.

Written by Nancy Liu Chin, visit Nancy's Website HERE.
Thank you, Nancy, for another fabulous and in-depth article. I, for one, am quite curious to hear what the Price Per Guest is!
Related posts: