The Question:
We all love a good chuckle, right?! Have a funny story from a wedding? Maybe a crazy customer on the phone? A memorable flower delivery? Tell us about it, we'd love to hear your funny floral designer stories.
………………………………………………….
The Answers:
My first floral design job at an old-time florist- the lady that came in to do corsages, boutonnieres and wristlets would say: "That rose is softer than the morning after"
Ha!
Next up:
My mentor Nadine, from my second job at a retail florist, when in the throes of prom and mother's day corsage making, and someone would make the corsage too big, would say:
"She ordered a corsage not a casket piece"
Bahzing!
Laurie of Fleurie, California
………………………………………………….
Wedding "car"tastrophe
We were on location for a wedding set-up. When we were setting up the ceremony at the top of the hill the distracted and nervous groom drove up to drop off his friends and some musical equipment. He must not have put the car in park, because it started rolling to the edge of the cliff (about 50 foot drop). We heard a shout and the guys were hanging off the bumper trying tp stop the car from going over the edge. They let go- the car flew off the cliff landed on a tree at the bottom of the hill and skidded into the parking lot of the tasting room. Luckily, no one was hurt and other than the tragically split in two tree and a seriously smashed car, no property was damaged. I wish I had gotten better pictures of the damaged side of the car. But I was trying not to be too obvious.
Shannon of Flourish, California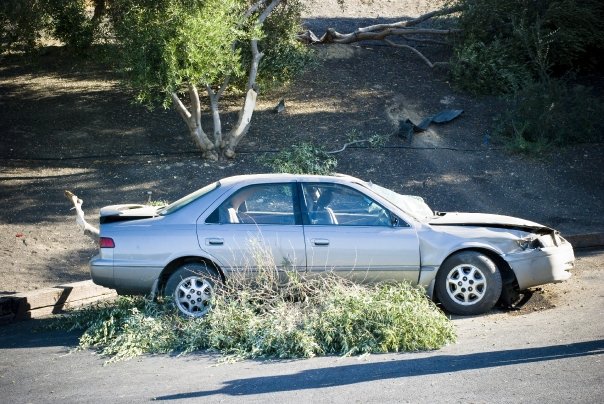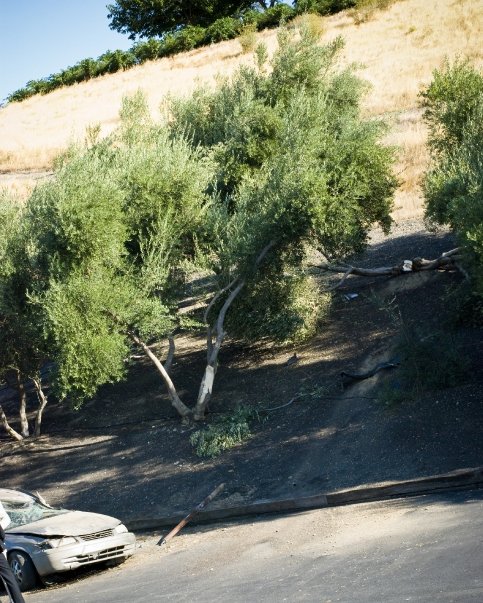 ………………………………………………….
One of the craziest situations I have had in my 23+ years in business took place on 10-10-10. The bride was fairly young, already had a baby and all of her bridesmaids had also had babies. They had come to town for the weekend, saw one of my brides with flowers, asked her who had done them and they were given my name. She called and asked to meet with me the next day which I was able to do. When she showed up with her girl friends and the babies, I was a little taken aback, but they were very easy going and the meeting went well. She liked my ideas, booked me and then kept adding things up to the week before the wedding. The venue for the wedding was 30 miles down Hwy One on the California Coast at an outdoor location at a well-known restaurant. It was tented with a clear tent with amazing views of the coast line and strung with paper lanterns and bistro lighting. The plan was for the wedding to take place right at sunset. The groom, groomsmen, guests and photographer all began to arrive and everything appeared normal. It was then that I found out that the bride's dad was a famous Reggae artist and she had had an unlimited budget – thus the constant additions. The time for the wedding came and went and the Maid of Honor was frantically calling the house that the bride was renting. No one is exactly sure what happened, but between transportation issues, all the babies, hair and make-up, the bride didn't arrive until 2 hours after the scheduled ceremony time. The groom wasn't worried – he said that she was known for running late and he knew she would be there and he offered me a glass of wine. The bride showed up, the bridesmaids stripped her down to her underwear, put her dress on her and buttoned her up in about 3 minutes. They lined up and I handed out the bouquets like water at a baseball game and they were heading down the aisle. Sunset had come and gone, but the tent glowed with soft lighting, the guests were happily sipping wine, the music was great, the groom confident and the bride beautiful. The ceremony finally took place in this romantic setting and it was as if it had been planned this way. Whenever a bride is running late, I think of this wedding a chuckle – thinking, no you're not late….
Melody of Fleurish Floral Designs, California
………………………………………………….
For my very first wedding I did for my own wedding business, I got a bride referred by a friend. She actually did not refer her to me first, but two of her other floral friends turned her down, and then she sent her to me because I was brand new on my own. She told the bride, who was her cousins stepdaughter, that I would be cheaper because I was new. The brides desires, expectations and budget were miles apart from reality. After a little negotiating, I took her on. We came up with a design plan, and two weeks before the wedding I sent her pictures of the vases I had purchased and embellished to keep her in the loop. A few days later she responded with an email, that her and her mother had purchased thrift store vases and painted them aqua. They had bought water based paint from the paint store and poured it into the vases. They brought me these vases on the Monday before the Saturday wedding and they were still not dry. I told them I would test them first, then they handed me a can of polyurethane to pour into the vases to "seal" the water based paint. She probably didn't trust me with these precious wet vases that she and her mother had bonded over when I told her if this doesn't work we'll have to use the vases I had purchased, because I got home to long emails about how IMPORTANT these vases were to her. So I pour polyurethane into vases and the water based paint pulls away from the vase, creating big air bubbles. For the next 3 days I nursed those vases trying everything to try and get the paint to adhere, and dry. I normally would do all centerpiece arrangements on Wednesday, but the vases are still wet. So I decided to bake them in batches in the oven, starting Wednesday evening. Baking them through Friday. I was fortunate to get a call from family members volunteering to help, so had my husband pick up a take home and bake pizza from Costco to feed the help. Well my baking vases procedure was to place 3 vases at a time and bake them at low for about 30 minutes then turn off the oven and let them cool to room temperature. Well I'm hustling around on Friday trying to get personals done, and forgot that I had left the last 3 vases in the oven. I knew people were on the way over, so I turned on the oven to 400* to preheat it for the pizza. People came and were talking, delegating ect, when I smell the oven, and ran to unload now brown, not aqua, vases before they explode. We improvised with the last 3 for the set up the next day, and everything turned out beautiful and everyone was happy Ect. So this is not a funny story, just a story about burnt vases, and that was only one part about working with this bride and her mother. The rest is another story.
Margaret
………………………………………………….
Related posts: