Pin Cushions, Kenzans, Floral Frogs:
Pros:
-Floral frogs work in an assortment of containers; tall, narrow and shallow dishes
-Fresh water to the flowers
-Creates a natural and loose arrangement
-They can be re-used
-Non-toxic
Cons:
-Personally, I don't always find them easy to design in
-They can be expensive per piece
-Not always easy to find in bulk on short notice
They come in a variety of sizes:

Simply place the flower frog in the vase, some vases may need some of that floral goop (can't think of the name??)

Each flower is given breathing room and can fall naturally from the design:

Chicken Wire:
Pros:
-This is my new favorite for creating a grid, it's very quick!
-Inexpensive to buy a roll of chicken wire, cheaper than floral frogs at least
-Incredibly easy to prep vases with chicken wire
-Holds flowers securely in place for transport
-Creates a loose styled arrangement
-Flowers can drink fresh water
Cons:
-Doesn't work in clear vases, need a container that camouflages
Containers lined up and being prepped:

You can see how nicely the chicken wire holds each flower in its place and spreads them out a bit:

Ranunculus taking shape, each has some breathing room.

You can see how nicely the roses are spaced as are the ranunculus and peonies. I did not use any chicken wire in the baby's breath vase:

This part of the arrangement was created with an Oasis 6″ Sphere, chicken wire would not work in the slender vase and I wanted to create a very rounded arrangement of peonies: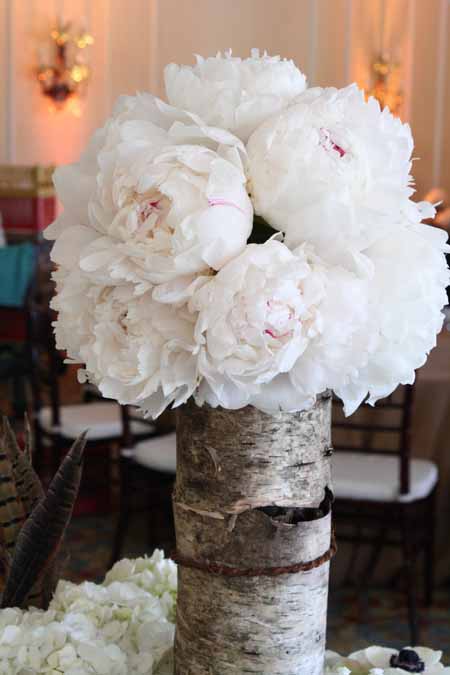 Tape Grid:
Pros:
-Best way to grid a clear glass container, no mechanics show
-Works on a variety of odd-shaped vessels
-Doesn't hurt the containers
-Inexpensive
-You can decide how tight or loose of a grid you'd like to have
-Transports great, flowers rarely shake loose out of this grid
-Fresh Water to the flowers
Cons:
-More time consuming to prep than chicken wire or pin frog
Works great on a shallow dish:

Prepping lots of cube vases: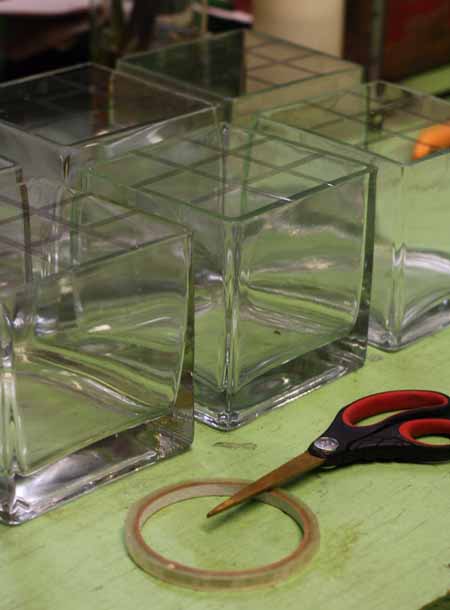 Arrangements quickly take shape with this type of grid:

The final arrangement, stems showing in vase:

Floral Foam:
Pros:
-Works in a variety of shapes, including these very shallow lomey trays
-Holds flowers securely in place for transport
-Necessary in a lot of large scale designs
Cons:
-Bad for the environment, it doesn't decompose
-Bad for us to inhale the dust that comes off the dry bricks
-Time consuming because they have to be glued into containers
-Costly between the floral foam and glue prices
-Flowers can get 'clogged' up and not drink in the water
-Many flowers do not like it at all, including stock and hydrangea
Prepping 95 lomey dishes with floral foam:

Glue pan with pellets melting:

The finished design, a little bit of foam goes a long way in creating a good sized centerpiece:

Curly Willow Grid:
Pros:
-Great for achieving a natural designed arrangement
-Quick to prep containers
Cons:
-Takes some practice to get used to designing into the curly willow and creating tension to keep flower stems in place
-Can be time consuming
-The rustic look isn't for all clients
-Promotes bacteria growth in the water
Related posts: