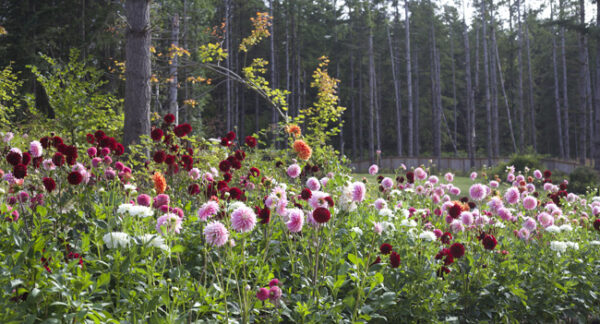 If you happen to follow my flower adventures on Instagram and/or Facebook surely this past summer you witnessed quite a few photos taken in my Dahlia Patch, the name I coined my ever growing Dahlia garden.
I started growing dahlias my first summer (2014) at our new house in Washington. They grew nicely and I learned how to divide and store them that winter. 2015 came along and due to the dividing I had MORE dahlias to plant. Well, history repeated itself and I divided and stored dahlias again last winter. What started as 50 tubers in 2014 turned into 400 tubers for 2016. AND then there is this current round, where those 400 tubers have been divided into … thousands. BTW I tell Vivian at Everyday Flowers that she is too good of a teacher as she is the one who taught me how to divide! She gets a big kick out of my ever expanding dahlia tuber collection.
So that brings us to the point of THIS BLOG POST.
I have A LOT of Dahlias for the upcoming season and for the first time ever I am looking to sell off some tubers. (Last year I did pack some up and send off to friends in California, Colorado, and Nebraska so I could share the love).
Sooooo….. I have 4 Varieties up for Sale:
Get your orders in now to reserve the tubers. I will be shipping them out in the spring once the weather allows for shipping across the country.
Please email me at info@flirtyfleurs.com if you have any questions at all or need help placing an order – I am more than happy to help!!
Related posts: