Good morning Flower Friends!
Sorry for the late post today, it's been crazy busy around here lately. Granted it's the holiday season and I have a feeling every single person is crazy busy, right?!
One of the projects I've been working on since returning from the European adventure three weeks ago is turning over my cutting garden. This, of course, is largely dictated by the weather — there seems to be a window here in Washington from about 12-4 where there is enough sun in my yard to get out there and work.
The week I returned from the trip Chad and I pulled out all the dahlias. We dug up about 140 plants, not bad for a second year cutting garden, eh? You guys, I admit, I'm a slow-poke at processing these dahlia tubers!!! Vivian from Everyday Flower Farm suggested I split the tubers in the fall this year and not wait until spring like I did last year. So I'm cleaning and splitting and packing them. I must over think each cut because it has taken me a long time to get thru these tubers. Oh, and if all these tubers make it through the winter … well, I'll be planting a lot of tubers in the spring – probably 400?! ha ha.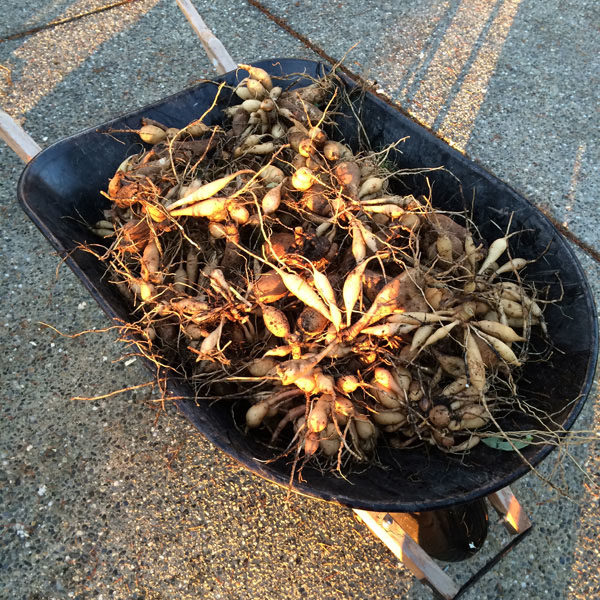 Chad and I got the flower beds cleaned up and pulled out anything that wouldn't overwinter. Then we started planting the BULBS. BULBS GALORE! I'm counting the days until spring!!
Back in September at the Field To Vase Dinner at Jello Mold Farm I met Danielle from Longfield Gardens. She told me about the tulips and other bulbs that Longfield Gardens offers and I was instantly intrigued! The next day I found myself spending a considerable amount of time on the website, picking out bulbs for different displays in my cutting garden.
This is what I have planned so far (as long as those damn rabbits stay away)-
For one flower bed I have this wine, plum and white display planned. I already have dark purple bearded irises established in the bed and two Koko Loko Rose bushes (not that the roses will be blooming at the same time as all these spring flowers). These anemones and fritillarias are going to be so killer (damn rabbits better not touch the fritillarias)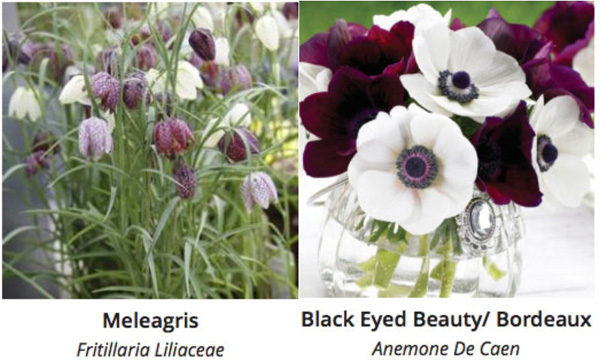 The next flower bed is filled with these red and white tulips!! 150 Parrot & fringed tulips – I can't wait for these to pop up in the spring!
Y'all, I'm going to be making some really pretty arrangements! (and probably teach a design class with all these pretties)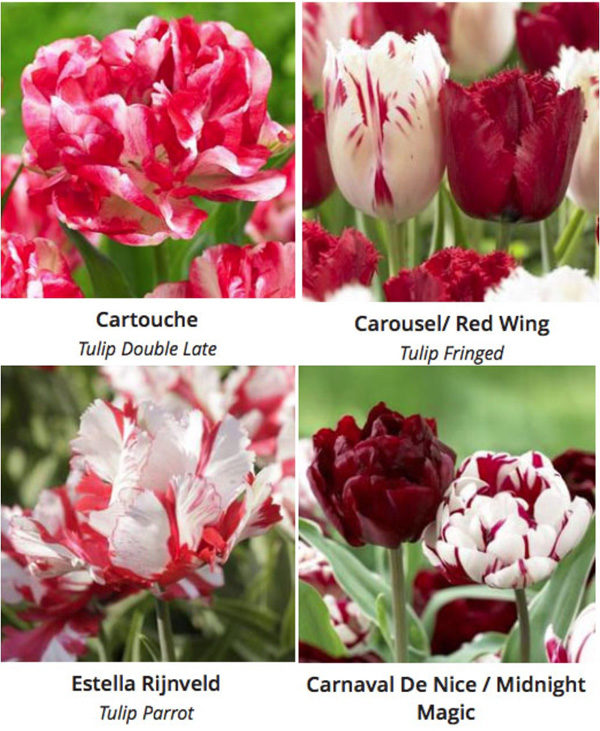 Now since Chad works so hard in the yard (he does really enjoy it) he gets to have his own display of orange tulips and fritillarias – orange is his favorite color. I haven't had much luck with Lutea Fritillarias in the past, crossing fingers they grow this year!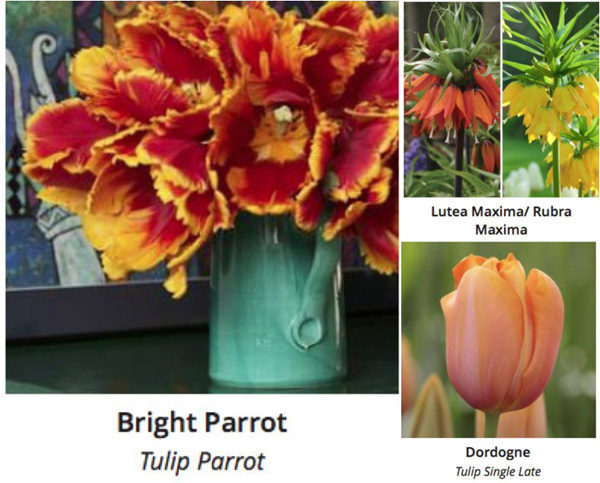 Going to pretty amazing in the spring, don't ya think??
Oh – three in progress photos from the planting. Matisse absolutely loves the days we work in the garden. She watches each bulb get placed.
Chad is holding 75 Anemones and Fritillarias — hard to believe these 75 tiny little corms will turn into plants, right?!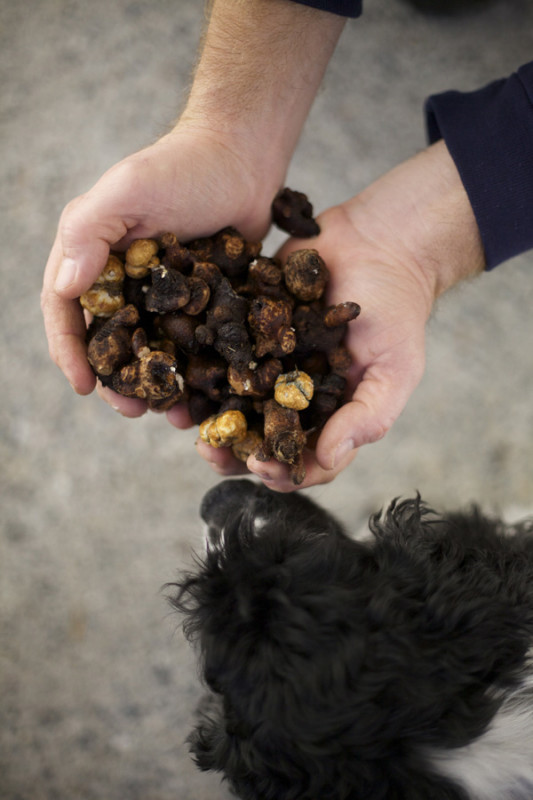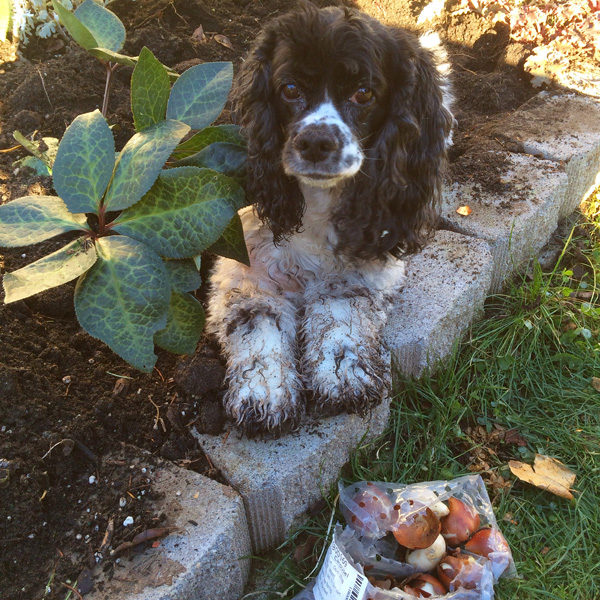 She watches every single one in the ground. OCD Cocker!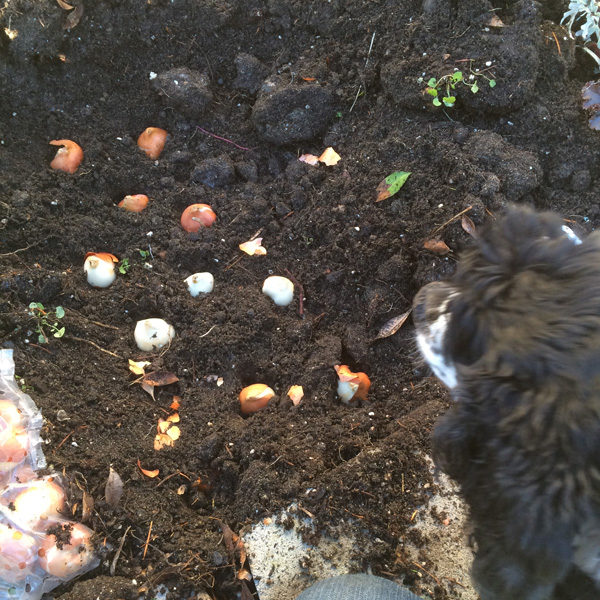 I feel pretty good knowing the garden has been put to bed for winter. Everything in its place and now I wait until springtime for a flower explosion. And visit Longfield Gardens' website again to see what else I might want to order for the next planting go-around! *CLEMATIS selection looks amazing*
Related posts: