Hello Flower Friends!
Happy Friday! I hope you all had a splendid week. Busy with projects around here, as usual. One of the projects that I just launched yesterday is a new website for Greater Seattle Florist Association. I joined this group when I moved to Washington a few years ago, and what a great group it is! Each of us contributes what we can and working on the website was one of my projects for the group.
Hung out with my friend Melanie of Melanie Benson Floral Design. She took me to visit Vintage Ambiance – oh my word, too much good stuff for us decorator types!! Of course, the week was filled with writing up floral estimates for summer brides – 'tis the season, right?!
I don't have any interesting articles to share with you this week. I was at the computer a ton this week, but working away on projects and never had a moment to search for interesting articles. Maybe next week! Oh wait, next week is Valentine's Week .. yea, it's "a week" when you are a florist! I'll be freelancing for my friend Miles' of Fiori Floral Design – woot woot.
I have a Hellebore + Compote design class scheduled for March – only two spaces left as I write this! Here's the info –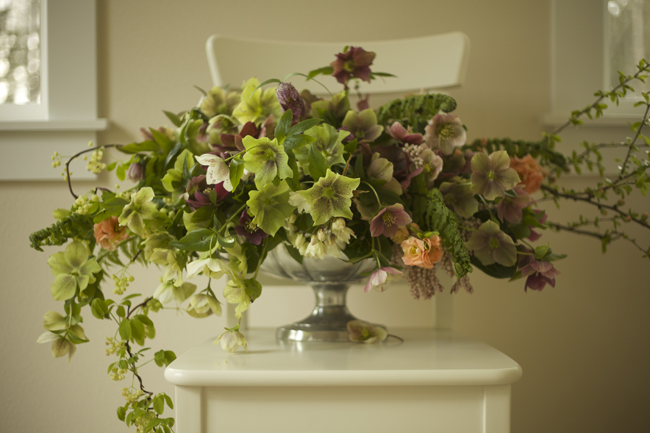 Hail the Hellebore!
Sunday, March 6, 2016 / 1pm to 3pm
Join us for an afternoon class on March 6th where we will be inspired by the Queen of Winter, the Hellebore. This little beauty comes in an array of colors – pinks, plums, whites, and greens. We'll discuss the care & handling of the hellebore while designing a lush, garden style flower arrangement. Our vessel of choice will be a compote using chicken wire as the support structure.
Following Alicia's demonstration each student will create their own floral arrangement masterpiece to take home.
Date: Sunday, March 6, 2016
Location: Floressence Design Studio, 5628 Airport Way S #240, Seattle, WA 98108
Time: 1pm to 3pm
Investment: $225.00 per person
Register: HERE
Related posts: