Hello!
How was your week? Still busy with weddings? Seems to me that wedding season is lasting extra long this year for many of you!
Around here..
Last Saturday I taught the bouquet designing and pricing workshop. Was pleased to have 8 attendees, especially considering I scheduled this class last minute! As always, it's a fascinating class with everyone talking about pricing out bouquets.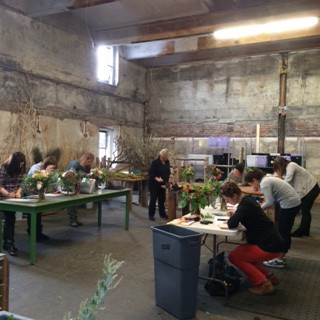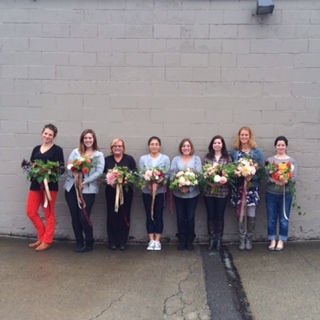 I had some left over flowers so designed up this compote arrangement to set at my desk –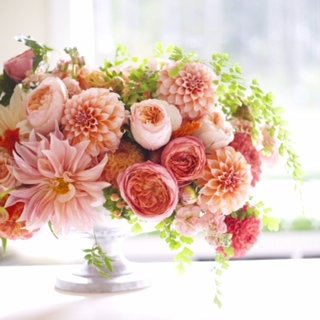 Check out my car loaded with 50 centerpieces, I don't think we could have fit in 1 more unless I put it next to my feet! My big 'ole SUV died earlier this summer and was replaced with a smaller Toyota, I'm still getting used to the smaller size… As for these centerpieces, I was lending a hand to my friend at Brittany Flowers–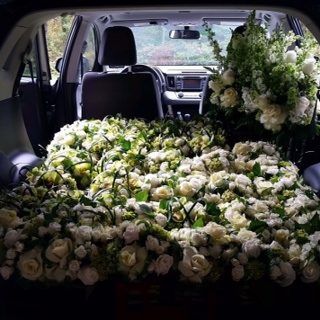 Chad and I stopped by Pikes Place Market after dropping off the above 50 centerpieces. Always fun to stop by the market when we are downtown. The dahlias are still filling up the market –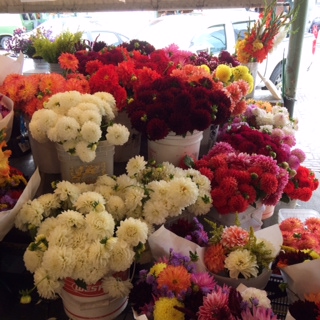 No events or classes for me this weekend. Instead I'll be getting my flower fill in the garden this weekend. Cleaning up the dahlias as they give a few last blooms. Planting about 200 tulips bulbs .. fun!
Oh, I am thinking I might schedule a class for next weekend. I know, I know, I'm on some kick with last minute classes!! It's just been so hectic here the past few months and I seem to be on a day-by-day mindset at the moment!! Stay tuned, I'll put up the notice on the blog this weekend.
As for the rest of the flower world.
Came across this interesting article by Preston Bailey –
Overcoming Addiction: A Bride Became a Victim of My Crack Cocaine Use
Brave article. I wonder how he really overcame screwing up her wedding and getting back into the good graces of NYC society? I'm sure at the time all those in the circle must have heard about his no-show at the wedding. HMM.
On a lighter, more fun note – Flower House Detroit made the NY Times!
A Detroit Florist's Vision Turns an Abandoned House Into Art
I've been watching the progress all week via Instagram – so fun! I wish I was there and I did consider a last minute plane ticket!!
I hope you all have a fabulous weekend!
Related posts: