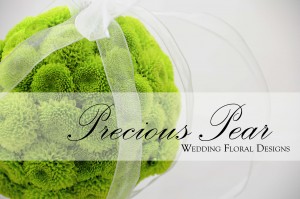 Your name: Janice Wong
Your Business name: Precious Pear Wedding Floral Designs
Your Location: Vancouver BC, Canada
How did you start your business?
Contrary to the artistic background that people would expect of a florist, I have a degree and successful career in Computer Engineering in which I helped design systems for aircrafts and satellites. However I've always felt like I was meant to channel my creative energy in another way.
A few years ago, a very good friend of mine lost her spouse to cancer. I went to a flower shop, hand- picked the flowers, and described to the florist the arrangement I wanted in detail, and stayed there to watch while the arrangement was created. The night the flowers were delivered, I received a call from my friend. She told me the moment she received the flowers was the first time she smiled in a really long time. I had a lump in my throat, and I knew right at that moment, I wanted to start a business in floral design.
What is your design aesthetic?
I love designs that are lush and romantic. In general I like massing flowers together to create the modern and full look, but I do appreciate vintage styles as well.
What inspires you?
The brides (and grooms) that I work with inspire me more than anything. I love to get a feel for their personality, listen to their stories, and then challenge myself to create a style that best suits their unique personal style.
I always close my eyes and visualize what my bride would look like with one of my bouquets in their hands, and what floral arrangements should go in the venue to create the picture-perfect wedding.
What are the trends, flowers & colors that are unique to your region?
In BC, we are blessed with a lot of local growers growing flowers such as tulips, hyacinths, anemones, peonies, lilies and orchids. Every Monday, Tuesday and Thursday we have a Dutch style live auction where the growers bring in all these beautiful blooms. We are big fans of colors. Vancouver is a very multicultural city and hence the styles are very diverse. European garden and Japanese Ikebana are both very popular, for example, to reflect Vancouver's multiculturalism.
Are you a retail shop, studio/warehouse or home based?
I have a home studio for my floral designs. I specialize in weddings and events and I like to design in a more casual and relaxed environment which helps my creativity flow.
Do you offer any services in addition to floral designs?
I only focus on floral designs right now, but I always love to give my brides tips on planning and how to stylize their weddings.
What does your toolbox look like?
My toolbox consists of scissors, pruners, wire cutter, tapes, and a number of knives. I tend to misplace my knives so I always have a few as backups 😉
What tool in your toolbox can't you live without?
My floral knife. I always like to keep it in my hand when I design.
What's your favorite flower?
Wow, that is a tough question. I would say it's a tie between hydrangea and calla lily. They are just so unique and beautiful in their own way. I love the mass of the hydrangea but at the same time the simple long stem of calla lily is just so captivating. They both come in incredible colors. It would be unfair to say I'm partial to one J
Anything else you'd like to share with Flirty Fleurs followers?
It's so wonderful to have a blog like Flirty Fleurs where we flower lovers can share our stories to inspire each other!
Contact Information:
Janice Wong
Precious Pear Floral Design
Related posts: