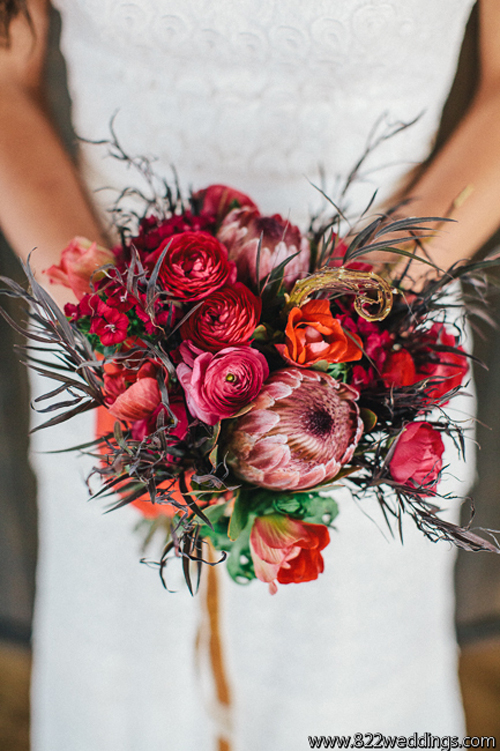 Your name: Nicole G. D'Agata
Your Business name: The Painted Tulip Floral and Event Design
Your Location: Waterbury Center, VT
How did you start your business?
In 2002 I spent the summer in Germany, Netherlands, France and Switzerland painting the landscape. I went to as many Museums as possible to study paintings by my favorite landscape painters Millet, Van Gogh and Rembrandt. When I was there I was inspired by the open air Markets and the constant appreciation of flowers and gardening. When I came back to Vermont I started a 20 x20 ft plot of tulips, that turned into another 40 x 50 ft plot of Annuals the following summer. I was accepted into a few small farmers markets and had a wholesale account and a little farm stand. I did do one small wedding that September. The following spring I ended up buying a house with two acres and over the years The Painted Tulip continued to grow in size and varieties of flowers to what we are now: 2 greenhouses, and 2 acres of: perennials, woody orientmentals, and annuals.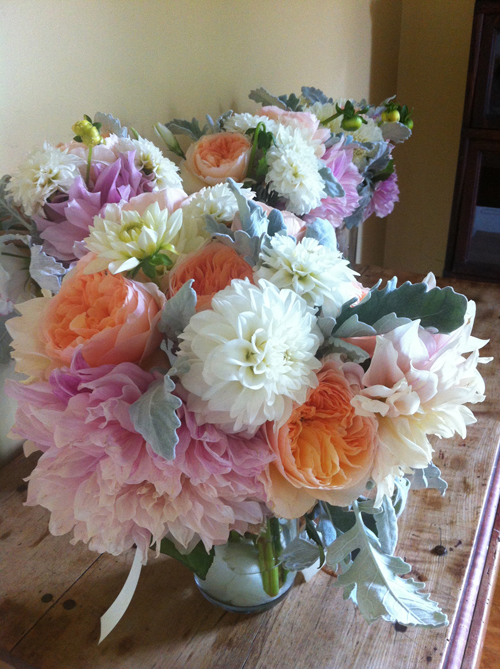 How many years have you been in business?
11 years
What is your design aesthetic?
I would say I lead towards an organic and whimsical look. Letting the flowers guide me, being inspired by seasonally available flowers and foliage. I absolutely love texture. I welcome all kinds of styles from modern chic to contemporary massed blooms designs. It's wonderful to design all different styles, it keeps me inspired.
What are the trends, flowers & colors that are unique to your region?
People in Vermont love the Rustic elegance look and the bright "wildflower" style. Right now everyone is in love with the plush look of peonies which I have at least 300 plants.
Do you offer any services in addition to floral designs?
We go to farmers Markets year round: selling flower bouquets and by the stem. We have a Bouquet CSA. I Specialize in full scale high end weddings. We have a bucketed flower pick up for DIY weddings or other events. Providing wholesale Bouquets to Local grocery stores, wholesale to florist. We sell bedding plants in Spring and Christmas wreaths seasonally. People can always stop by the farm to pick up flowers during our growing season May – November.
Why did you begin flower farming:
I fell in love with Northern Vermont and moved here after obtaining a masters degree in fine art. Constantly inspired to paint the landscape here. After about 3 years of trying to make a living teaching and selling my art, which is difficult in an area like this. I did want to paint the Picture that galleries were interested in selling. Once I started gardening I was painting the flowers in my garden after my trip to Europe the flower farm kind of took over my life. After a rocky road in the Art world. Selling flowers was easy. Every one loved them and bought them.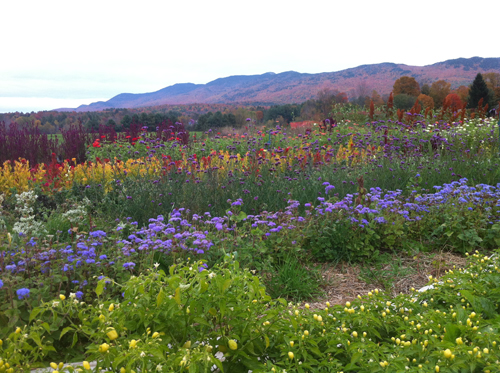 What flowers and foliages do you grow?
Ageratum
Agrostemma
Alchemilla
Allium
Amaranthus
Ammi
Anemone
Aster
Astilbe
Bittersweet
Branches: Pussy willow, Winter berry
~ Flowering
~ Foliage
Broom corn
Bupleurum
Butterfly bush
Campanula
Celosia
Clematis
Columbine
Cosmos
Craspedia/drumstick
Crocosmia
Daffodil
Dahlia
Delphinium
Dianthus
Echinops
Euphorbia/Snow/mtn
Feverfew
Forsythia
Gladiolus
Gomphrena
Grasses & Grains
Herbs
Hydrangea
Iris
Kale
Larkspur
Lavender
Lilac
Lisianthus
Loosestrife
Lunaria
Lupine
Nigella
Ornithogalum
Peony
Poppy
Ranunculus
Rudbeckia
Scabiosa
Sented Geranum Foliage
Snapdragon
Spirea
Stock
Sunflower
Sweet pea
Tulip
Tweedia
Veronica
Viola
Willow
Yarrow
Zinnia
Dried and Preserved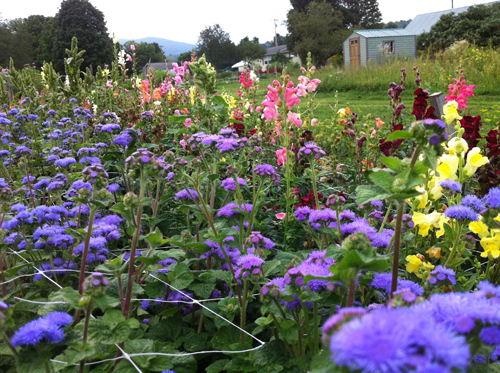 Where do you sell your flowers?
The Burlington Farmers Market: in City Hall Park May thru end of October: Saturdays 8:30 AM-2 PM
Waterbury Farmers Market: Mid May to mid Oct @ Rusty Parker Memorial Park, Thursday 3-7:30 pm. City Market Burlington Vermont, Healthy Living Market S. Burlington VT
Do you ship your flowers?
not yet
Your contact information:
Nicole D'Agata
The Painted Tulip
353 Kneeland Flats
Waterbury Center, VT 05677
Phone: (802) 279-4371
pinterest: http://pinterest.com/paintedtulip/
website: http://paintedtulipvt.com/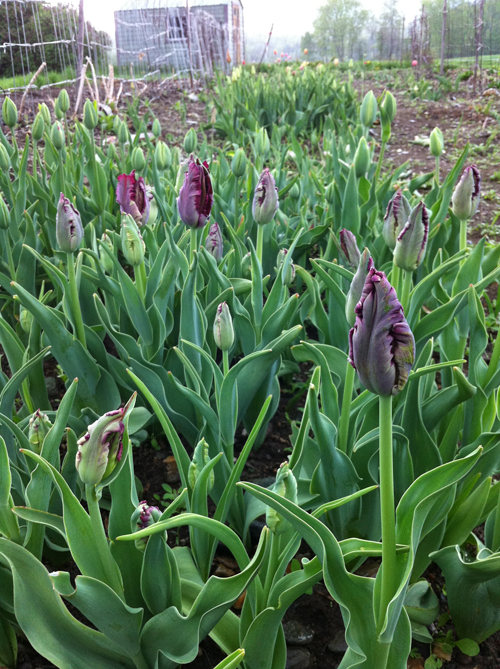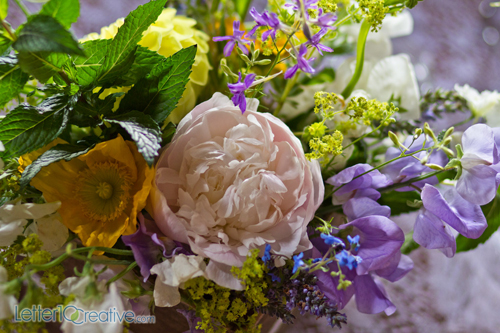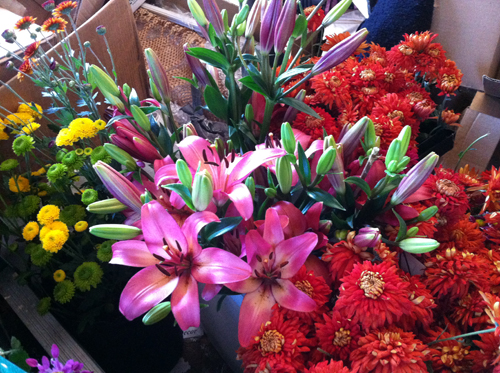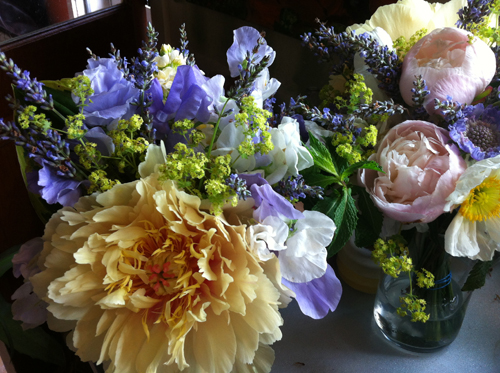 Related posts: