Your name: Karin Woodward
Your Business name: Haute Horticulture
Your Location: Memphis, Tennessee
How did you start your business?
After I got married I continued to follow weddings and trends and was
hooked from then on. My first true event, as with most beginning
florists, was a friend who had a large wedding. None of the planning,
materials, spreadsheets, or exhausting labor, or long hours scared me
away so I knew I was able to handle the work.
How many years have you been in business?
Six total but it has been spread out a bit over two regions: California
and Tennessee.
What is your design aesthetic?
It has evolved so much over the years as I learn more about the plants
with which I design. Right now I am leaning towards a very natural ratio
of flowers and unusual greens. Asymmetry, footed bowls, branches, fruit,
vegetables and rare or uncommonly used flower breeds. I have been
studying nature all my life, but when I first started arranging I must
admit my designs were a bit stiff and round. Now, when I can, I am using
what is truly in season in less oasis and to designing with respect for
flowers that deserve to be next to one another.
What inspires you?
The book The 50 Mile Bouquet is something that has opened my eyes
recently. I am also inspired by the fashion trends right now that have
so many floral elements (it's about time!). But at the end of the day, I
can look at any flowering plant and feel the urge to create an entire
vignette based on it's characteristics and colors alone. I guess this is
because ever since I was seven I have been obsessed with anything
flowering: Watching Dogwoods, climbing Kwanzan Cherry Trees or Pear
Trees, and dreaming about what can be made with those abundant perfect
flowers.
What are the trends, flowers & colors that are unique to your region?
Oh, in the South brides will always fall for what I have dubbed "the
Trinity of Divinity" and that would be: Peonies, Hydrangea, and Garden
Roses all in a big creamy, pink, or white poof! It will always be that
way. Tennessee brides are a bit younger and I really appreciate their
willingness to try new floral ideas. They embrace the fun and different
when others are trying so hard to make their weddings timeless, (which
we all know is harder than it seems).
Are you a retail shop, studio/warehouse or home based?
I have never had a retail shop. When we moved back to Tennessee I was
fortunate enough to find the perfect giant log cabin with a built in
cooler and my additional cooler now installed. It has an expansive cool
basement and garage perfect for designing, warehousing, and delivery. I
love being able to come down as I need to without the drive. If clients
are put off by this, they shouldn't be. I have successfully completed
large scale weddings without a problem. This is not the economy for a
boutique style event florist to have a swanky studio unless they own the
building or have a very large business and client base with merchandise.
Do you offer any services in addition to floral designs?
I am slowly converting into a floral stylist. This means more
editorials than the traditional daily florist and it is a service that
magazines, blogs, and e-mags appreciate and need. Inspiration and
innovation: I want to be at the forefront of expanding how people view
their wedding flowers and am lucky enough to work with the perfect
vendors in Memphis who share my ideals and philosophy. The innovation
also entails an app my husband and I have developed for what else but
wedding flowers.
What does your toolbox look like?
I have to be honest, I have gone through three. I am on #4. It's a soft
rolling tool suitcase my husband gave me. The first plastic tackle box
didn't make it one season! The inside is pretty chaotic, but it has
everything I need. My staff would catch me in a bold lie if I said it
was flawlessly organized!
What tool in your toolbox can't you live without?
A cutting tool is always most important, but I am always wishing I had
two things attached to my hip at all times: wire and bowl tape.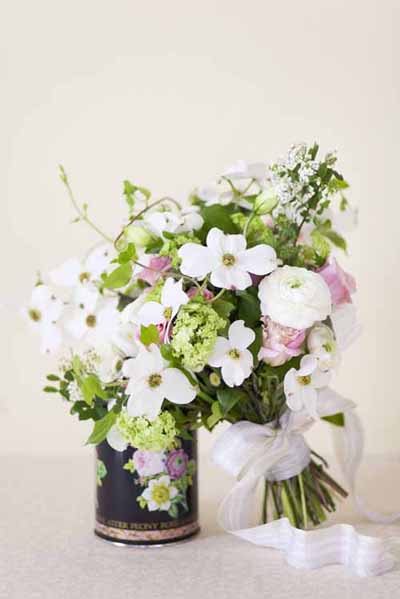 What's your favorite flower?
I guess it's Dogwood, but as cliche as it sounds I love and respect
every blooming thing.
Anything else you'd like to share with Flirty Fleurs followers?
It is a question: What are we going to do with our passion and our
craft? I am relieved when I hear that there are still new young people
who want to work with flowers as a career and crushed when I know the
reality they face. I worry about the future of floristry as an art and
not to be compared to a super-store item at rock bottom prices (isn't
that the worst?). I worry about the global impact of what we do and what
chemicals we are exposed to. I want to know what we as a group can do
about all of this. What do you think?
What is your contact information
karin(at)hautehorticulture.com
http://www.hautehorticulture.com/
(please note that all photography seen above this line is by Annabella Charles Photography)
Related posts: