Your name: Jennifer Brant
Your Business name: Green Bouquet Floral Design
Your Location: Corte Madera, California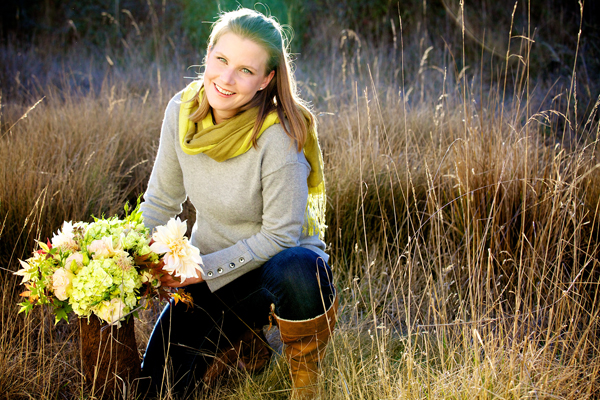 How did you start your business?
Several years ago I quit my job at Google to become a floral designer. Google was a wonderful company to work for, but I knew that if I didn't take a leap of faith to follow my dream I would be sitting at the same desk 10 years later wondering what if? Very soon thereafter, I was lucky enough to be hired at one of the premier florists in Washington DC, Helen Olivia where I worked for almost a year before moving to Paris, France with my husband. While in Paris I worked and trained in a floral boutique, Blossom. At the same time, I studied floral design at the Catherine Muller Flower School and Djordie Varda in Paris, and Gregor Lersch in Germany. After two years in Paris, I returned to Washington DC and worked for The Enchanted Florist and for Heavenly Hydrangeas on high profile events and weddings. While in DC I also had the opportunity to work at our nation's most prestigious residence where I studied and worked in "The New Garden Style".
After almost two years back in DC and much consideration, we decided to move back to the West Coast where we relocated back to my native Marin County in the San Francisco Bay Area. We bought a house and renovated a space for a design studio and Green Bouquet Floral Design was born!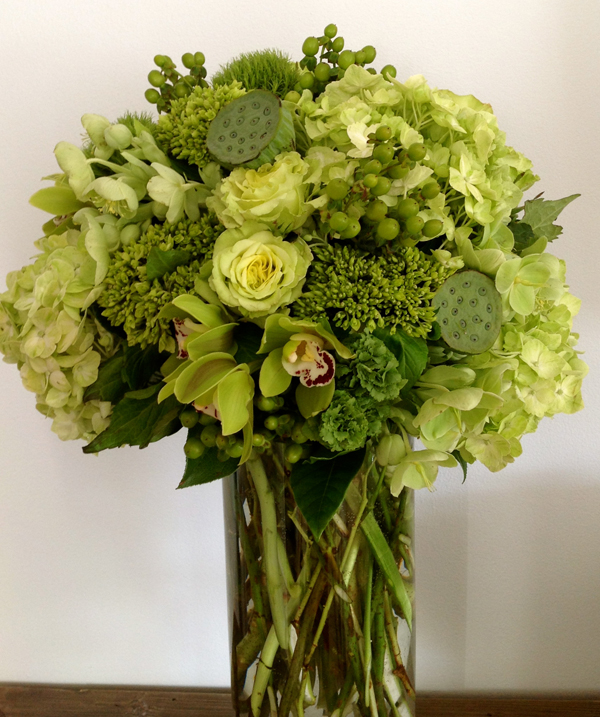 How many years have you been in business?
Less than a year.
What is your design aesthetic?
Now that I am my own boss I am finding my own voice as a designer. I have had many amazing mentors over the last several years with such different philosophies and aesthetics. It has been liberating to wake up at 4am and go to the San Francisco Flower Market, be inspired by the local product, choose every bloom by sight, and design completely from my gut. My aesthetic continues to evolve, and continues to be highly influenced by my time spent working and studying in Paris.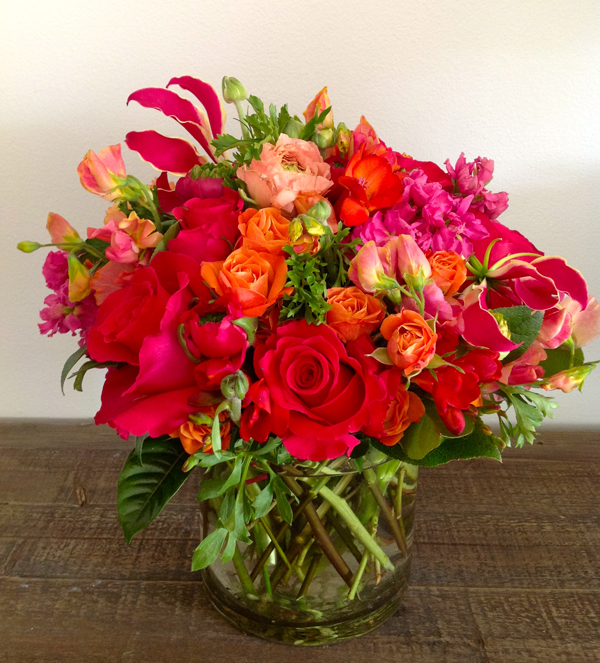 How do you create your style and where do you draw your inspiration?
I draw a lot of my inspiration from the San Francisco Flower market. I usually find myself first checking out foliage from my favorite local vendors and then browsing flowers. My style comes from a feeling and being inspired by a single bloom that will become the star of the bouquet. I like to use this flower to deconstruct my color palette. I like my designs to have a layered look of unique textures, blooms and depth of color. Being able to see, feel and choose my own product has really helped develop my own style over the last year.
What are the trends, flowers & colors that are unique to your region?
I see more of a European influence here on the West Coast. The feeling is more relaxed, avant-garde and less structured. The style looks more gathered and natural. Because of our access to the SF Mart and locally grown product, you see more unique integrations of interesting textures, foliage and color combinations.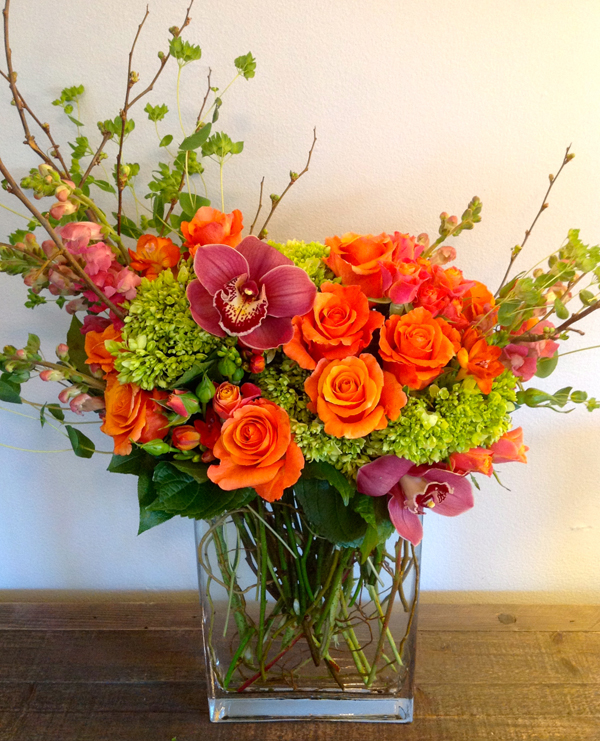 Are you a retail shop, studio/warehouse or home based?
We just completed construction on my studio that is based out of our house.
Do you offer any services in addition to floral designs?
At this time we are mostly focused on floral design and assisting clients with table décor.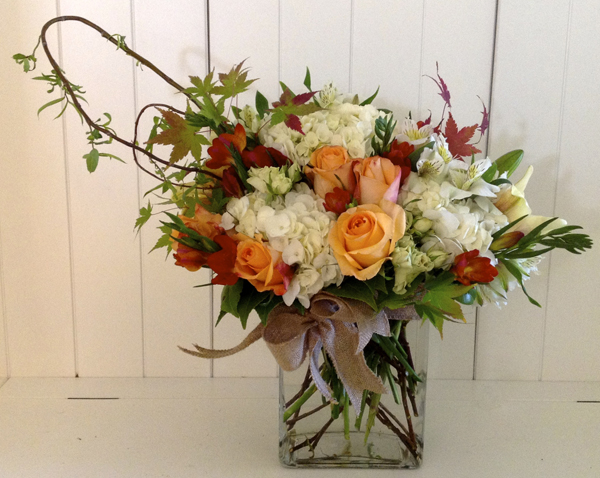 What tool in your toolbox can't you live without?
Kinda silly, but I can't design without my turkey baster to fill and remove water from vases and my squeegee to clean my workspace by my side.
What's your favorite flower?
It changes with the seasons and the week, but right now I am addicted to green ranunculus, figs and artichoke foliage.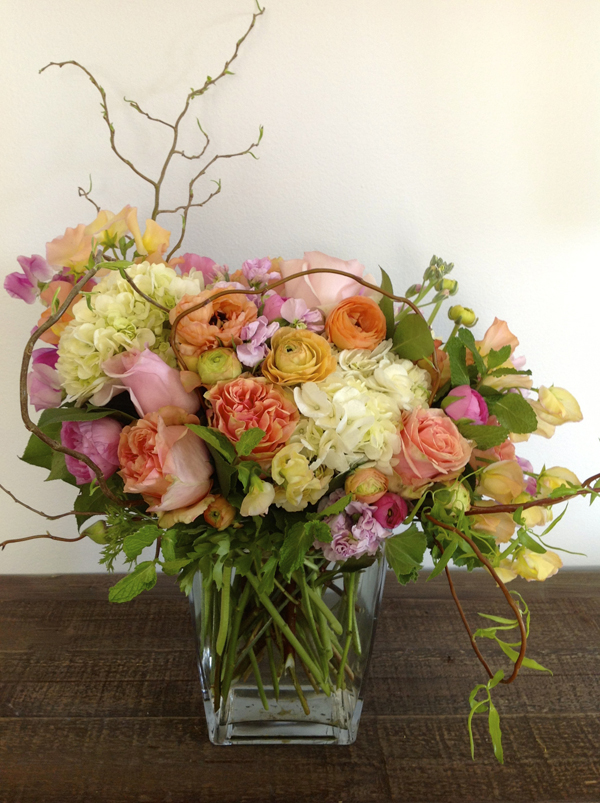 Anything else you'd like to share with Flirty Fleurs followers?
This is completely unsolicited, but I can't say enough about Alicia's online marketing class. I started my own studio about 6 months prior to signing up for Alicia's class. It could not have been better timing. I had ticked all of the major online boxes – website, social media and major vendor listings – but I felt like I was still throwing mud at wall. I have used all of these tools personally, but not from a business perspective. I needed someone to tell me what was working and what needed work. Alicia took the time to review all of my material and gave me feedback on my website, my social media accounts and provided a helpful list of where to list my business online. Her suggestions helped me adjust my online presence and make sure that my business was being represented consistently across all of my online platforms. I would recommend Alicia's class to anyone with a new business or business that needs help with their presence online. Thank you Alicia! Your loyal Flirty Fleurs follower!
Contact Information:
Website: http://www.greenbouquetfloraldesign.com/
Facebook: https://www.facebook.com/GreenBouquet
Twitter: https://twitter.com/lebouquetvert
Instagram: http://instagram.com/greenbouquet
Pinterest: http://www.pinterest.com/lebouquetvert/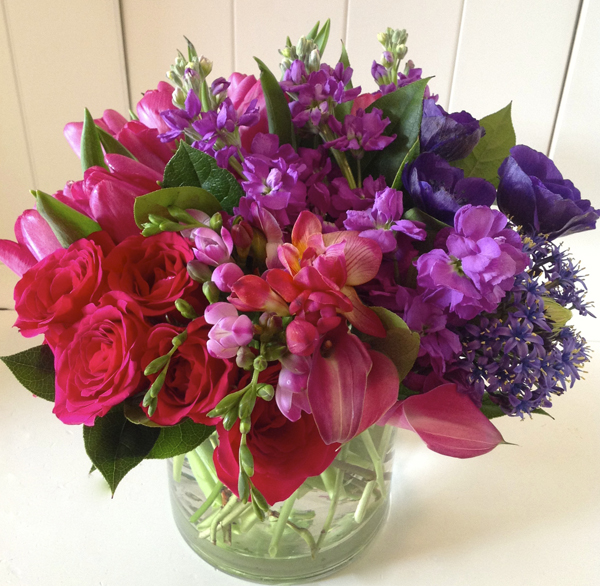 Related posts: