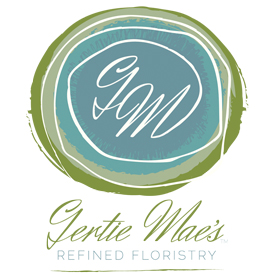 Your name: Sherry Donnelly
Your Business name: Gertie Mae's Floral Studio
Your Location: North Georgia
How did you start your business?
I accidentally found a hidden talent within me kind of late in life when I was 38. I played around with flowers, dabbling in weddings and working from my basement. I wanted to move back to a town where my family had lived previously, so I struck out on devising a business plan that would fit the community. Because my grandmothers were naturally talented at gardening and arranging, I decided to name my store after them-Gertrude and Mabel Mae- Hence Gertie Mae's was born in 2003!
How many years have you been in business?
I am currently in my 11th year of business and extremely thankful to still be thriving since the 2008 financial crisis. I have made lots of changes I like to call "morphing" in order to sustain the business.
What is your design aesthetic?
I would say it's organic, natural, full of texture, and gardeny!
How do you create your style and where do you draw your inspiration?
I am not sure how to answer that. I feel it creates itself…I start working with lovely flowers and fresh elements and at some point the design is complete. My inspiration can come from so many different places…that is difficult to nail down. A song, a memory, a piece of fabric…it's always different.
Are you a retail shop, studio/warehouse or home based?
Yes! I started in my basement in another state, then opened a storefront in the downtown of our community with a full service menu. I am currently in a studio setting providing mostly weddings and events only. I have run the gamut of business styles and can honestly say I love the present one the best!.
Do you offer any services in addition to floral designs?
I can plan and design the entire event when a client desires that extra service.
What tool in your toolbox can't you live without?
Floral glue and wire!
What's your favorite flower?
I have a hard time answering that question since I love so many of them equally. The special childhood flowers that bring back the sweetest memories of my grandmothers for whom my business is named for are the Lily of the Valley and Viola or "johnny jump up".
Anything else you'd like to share with Flirty Fleurs followers?
I hear people say they have no creativity and I don't believe that. We all have it inside of us…when you find it, run with it cause it's so much fun!!
Your contact information:
www.gertiemaes.com
https://www.facebook.com/gertiemaesdesigns
https://twitter.com/gertiemaes
http://www.pinterest.com/sherdon/
Related posts: