Your name: Clover Chadwick
Your Business name: Dandelion Ranch
Your Location: Los Angeles, California
How did you start your business?
I started my business in my kitchen. For many years I managed fine dining restaurants, and eventually started doing the flowers for them and my passion took root. My first clients were restaurants, since this was my forte. From the restaurants, I started doing dinner parties for their clients, which led to gift deliveries and then weddings. I worked out of my home for 3 years before getting my first location in Hollywood. Since then we have grown to have 13 restaurants we service weekly, and a large list of regular clients for private homes and gift deliveries. Weddings and events have taken the bulk of our business, however.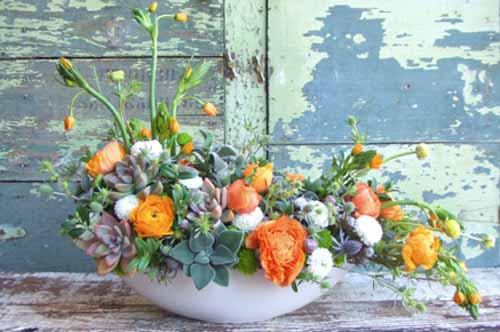 How many years have you been in business?
We have been in business now 9 and a half years…. We're looking forward to our 10 year Anniversary in January!
What is your design aesthetic and how do you create your style and where do you draw your inspiration?
My design aesthetic is dictated by Mother Nature. I leave it up to her to show me what ingredients to use and how to use them. Every day something reaches it's peak of the season, therefore I am at market daily, and it's my greatest pleasure paying attention to these changes in nature. I allow the flowers to retain their integrity by truly maximizing their most beautiful assets. Sometimes a flower's face is their best side (peonies and carnations, for example)…. while it may be their legs (stems), such as Calla Lilies or Tulips. Ultimately our designs, whether modern or traditional, mimic the way the flowers grow naturally, as flowers, first grow up to the sun and then fall when heavy. There is always a movement happening.
What are the trends, flowers & colors that are unique to your region?
Right now unusual blooms and textures are popular. Succulents, Pods, heirloom roses, and wildflowers. This year yellow is starting to hit. Design-wise… vintage and rustic are all the rage. Jelly jars, period. Wild flowers.
Are you a retail shop, studio/warehouse or home based?
We are a design studio / warehouse, open by appointment for retail. We recently opened a retail satellite store at HD Buttercup in the historical Helms Bakery.
Do you offer any services in addition to floral designs?
We offer other services such as landscaping and event design.
How do you balance the desires a modern bride when purse strings rest on the shoulders of traditional parents?
To balance the desires of a modern bride with traditional parent's pursestrings…. you need patience and understanding, first, and then, major creativity. I try to find compromise in design that will satisfy both.
What tool in your toolbox can't you live without?
Besides the obvious cutters (which I have 3 for different stem types), I can't live without my Lazy Susan. Spinning flowers…
What's your favorite flower?
My favorite flower?! Really?! It changes daily since I shop for the prettiest of season. Today it's Matricaria, tomorrow it will be Dahlia, in a few months it will definitely be Ranunculus
Anything else you'd like to share with Flirty Fleurs followers?
Flirty Fleurs followers, my advice, do not discriminate based on bias. No floral-profiling! As I mentioned earlier, ALL flowers have their time to shine. Be open minded and just think pretty. For example, do not underestimate the Carnation!
Your contact information:
Clover Chadwick, owner and principle designer of Dandelion Ranch
http://dandelionranch.com/
323-640-1590
info@dandelionranch.com
4701 W. Jefferson Blvd. #3
Los Angeles, CA 90016
Open by appt Monday- Saturday
Also, check out this cute video Dandelion Ranch made for Valentine's Day:

Related posts: