Your name: Kristi Podsiadlo
Your Business name: Dahlia a Florist
Your Location: Greenville, SC
How did you start your business?
With an $80,000 government assisted small business loan, in 2000. I had no business background, and no floral design experience. Instead of a floral background, my college years were spent backpacking Europe, getting a fine arts degree, and taking in as much art as I could. My shop was completely started on my passion for art and travel, using gorgeous flowers as the vehicle.
What is your design aesthetic?
I use flowers to evoke a time and place. That may mean going wild and unstructured, or fluffy and contained. My aesthetic is determined by my mood, the language of the flowers, and of course, what my client wants. In the end, it's about creating something people will go ga-ga over!
What inspires you?
I am inspired by anything that's different. If I see something I haven't seen before, whether it's a new city, a new design, or a crazy idea, I immediately say to myself, "I have to create that!"
What are the trends, flowers & colors that are unique to your region?
Of course, anything Southern is good. Magnolia blooms and leaves are fun to use; they have a long shelf life & a great coppery brown underside. Hydrangea grow in South Carolina really well, so I use bucket loads of them. Pitcher plants and venus fly traps are indigenous to SC, but it's illegal to pick them. I love to use Queen Anne's Lace, also called Chigger Weed, which can be seen growing on the side of the road. We South Carolinian's love to pull our car over and start cutting away. We call it Roadsidia!!!!
Are you a retail shop, studio/warehouse or home based?
I say with pride, that I am a retail shop, because I spent the first hard years maintaining consistent hours and a full flower cooler, with not much business. We are open Monday through Saturday for walk-in customers, as well as daily delivery. Half of my business is weddings, and the other half is daily orders. When you open a retail shop, you're running a marathon with lots of sprints in between. And, you have the responsibility of taking care of your employees. They count on you to be there for them. I give thousands of dollars worth of flowers, every year, to our local charities. Dahlia a Florist is more than just a design service; we are a necessary part of the community.
Do you offer any services in addition to floral designs?
I consider our best additional service is that of Event Stylist. When I meet with a client, I can just design the flowers for their event, or I can take the ball and run with it, coordinating everything from the linens, the tents, lighting, etc. I am obsessed with making our clients' events have one unified look and feel, and throwing in unexpected touches, that keep the guests talking for years.
What does your toolbox look like?
Great question, since tools are the lifeblood of any florist. I have three toolboxes. My clear plastic crafty container, with tape, scissors, pins, etc., basically looks like a bird's nest. I'll go to pull one item out, and because everything's wound up together, I get a big mess. My second toolbox is my Jeep. I couldn't function without my business books on tape, pumped up music, camera/cell phone, water bottle, Starbuzz coffee, and large cargo area. My third toolbox are the intangibles: my loyal employees and my arsenal of knowledge that I've acquired over 40 years. No further description needed there!
What tool in your toolbox can't you live without?
My favorite tool is anything that allows me to successfully MacGyver my way out of any unexpected floral design conundrum. You know, like when the dirt is too hard to stake your shepard's hooks down the aisle? Well today, it's 3M hooks. I can hang anything anywhere, as long as I have those hooks!
What's your favorite flower?
I have two: lily of the valley and lavender lilacs. The fragrance of lily of the valley says innocence and new beginnings. As for the lilacs, my first cut arrangement was at the age of 6, cutting lavender lilacs from my backyard bushes. Both of these delicate blooms are like me; they're high maintenance, but totally worth it!
Anything else you'd like to share with Flirty Fleurs followers?
By reading this, I really hope to have inspired you in two ways. One, follow your passion. Why? Because you have to in order to feel alive, and it's contagious! And two, don't live in the past or the future; live NOW. With gorgeous flowers, I am always brought back to the present. What brings you to the present?
Contact Information:
http://dahliaonline.com/
303 E. Stone Ave
Greenville, SC 29609
864.232.0112
800.406.1234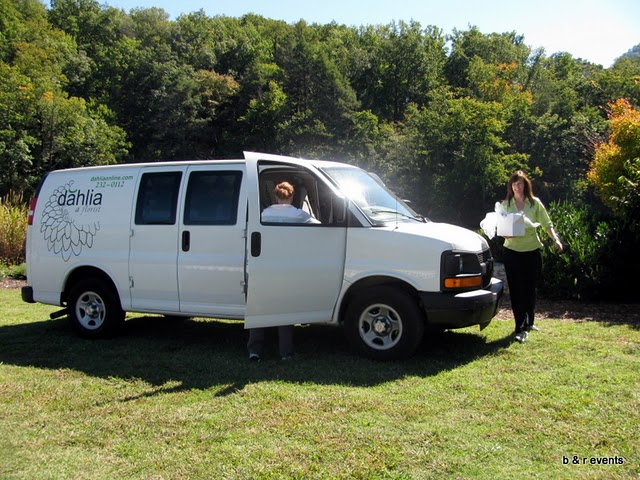 Related posts: