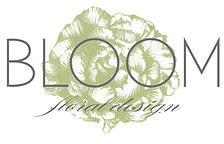 Your name: Jennifer Haf
Your Business name: BLOOM floral design
Your Location: Charlevoix, Michigan
How did you start your business and how many years have you been in business?
Inspired by our farm house renovation project and dreams of sharing fresh cut flowers from the garden, BLOOM was born. Our first venture was a weekend European-style flower stand offering fresh garden blooms arranged organically for passersby to purchase. Then came the first bride inquiry, literally on day one. Then the second and third…we had 6 weddings in our first summer without knowing where to begin. This was 8 years ago and throughout the journey of finding our aesthetic, we have since executed hundreds of weddings, opened and closed a retail location, moved our business to our home studio closer to the gardens. We could not be more pleased with the nature of our organic growth, the future is bright indeed!
What is your design aesthetic and what inspires you?
Our lovely Northern Michigan locale has most inspired our designs and has lead us to offer seasonal flowers in naturally designed arrangements that complement the amazing venues throughout our region.
What is your favorite part of being a floral designer?
The constant change; in season, in client, in venue, and especially in flowers. Each week is different than the next and no two of our events are identical so the nature of the business is always fresh and inspiring. As a seeker and suspect gypsy at heart, this meaningful work fuels the creative and constant motion that I crave…dream "job" indeed!
What is the most challenging aspect of being a floral designer?
Talking to clients about cost and talking them out of DIY aspects that would otherwise compromise the overall design. I believe that clients should hire a designer to guide and share their experience. We are here to offer opinions to help direct the overall vision for décor/floral elements and trust that experience is valuable, we have seen loads of events come to fruition.
What advice would you give to aspiring floral designers?
Make as many professional connections as possible; local, cyber, international, etc.. flower friends are the best and will continue to inspire!!
What are the trends, flowers & colors that are unique to your region?
With a short and sweet growing season with cold winters, peonies thrive here in Northern Lower Michigan (thankfully). We can also grow loads of old fashioned garden annuals; zinnias, sweet pea, snap dragons. On the off season, our evergreen forests offer an abundant selection for winter events that keep designs relevant and of the season too! Design trends vary depending on venue and we are lucky to have an amazing concentration of lakeside, ranch, elegant, estate, and historic venues throughout our region that we serve…. Shhhh! Don't tell anyone.
What tool in your toolbox can't you live without?
My snips, I love a good quality pair of Japanese snips and oasis liquid cold glue.
What's your favorite Social Media platform and why?
Instagram hands down! It's perfect for such a visual product and always kind and light!!
Anything else you'd like to share with Flirty Fleurs followers?
BLOOM would love to open our doors to interested aspiring interns for the summer of 2015. We are happy to share what we do with inspired flower people, just ask! We have one week intensive opportunities still available.
Contact Information
Jennifer Haf
231-675-9017
Web: www.bloomfloraldesign.com
Instagram: @bloomfloraldesign
Facebook: www.facebook.com/pages/BLOOM/117263884203
Twitter: @bloomupnorth
Related posts: