Your names: Robyn Rissman & Diana Sandoval
Your Business name: Bare Root Flora
Your location: Denver, CO
How did you start your business?
After years as the floral design team at one of Denver's oldest and most historic hotels, we decided it was time to stretch our wings and head out on our own. We've never looked back!
How many years have you been in business?
Bare Root Flora has been in business for two seasons, but we've been in the floral industry for more years than we'd like to admit!
What is your design aesthetic?
In a word, we'd say lush. We try not to put ourselves in too tight of a box designwise because we adore all manner of styles and venues and we're as comfortable in an urban art gallery as we are in an old barn! But we love an abundance of flowers, textures, colors and interesting details.
What inspires you?
We love to find inspiration in the smallest details—one of our favorite things is to add in a tiny surprise element to a bouquet or boutonniere that really captures the personality of our couple. Sometimes it's a vintage lock in a bouquet with a corresponding skeleton key in the boutonniere. Or we'll tuck a tiny "message in a bottle" with our couple's name and date into her bouquet and his boutonniere. These itty-bitty details just finish off the look and give it our particular finishing touch.
What are the trends, flowers & colors that are unique to your region?
We see a lot of "rustic chic" in Colorado, but our state can also be modern and sophisticated, elegant and classic, trendy and of-the-moment.
What trend would you most like to see disappear?
Submerged flowers. Not a fan.
Are you a retail shop, studio/warehouse or home based?
We have a studio at Robyn's house, and another space we use for client meetings and consultations.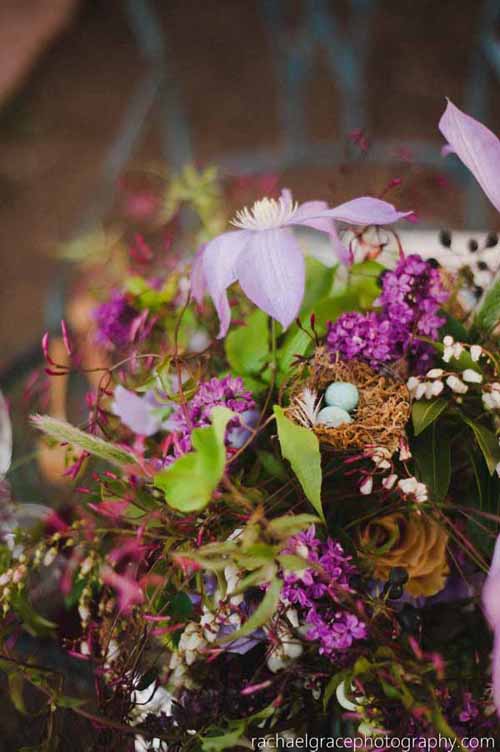 Do you offer any services in addition to floral designs?
Flowers are our greatest passion, so that's what we focus on, although we are happy to offer design and styling services to our clients. We're visual people, so we love to help pull an entire look together.
What is the greatest challenge facing the floral industry today?
Burnout. It's so easy to undervalue and overwork yourself. We think the biggest challenge is to make a living without making yourself crazy.
What tool in your toolbox can't you live without?
Bindwire. What a godsend. It's a stylish wrap for boutonnieres and bouquets, it hangs bottles and jars from ceiling beams, it attaches curly willow to chuppahs—we love it.
What's your favorite flower?
We can only ever answer that in the moment. In this moment it's the Japanese anemone. So beautiful and remarkably hardy. If you ask again in five minutes, we'll tell you something different. That's the beauty of this business!
Anything else you'd like to share with Flirty Fleurs followers?
Value yourself and your business—don't overwork yourself. Don't undercut yourself. What we do is an art and should be valued as such.
What is your contact information?
You can reach us at:
barerootflora.com
Twitter @barerootflora
facebook.com/barerootflora
Related posts: