Your name: Alicia Broehl
Your Business name: AJ Florals
Your Location: Southern Maryland
How did you start your business?
I started doing freelance floral design just after my own wedding three years ago. I took a design class to learn the basics and helped out in a floral design studio two days a week learning as much as I could about the business. I got my very first floral job for a friend's wedding last year and have done several on my own since then. Most of my work comes from part-time freelancing as I still maintain a full-time job in the investment industry Monday through Friday. I hope to make a career change to floral design on a permanent basis in the near future but for now it remains my part-time love. My challenge is making the transition from a consistent salary to one with varying and unpredictable income. Something has to pay the bills!!! My true talents and skills lie in the creative and artistic fields and I hope to one day reach the point where I can make my passion my profession.
What is your design aesthetic?
I'm fairly adaptable to the wants/needs of who I'm designing for whether it's a formal affair with elegant styling or a casual, rustic celebration using natural elements. I do tend to lean towards more symmetrical designs.
What inspires you?
Anything can inspire me; however, I do have a slight obsession with paper products and fabric. From beautifully hand crafted paper to various textures and prints of fabric. I could spend hours in fabric stores digging through piles of remnants looking for unique color combinations or design ideas.
What are the trends, flowers & colors that are unique to your region?
Given Maryland's proximity to water whether it's the Chesapeake Bay, rivers or the Atlantic Ocean, there seems to be a trend to incorporate marine life or vegetation into weddings. An outdoor wedding held on Maryland's Eastern Shore or anywhere near water uses tall grasses and reeds to compliment the natural surroundings. Maryland brides also love to incorporate the blue crab in their weddings. Stationary, gift bags, favors, table design or cakes… you can put a crab on anything!
Are you a retail shop, studio/warehouse or home based?
I am home based for now and it suits my needs for the level of events I am doing. I also freelance for several designers/event planners in Maryland which gives me the opportunity to be in a small business environment and learn.
Do you offer any services in addition to floral designs?
I am a great napkin folder! Some of my freelance jobs have included helping to coordinate day of services for a wedding. I typically stick with the flowers from creation to delivery and set up but I have jumped in to help in other areas when needed.
What does your toolbox look like?
You would typically find my toolbox at a construction site rather than toting around floral tape, straight pins and double faced satin ribbon. It's a red and black heavy duty square box with a handle and carry strap. Lots of pockets for all my clippers and scissors and space for a spray bottle and paper towels. I was hoping for something fun and feminine but I guess tool manufacturers haven't yet fully embraced the female, home improvement customer to begin marketing pink toolboxes en mass.
What tool in your toolbox can't you live without?
Paper Towels! I always have a roll of paper towels with me for that inevitable spill. Moving heavy glass containers full of water and flowers from delivery truck to table is never perfectly smooth.
What's your favorite flower?
David Austin Roses. I love the fullness and fragrance they give to a bouquet Their multiple layers of petals remind me of our own layers as people more particularly brides. When you peel back the layers of style, theme, venue, budget, etc., you find a girl who fell in love and she's getting married. It's just that simple.
Anything else you'd like to share with Flirty Fleurs followers?
I love learning and exploring my new profession!
Contact Information:
www.ajforals.com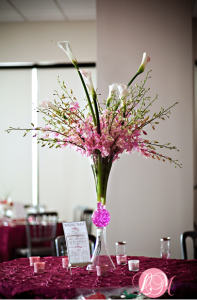 Related posts: