Wrist corsages are one of the most popular options for personal flowers for weddings.
Many times I would start designing them and think that they looked like flowers a high
school boy would give his date for homecoming. I decided I would try something new
and design the wrist corsage on a ribbon and not on an elastic band thus my ribbon wrist
corsage was born. So here's a step by step instructional on how I make my basic ribbon
wrist corsage.
Step One: Supply List
-Floral Shears
-Floral Wire Cutters
-Ribbon Scissors
-Wire
-Floral Tap
-Glue Gun with extra Glue sticks
-1 ½" Satin Ribbon (enough for the wristlet and a bow)
-Flowers (we used three spray roses)
-Any extra items (We used gilded Gardenia Leaves)

Step Two: Wire all your flower pieces and floral tape them

Step Three: Design your floral wrist corsage and tape all floral pieces together to create
your beautiful floral wrist corsage

Step Four: Cut a foot long piece of Satin Ribbon and some more for a bow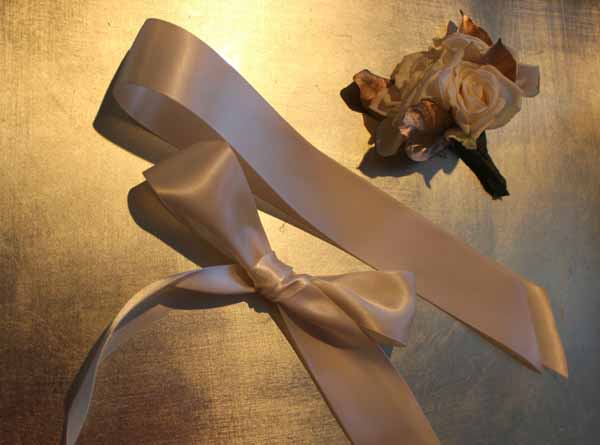 Step Five: Secure the ribbon to the designed floral corsage with hot glue by putting a
small strip of hot glue on the taped stems. Don't glue the stems on the bottom but at the
top. Gluing at the top side will allow you to place the ribbon over the stems and then
making it look nice so that you cannot see the stemmed exposed.

Step Six: Glue your favorite style bow at the top.

Step Seven: Finish Product.

Thank you, Angie, for this wonderful step-by-step guide on how to create a wristlet corsage! We truly appreciate you sharing your technique with Flirty Fleurs readers.
Contact information:
Angie Strange
Posh Floral
Dallas, Texas
http://poshfloral.com/
Related posts: