Dahlias have arrived from Florabundance! These are field grown throughout southern California. They arrived at the shop and were immediately processed with the use of "quick-dip" to revitalize them. After a bit of time on the design table to rehydrate they were placed in the cooler.
A little bit about these dahlias;
-their stem length is about 20-24″
-Blooms measure about 2.5″-4″ wide each, depending on the color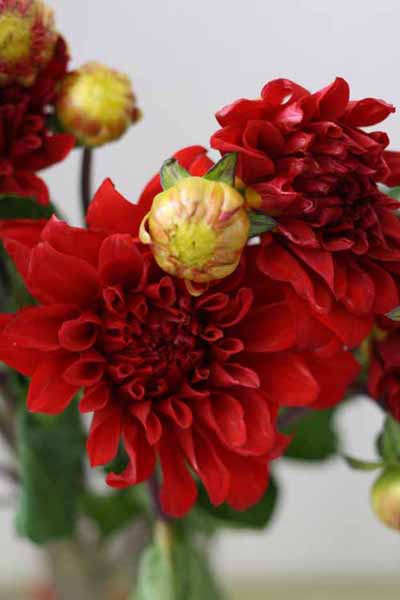 I asked Florabundance's flower buyer, Scott, a few questions about ordering dahlias:
When are dahlias in season?
The prime production season starts in last May and runs through early October. There are growers in Carpinteria that are growing Dahlias year-round now, but the color selection is limited and the quality is not the same as the peak season.
Where are the dahlias you offer grown?
Our sources are all in California. The majority of the Dahlias are grown in the open field. Some of the year-round growers also use shade cloth and have some plants in greenhouses.
Are ball shaped or dinner plate dahlias available?
Yes to both during the peak season. The dinner plate production however, is not in full swing until mid-June.
How's the Cafe Au Lait season? Are these hard to get?
The Café Au Lait variety does not really start coming in until June, but once it hits we have good numbers available through September. It is the highest demanded variety, so depending on orders we may sell out on any given week. Also, like other varieties, the Café Au Lait's availability is based on weather. If we have extended periods of no sun, production will dip until there is a couple of days of sun.
When should orders be placed for dahlias, does it depend on the color variety?
Pre-ordering is best and we fill orders on a first come first serve basis. Some colors are always available as we may have multiple growers producing the same variety or color. For instance, burgundy is always available. It also depends on the demand on any given week. All it takes is a few large event orders to sell us out on a certain color. Our growers do cut daily and of course our availability is based on the harvest for the day.
How many colors do dahlias come in? I think they only do not come in blue and a dark purple, correct?
There are many colors, hues, and shades available in different varieties, shapes, and sizes. There are also at least 12 variegated varieties. Blue is not an available color, but we do have a couple of nice dark purples coming through right now along with a variegated purple with white edges.
They typically come 6-8 stems per bunch, correct?
The bunch size depends on the variety, size of the flowers, and the size/length of the stem. The Café Au Lait variety due to it's size usually comes in 5 stem bunches with laterals and blooms that are large while some of the smaller varieties might come in a 10 stem bunch. However, on the average, the bunch size is 6-7 stems.
What is the normal vase life on dahlias?
This somewhat depends on the variety. During peak season, the shelf life is very good on Dahlias with the stronger stemmed varieties holding up the best. They typically last 5 to 7 days in water. Dahlia's need to be recut every couple of days and water refreshed. They are hard to ship but Florabundance has a special packaging method.
Contact Information:
http://florabundance.com/
P: 800-201-3597
Related posts: