Kay's School of Floristry is offering a great 4 day course in Sympathy design!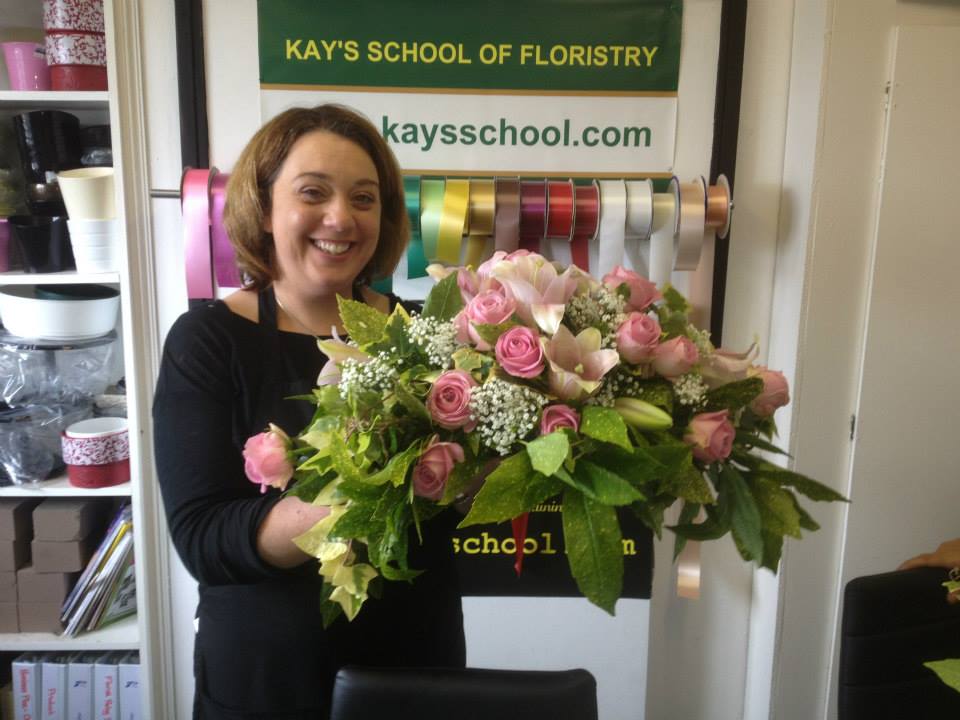 Our Intensive Commercial Sympathy & Funeral Tributes Design also incorporates Presentation Hand-tied Bouquets and is suitable for anyone who has an interest in flowers and is looking to earn a second income, work from home/ freelance or in a flower shop or maybe in the future set up their own Floral business.

Our students range from early school leavers to those of you whose family may be reared and are looking for new challenges or those of you who are looking to change career direction.
In order to enrol on our Commercial Sympathy & Hand-tied candidates are advised to have completed Module 1 Intensive Flower Arranging or equivalent.

Floristry Theory covered on this Module:

Consulting with customers who are bereaved
How to offer constructive advice to your customer on their choice of design
Preparing your portfolio
Purchasing your sundries and materials
Suitable flowers to create different types of tributes
Shop Layout – Counter and points of sale
Profit percentages on the sale of flowers and Hand-Tied bouquets
Teamwork in a florist
How to sell effectively – stock control
A day in the life of a Florist- dealing with deliveries
Working through an Undertaker – percentage mark up's etc

Practical Floristry / Demonstration covered on this Module:

Eternal Circle Wreath
Textured Floral Wreath
Round Wreath edged with pleated ribbon with a floral spray
Sympathy Rose in cello
Funeral/Coffin Spray
Heart Tribute Wreath incorporating a floral spray
A grouped or textured Sympathy Cross Tribute using a selection of retail and garden foliage.
Sympathy Pillow or Cushion Wreath with initials inscribed in flowers
Based Floral tributes
The Gates of Heaven sympathy Tribute
Floral Picture Frame Tribute

During this Commercial Sympathy Floristry Course we organise a trip to The Dublin City Flower Market and introduce you to some of the Wholesale Flower Suppliers based there. Students are provided with step-by-step instructional notes and an itemised list of the materials required for each funeral design and also included is how to cost each design and the commercial selling price you would expect to get for each design.

As part of Module 2 you also cover the Presentation Hand Tied Bouquet Workshop. Hand tied bouquets are flowers specifically arranged to make a lasting impression and ready to be placed directly into a vase, however as they are made in their own Aqua Pack, these bouquets can be free standing requiring very little maintenance. Hand-tied bouquets are ideal for any occasion, be it Birthdays, Anniversary, New Baby, Thank you or Condolences.

Hand-Tied bouquets are without doubt one of the most requested bouquet in a flower shop for special occasions.  In order to maximise your retail sales or employment potential, it is vital that you master the technique of Hand- Tied Bouquets in Aqua Packs.

Also covered during this part of the course is:

Purchasing materials & accessories required to create Hand Tied Bouquets
Purchasing / Treatment and Cost prices of Flowers
Retail percentage mark – ups on Bouquets of flowers
Presentation and transporting of Hand Tied Bouquets
Mastering the technique of creating a  Hand Tied Bouquets in  an Aqua pack & Porto Box
Course Duration: 4 Days

Course Time: 10am – 3.30 pm each day

Course Fee: €600 includes all materials required

Booking Deposit: €200 to reserve your place on course
For more information on Kay's School of Floristry please check out there
website
!
Related posts: