I've taken a lot of floral design classes over the past twelve years as I really enjoy learning from others. Come to think of it, I can't even begin to guess how many class I've taken at this point… This past weekend I took a class at Garden Valley Ranch (seen in yesterday's post) taught by Nicolette and Sarah of Little Flower School.
Honestly, hands-down the best class I've ever taken. First I arrived at the ranch, a place I've wanted to visit for awhile, the anticipation was building as I walked in through the gardens. Next I walk into the building where the class will take place, a beautiful building from the 1880s, where I'm greeted by two tables filled with flowers. Oh my gosh, flower overload! As you'll see in the pictures that follow, they were so beautiful.
After an introduction given by Nicolette & Sarah about how the day will go we head out into the rose gardens and are given a tour by Fallon (as seen in earlier posts). Fallon tells us about the ranch and teaches us about roses – did you know that rose bushes are related to the apple trees?? Did you know that in ancient times the bushes were grown for rose hips which were believed to have medicinal purposes and not for the actual rose blossoms? Fallon told us so many interesting tid-bits. Our tour lasted for awhile as we perused the 9 acre property, taking it all in. Eventually we returned to our class room where we learned the names about all the flowers we'd be working with in our arrangements. It is so obvious how much these ladies all truly love flowers and nature — I think we all know by now that I absolutely LOVE flowers so you can imagine how much I appreciated how they treated each flower. (seriously, I've taken classes where it's all about the design techniques and sometimes I wonder if the person even looks at the individual flower??). Next we were off to lunch which was enjoyed in the rose garden, of course! By the way, Kale salad is quite delicious!
After the lunch break it was back to the class where the girls started their presentation on the floral design. I loved how they worked together, as one would speak the other would design and they could trade off seamlessly. What I also appreciated is how they explained their methodology. How they examine the flower and the stem before placing it in the arrangement, how they like to see color layered and moved throughout the arrangement. After the sample arrangement was finished all of us students took our places at the design tables, perhaps the hardest part was deciding which flowers I wanted to design with!! While everyone designed the girls would walk around and talk with each of us, give suggestions on what to do next, remove flowers that weren't right and help pick out flowers that were needed to make the arrangement just right. After everyone finished Nicolette would photograph the arrangement. I found it so interesting how each design was so different, how people see color and movement. Not one arrangement looked the same!
Truly wonderful experience and a wonderful day. Thank you, Sarah, Nicolette, Fallon and everyone at Garden Valley Ranch.
Here are the tables with all the flowers for us to play with: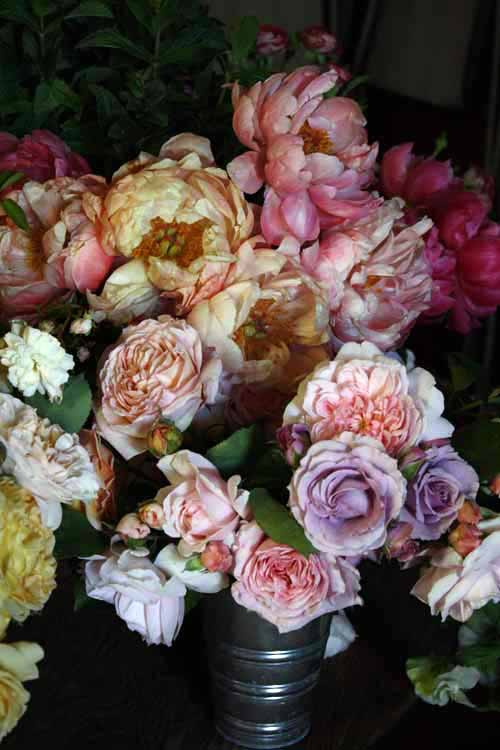 Nicolette & Sarah explain how they design and they create a sample arrangement for us:

So what do you think? Want to take a class with The Little Flower School and visit Garden Valley Ranch? I think both are fabulous ideas!! I must have texted Chuck about 100 times during class, sending him photos. I told him that if they ever do this class again to be sure to sign up for it immediately.
PS – a little shout-out to my new flower friends, I had a great time getting to know you ladies!:
Caroline of Ohio! owner of Passiflora
Lori from Los Angeles, owner of Blossom Alliance
Penny of New Mexico, owner of Los Poblanos
Related posts: