Two weeks ago today 58 floral designers from around the world gathered for 3 flower filled and information packed days in Santa Barbara, California. We gathered to learn more about building and operating our businesses and to push our creative talents with a plethora of flowers at our fingertips.
Holly Chapple, the founder of Chapel Designers, gathered together an impressive list of presenters – the UK's hottest young designer, Joseph Massie; the Queen of Woodlands design, Francoise Weeks; San Francisco's much sought after designer, Nancy Liu Chin; and the four of them lead 2 days of splendid hands-on floral design workshops; on the business discussion day I led a discussion on Online Presences (including websites, blogs & social media) and Courtenay Lambert led a fantastic discussion about ordering & pricing.
The event took place at Sunstone Vineyards and Winery in Santa Ynez Valley, with lovely views of the valley – the perfect location to get our creative juices flowing! Holly instructed the participants on how to design a loosely styled hand-tied bridal bouquet. Francoise taught how to create awe-inspiring head pieces. Nancy designed four tablescapes to share a variety of styles with the designers, and then got everyone involved in designing with her. Joe designed an art installation with the purpose of building and emphasizing the unity between all the designers that participated in the workshop.
Of course, Joost and his team at Florabundance provided us with the most beautiful flowers. We had the pleasure of designing with gorgeous poppies, anemones, lisianthus and garden roses! Plus, textures galore – pieris japonica, Chocolate lace, and privet berries to name a few.
Thought I'd share some photos of the event and all the fun that was had! (I will be refraining from posting the final installations for now as those have been submitted for publication.)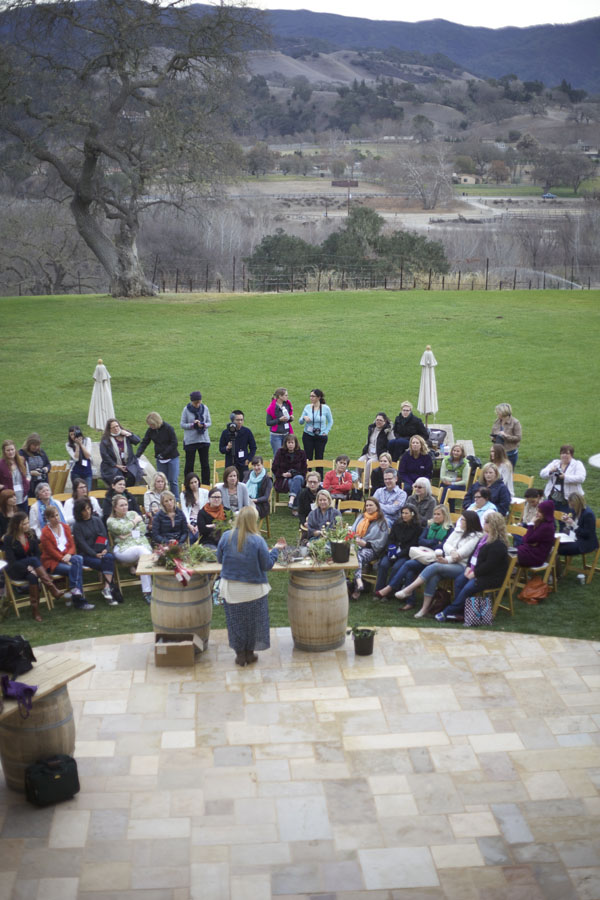 Related posts: