Last week at this time we were headed into day one of the Chapel Designers Conference taking place in New York City. In all we had three great days in NYC, filled with cool people, gorgeous flowers, amazing designers and lots of inspiration. I truly enjoyed meeting so many talented designers from across the country and around the world. The energy and magic that happens when 60 floral designers come together is impressive.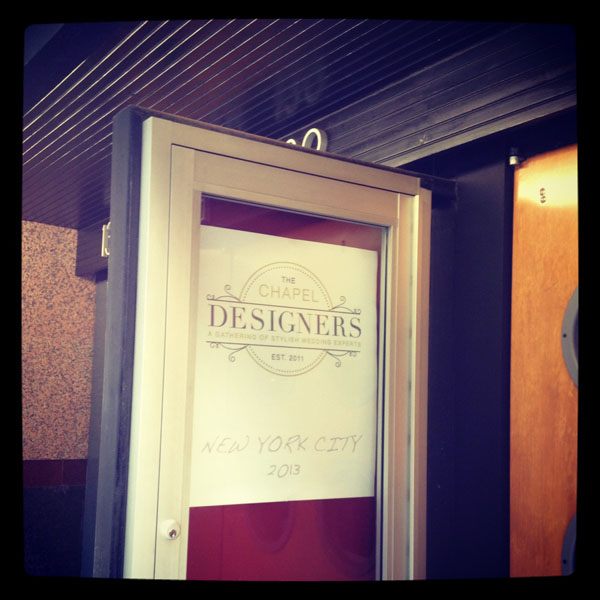 On day one we heard from numerous speakers, including Abby Larson from Style Me Pretty and Naomi de Manana from Martha Stewart Weddings!
We also heard from many Chapel Designers speak including Amanda Frankenwicz from Alluring Blooms, Daevid Reed from Daevid's of Norfolk, Francoise Weeks, Lesley Frascogna from TULIP, Jennifer and Dave Ederer with Modern Day Floral, and Laura Larocci from Faith Flowers.
Rachel Merkle from Miss Merkle Design and Anne Chertoff spoke to us about branding and social media.
Not too many pictures to share with you today, day one was all about listening to speakers and filling journals full of notes and inspiration.
Now if any of you are sitting on the sidelines, watching the Chapel Designers Conference for the past three years and thinking to yourself – should I sign up? should I join this group? will I be accepted? My advice to you is to jump in and sign up for 2014. The group of designers that attend this conference are kind, generous, warm and friendly. You will have fun, you will walk away inspired!
Contact Holly directly for more information about the conference next year. The dates have not been released, but I do know the list of interested attendees is growing quickly.
More blog reading about the conference:
The Full Bouquet Blog – Designers arrive in NYC
The Full Bouquet Blog – Day 1 Recap
Posh Floral Design – Cocktail Party
Posh Floral Design – Conference Day 1
Related posts: