How are you transporting your bridal flowers? Likely in glass vases that are clustered inside used long cardboard flower boxes rigged tight with tissue and newspaper. Am I close?
Well, we here at blumebox offer a pretty slick, personalized and eco-friendly option of transporting bridal bouquets as well as boutonnieres.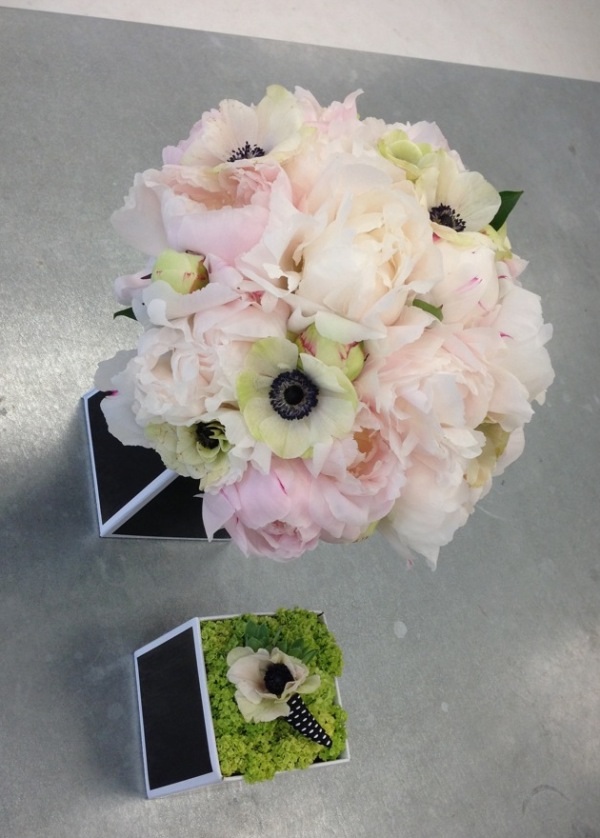 If you are not familiar with blumebox already, we are based in Portland, OR and have been manufacturing cardboard flower vases since 2004. In the early stages of the business we marketed to the everyday floral deliveries. Since that time we have narrowed in on more specific needs and market to the wedding florists and event planners looking for a container that can be customized to suit events of all types. Specifically, the blumebox serves as a rigid container to house bridal bouquets and boutonnieres.
How does a blumebox work?
The 100% recyclable, cardboard flower vase, is just that . . . a vase! It holds water with the help of the plastic liner that comes tri-folded inside of each blumebox.
In just four easy steps a blumebox, can be assembled!
1) Push opposite corners together until bottom locks into place.
2) Expand bag into blumebox & fold over (about 1/2″) outside of box.
3) Fill with water. (Enough to cover base of stems)
4) Add hand tied bouquet.
Need a visual, we don't blame you! Go to our home page of the blumebox website and click on the "Watch the Vid" button in the lower left hand corner.
What size blumebox works best for transporting bridal bouquets?
The 8″ blumebox is definitely the most popular shape and size. If your bouquets err on the shorter side, the 6″ blumebox will work well.
What size blumebox works best for delivering boutonnieres?
The 5.5″ blumebox cube is the largest opening we sell and can fit up to 3 boutonnieres, depending on their size.
The 4″ blumebox cube fits 1-2 boutonnieres, depending on their size. This is a great option for small weddings, proms and Bar Mitzvahs.
For this shoot, we paired up with the talented Hailey Bernstein of Zest Floral & Event Design to provide the florals. If you are not familiar with Hailey and Zest Floral & Event Design, pop on over to the website to see what these girls can do! I promise you will not be disappointed!
We love the romantic style of this bridal bouquet and felt it paired up nicely with the black and white edged blumebox. Shown here is an 8″ blumebox. Once the box is open, expand the bag into the blumebox, leaving a portion of the bag exposed out the top, fill with water (enough to cover base of stems) and place bouquet into the blumebox.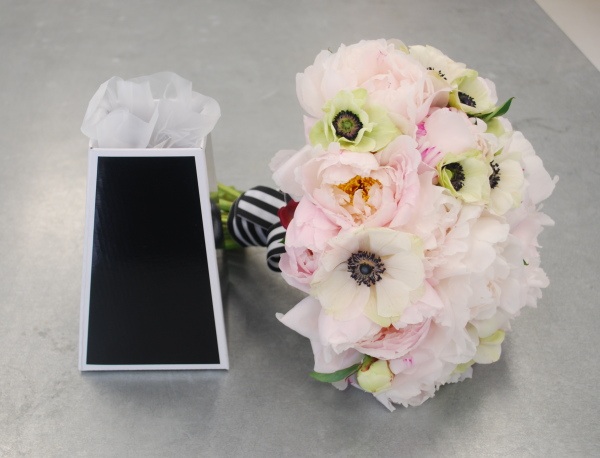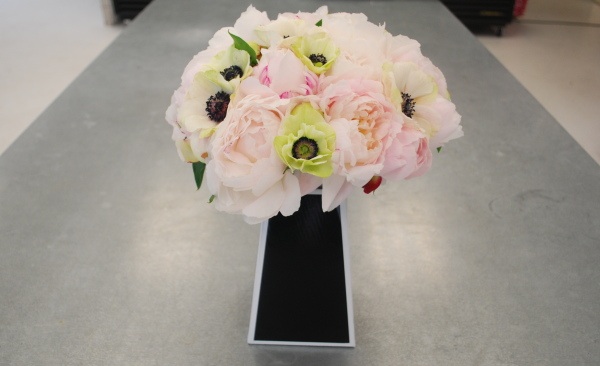 Voila! You can be done, or you can add a personalized touch.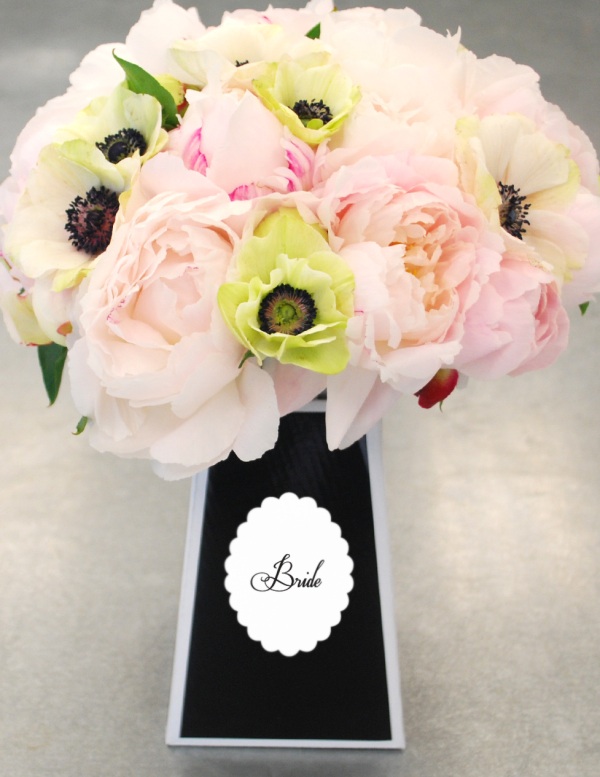 For the boutonniere, we experimented with a few options. Shown here, we filled the 4″ cube with oasis and cut down small green viburnum that served as a pillow for the anemone and succulent boutonniere.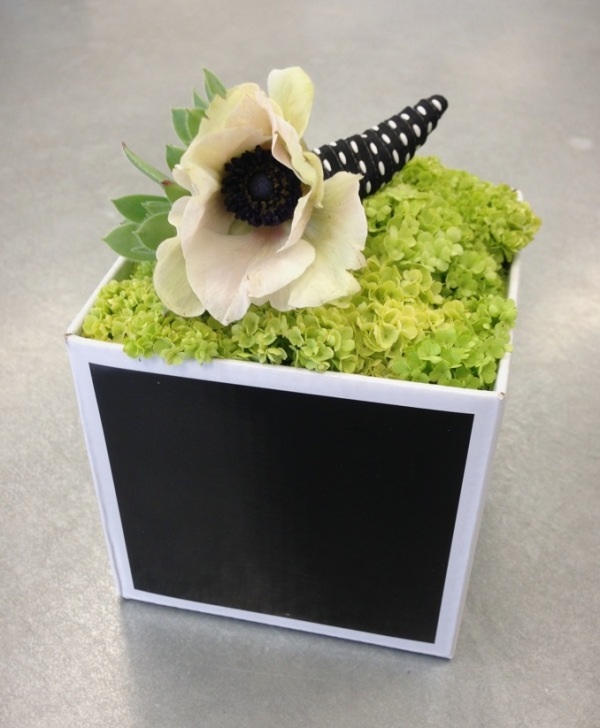 And for that personalized touch we added our printable scalloped card, to identify whose boutonniere belongs to whom.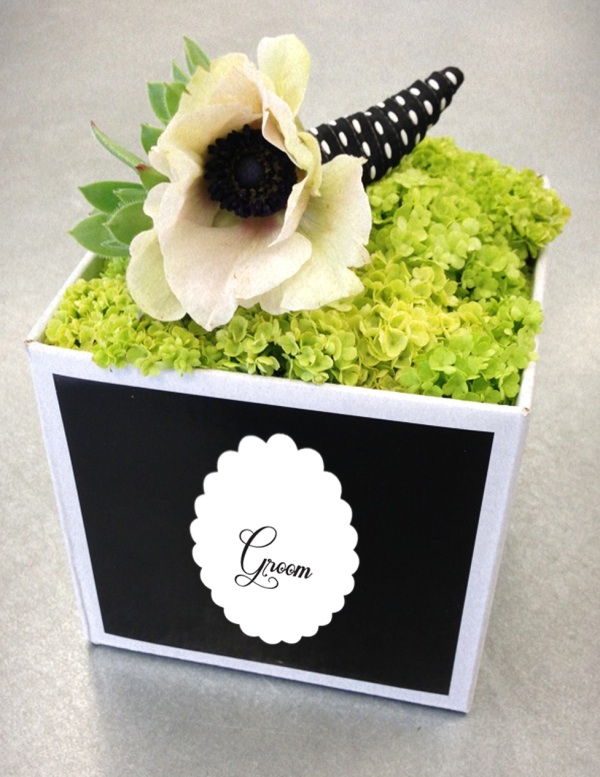 Together, they make one classy statement!
For a more masculine look we started with the larger size 5.5″ blumebox cube in black and filled with river rock. Tip: Place a 4-5″ square plastic box upside down so that you only have to fill out 1-2″ of rock. Crumpled newspaper works as nice base filler as well. Once plastic and inside of box is covered with filler, in this case rocks, then place boutonnieres on top. With the larger size cube, you ought to be able to house 2-3 boutonnieres. You can either leave as is or cover with cello wrap. Moss would be another great filler to use under the boutonnieres too.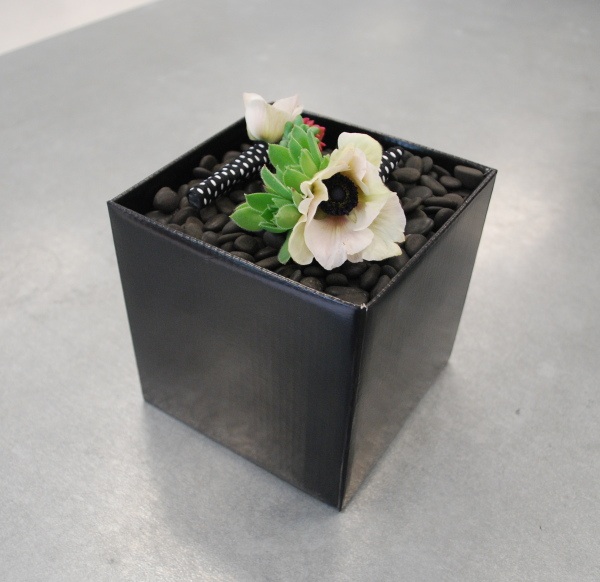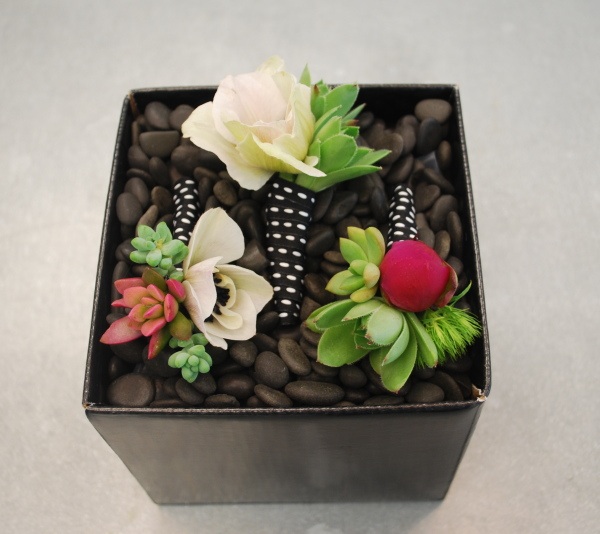 For information on wholesale cost and ordering details, you can contact us at (888)-582-1094 or by emailing us at info@blumebox.com. In the mean time to see more styles and ways in which blumeboxes can be used, visit us on our website at www.blumebox.com or our blog Ideas In Blume.
Contact Information:
Whitney Flanagan
Blumebox
p: 888·582·1094
www.blumebox.com
twitter: @blumebox
facebook: https://www.facebook.com/pages/Blumebox/22941757883
Thank you, Whitney, for sharing these great packing and delivery ideas with our readers!
Related posts: