Very exciting times at Bella Fiori! My book, Bella Bouquets, has arrived! Bella Fiori has turned into book shipping central!!
I'm signing away and the books are being packed up and shipped out today, I admit – it's pretty fun.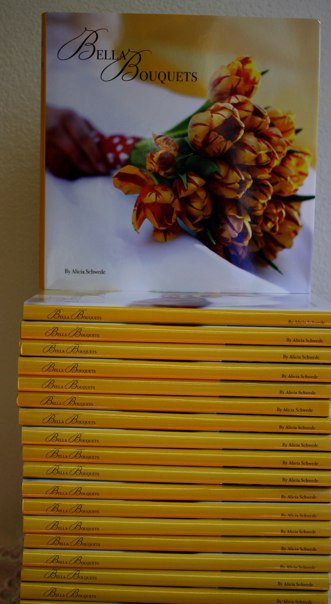 Packages going out to Oregon, Illinois, California, the UK, Virginia, Texas, New Zealand, Minnesota, Canada – just to name a few!!
We've added a few more book signings to the list:
August 24, 4-7pm
Denver book signing party
Chair Covers & Linens
6265 East Evans, Unit 14-15
August 28, 9am-4pm
Amato's Wholesale Florist Open House
note: open to florists only
September 7, 11:30-1:30
Perfect Wedding Guide Luncheon
Wellshire Inn, 3333 South Colorado Blvd. Denver
October 18, 6:30-9:30
San Francisco book signing party
Blu Bungalow, 2068 Union Street
For more information about the book & book signing dates or to order online please visit our website:
http://bellabouquetbook.com/
What are people saying about the book??
I had the opportunity to get a sneak peak at the Bella Bouquets book and was blown away by the quality, content and new floral designs showcased in the book. I have worked with Alicia on numerous events and was always impressed by her talent. I knew her book was going to be great but I was truly amazed and inspired by the bouquets she created for the Bella Bouquets book. I plan to use this book for design inspiration and ideas for my future clients. This book is a must-read for every floral designer and event planner.
Debbie Orwat | Owner & Creative Director
www.savethedateevents.com
Your book is BEAUTIFUL! Nice and clean, great photos and fun design!
Kris, freelance floral designer
Related posts: